Welcome to my day on the blog tour for A Quilting Life – Creating a Handmade Home by Sherri McConnell!  I'm so honored to have been asked to participate in Sherri's book tour.  Sherri is a sweetheart and she's one of the  nicest bloggers you'll meet.  And I feel extra lucky as I've been able to see her several times at quilt markets.  I love the name of Sherri's book and blog — it's a perfect fit for her.  Sherri truly lives a quilting life and she's one of the most prolific quilt bloggers that I know.
Sherri's book is a treasure!  It's full of fun and straight-forward patterns for quilts, table toppers, pillows, bags and more — all the goodies to make a cozy home.  I love the quilt below.  I recently placed a very similar version of this quilt in a selection of quilts that could be made from charm packs, so I was really excited to see that a pattern is in her book.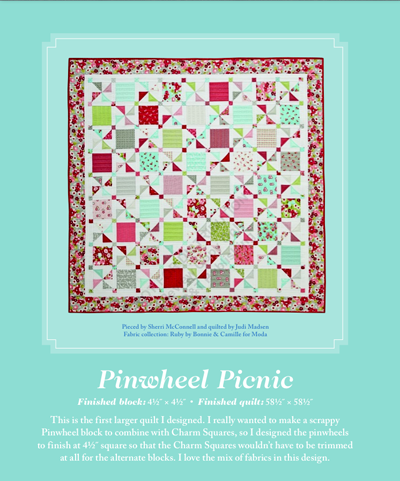 Unfortunately, with our recent trip, I haven't had time to try out any of her patterns, but I've looked over the instructions for many of the projects and they're clear, thorough and easy to follow. She even uses the same corner square triangle blocks in several of her projects that I'm currently making for a little quilt. I LOVE the quilt below — what a clever use of that same block.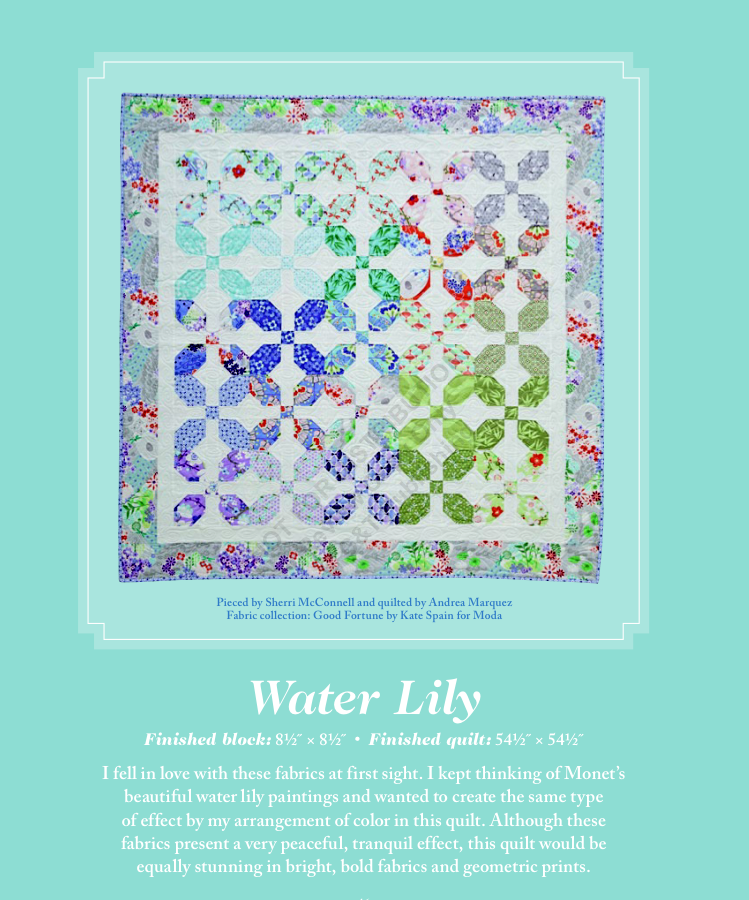 Sherri asked us to share a little bit of how we manage to have a quilting life and maybe give an organizational tip or recipe. If you could see my sewing room now, you would realize that you're much better off to take organizational tips from the experts. Or even just other average quilters who are actually organized.  Recipes, however, I can do. I thought about recipes that are easy and allow me more time for my quilting life. Like many of you, I work full-time outside of the home, so finding time to quilt can be a challenge.
As I thought about my easy recipes, I realized that I've already shared many of my favorites with you. So then, my thoughts turned from time-saving to snacking while quilting. In my case, I love a good cookie while I'm sewing. I know I should eat carrot sticks or something while I quilt, but where's the fun in that?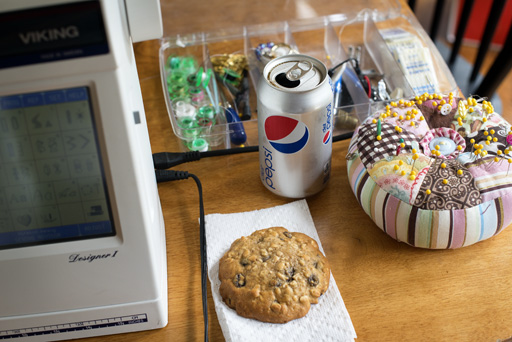 When MyDadLovesMeBestSister and I were growing up, MeMum used to make a wonderful Oatmeal Raisin Cookie and I always ate more than my fair share. Oatmeal Raisin are my very favorite cookies. I've already shared a great Oatmeal Raisin cookie, but that one is a traditional Oatmeal Raisin cookie — crunchy on the outside, chewy on the inside. This oatmeal raisin cookie is cakey. And yum yummy!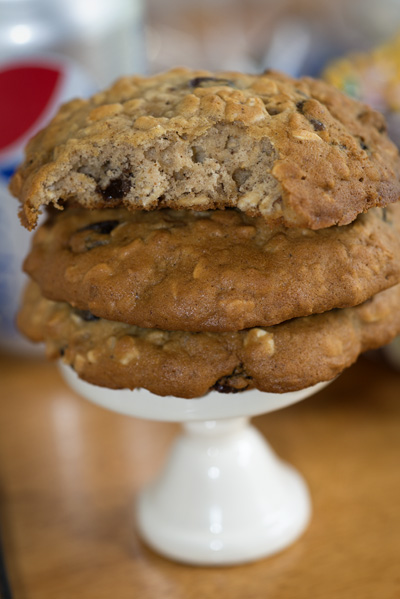 Oatmeal Raisin Cookies
1 lb. raisins — Cover with water and boil. Let cool.
1 cup vegetable shortening
2 cups sugar
1 cup milk
4 cups flour
4 cups oatmeal
4 eggs
1 teaspoon cinnamon
1 teaspoon nutmeg
3 teaspoons soda added to water and raisins
1 teaspoon vanilla
salt
1/2 – 1 cup chopped nuts
Cream shortening and sugar together. Add eggs. Sift flour, cinnamon, nutmeg and salt together. Add to mixture alternately with milk. Add oatmeal. Drain a little water off of the raisins then add soda. Add raisins with water to mixture. Add nuts and vanilla. Drop by spoonfuls onto greased cookie sheet. Bake at 375 degrees for 15 minutes.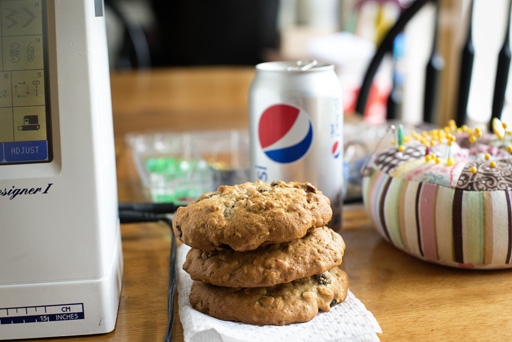 And, just so you know, you can have more than one cookie beside your machine while you're sewing — just throw in some extra jumping jacks on your breaks!
Here's the schedule for Sherri's book tour:
Monday June 3rdNanette at Freda's Hivehttp://fredashive.blogspot.com/
Tuesday June 4thSinta from Pink Pincushionhttp://pinkpincushion.blogspot.com/
Wednesday June 5th Jodi from Pleasant Homehttp://www.pleasant-home.com/
Thursday June 6th Judi from Green Fairy Quilts http://greenfairyquilts.blogspot.com/
Friday June 7thLissa of ModaLissa http://modalissa.blogspot.com/
Saturday June 8th Amanda of AmandaMurphyDesign http://amandamurphydesign.blogspot.com/
Sunday June 9th Me!
Monday June 10th Amy Smart of Diary of a Quilter http://www.diaryofaquilter.com/
Tuesday June 11th Kristyne of Pretty by Hand http://prettybyhand.com/
Wednesday June 12thSherri of A Quilting Life http://www.aquiltinglife.com
Sherri and C&T publishing are generously giving away one book for each of the blog tour stops (international winners will receive an e-book) — that means, if you stop at every blog on the book tour by June 14th, you have 10 chances to win!
If you'd like a copy of Sherri's book, leave a comment and tell me your favorite cookie to snack on while you're quilting.
Good Luck!
XOXO,
Anna