Wow — thanks so much for all of your wonderful comments about Dad. It was really fun to read them all. Dad was pretty excited that people on the other side of the world know that he had a birthday. Isn't the internet an amazing thing?
After Dad's birthday this weekend, the stars all aligned and I managed to sew. WooHoo! It felt SO good — I'd been having major Hester withdrawal. I HAD to sew — the new Ghastlies arrived and I was beside myself with excitement.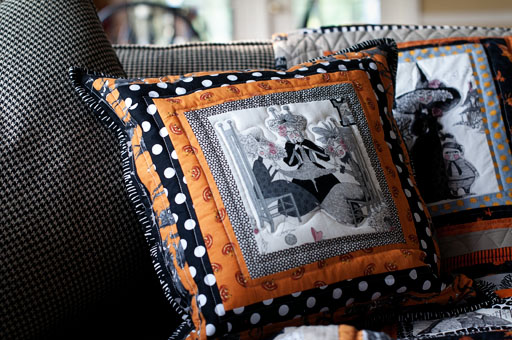 I mean — LOOK!  It's the long awaited knitting witches.  I LOOOOVE them!  I made the ghastlie quilts before the knitting witches were available.  If I'd known there were going to be knitting witches, I would have waited to make the quilts.  The only thing better would be quilting witches.  (Hmmm, maybe that will be on the next line?)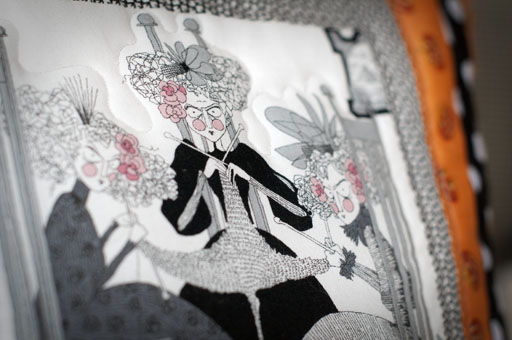 Anyway, since the knitting witches aren't in the quilts, I decided I'll make some pillows to coordinate with the quilts.  Well, ok, just one pillow for now.   I did an envelope back with orange buttons and put a little ghastlie cat on the back.  PaulKitty decided to pose for a picture with his new kitty buddy.  Do you think they look alike?
I occasionally get questions about how I made the ghastlie quilts, so I made a page with some ghastlie quilt info.  It's not even close to step by step instructions, but hopefully the info will be helpful to anyone who would like to make their own ghastlie quilt.
I also had a lot of requests for the original ghastlie fabric but I didn't have any.  So, this time, I put some of the new ghastlie fabric, "a ghastlie night", on my fun fabric page in the Thimbleanna store. (Update:  The Ghastlies are all sold out — Thank you so much for your orders!)  There are three main scenes in "a ghastlie night", as shown below (the knitters, the Dr. and a big dinner table scene).   I think I love this new print even more than the original one for quilt backs – the ghastlies are much more social this time around.
Now I can't wait for Halloween to decorate — it's just around the corner you know!  ;-)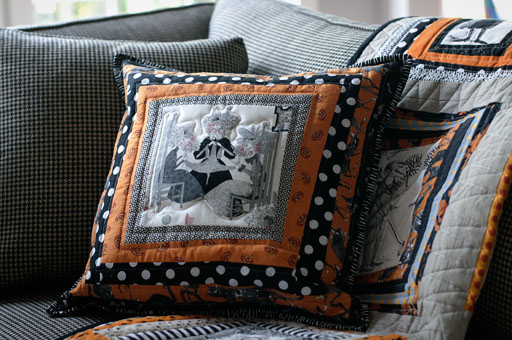 XOXO,
Anna