Ha!  Are you thinking this will be a post chock-full of my goals and dreams for 2010?  Nosireee.  I fell for that old blogging new year's trick the first January I was posting.  Most of those crafty goals for that new year are still undone.  I'm perfectly happy to live vicariously through all of YOUR fun posts full of lists and new year's resolutions.  I did, however, do a one-word pick.  As I've told some of you, my one word for 2010 is … chocolate.  (I defy you to find a better word – it's a healthy new habit!)
So, my clean start refers to a new ironing board cover.  I luuuuuv fabric with words on it and this Authentic fabric is right up my alley.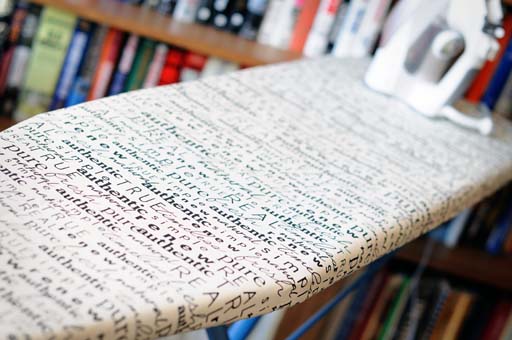 When I saw that this fabric was available in home decorator weight, I knew it was a match made in heaven.  The only way it could be better is if the black fabric with white letters would have been available in this weight.  This white option will probably show the water stains a little more, but, oh well.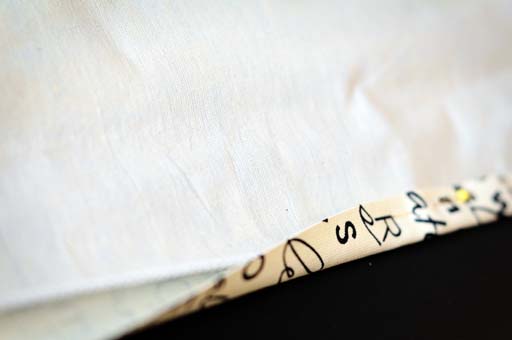 This was one of my quickest-ever projects – 30 minutes, start to finish.  4 easy-peasy steps: 1) smooth out the old cover on the top of the wrong side of the fabric, 2) cut the fabric an inch or so wider than the old cover, 3) fold the edges of the fabric around the edges of the old cover, and 4) sew a simple straight stitch along the edge of the fabric, being careful not to catch the drawstring in the stitching.  (My ironing board took 1 1/2 yards of fabric and it's enough to make two covers.)  So much easier than sewing a casing and then threading the string through the casing!  Do you like it as much as I do?
And loookieeee!  We got more snow!
It snowed most of the day today.  Isn't it pretty?  Good thing we don't live in the gingerbread houses — we'd have to climb out of the second story windows!
Have a great weekend!
XOXO,
Anna