Well hello there!  How's the weekend going?  It's a beautiful, relaxing week here in ThimbleannaLand.  I've been piecing more Steampunk blocks, taking my time and really enjoying the process.  So far, so good.  Out of 48 blocks, I only have 14 left to go.  Slow and steady wins the race. ;-D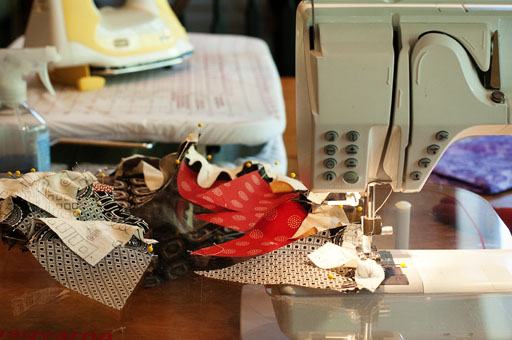 For most of the summer I've had my sewing machine on the kitchen table.  TheManoftheHouse hasn't complained but he must be getting tired of it.  It's getting harder and harder to sew in the dungeon, because the view from our kitchen is so pretty and I just want to sit there to sew all the time.  Really, I'd just like to move the whole sewing room to the kitchen.  That's how it should be, don't you think?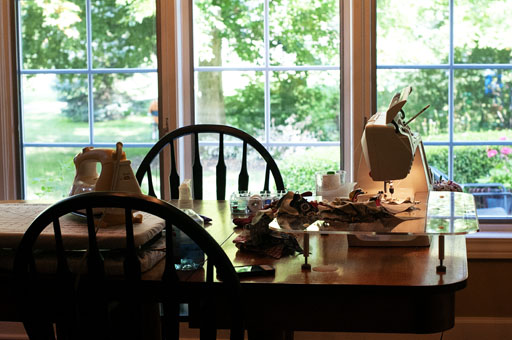 While I piece along, my mind wanders.  Last night I was thinking about the blog posts not to long ago where people were sharing their favorite quilt book.  My favorite book is my first quilt book MeMum bought me.  The It's Okay If You Sit On My Quilt Book by Mary Ellen Hopkins.  My quilty peep Junie told me a few weeks ago that Mary Ellen recently passed away, which is very sad.  I don't remember taking a class from her, but Junie says I did one year when we were in Paducah.
It looks like someone in the family took a class from Mary Ellen — I found the papers below in MeMum's The It's Okay If You Sit On My Quilt Book.  Either way, I adored her style.  Her approach was simple and straight forward.  This book is full of quilt blocks and simple ways to put them together to make great quilts.  It's an approach that I think we sometimes fail to teach to new quilters.  I feel we talk patterns too much, rather than teaching new quilters how to dream and plan and make quilts of their own.
I love how the pages of Mary Ellen's book are on "graph paper". It's so fun to plan blocks out on graph paper and see how simple blocks, when placed together, form lots of different patterns.  Mary Ellen doesn't give you a quilt pattern.  She just shows you the blocks and  then you make your own pattern, whatever size you want.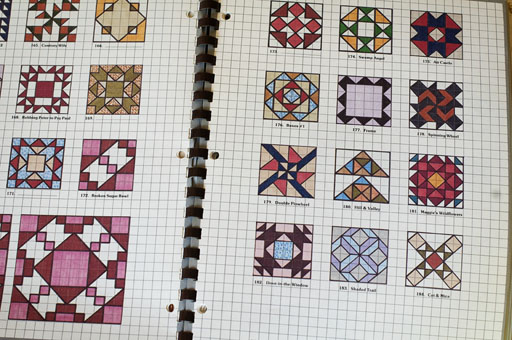 I remember pouring through the blocks of this book when I made the quilts we have in our guest room.  Do you see the block above that I used in the first quilt in the picture below?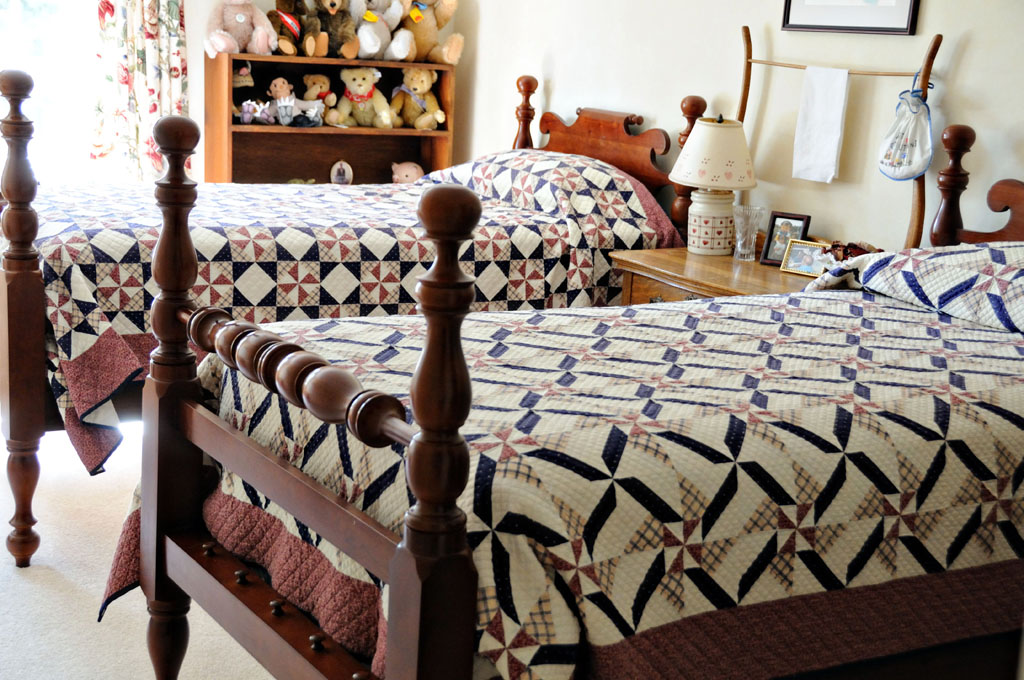 I knew I wanted both quilts to have pinwheels in them, but I wanted the quilts to be different.  The block in the second quilt is also in Mary Ellen's book.
Oh well, I'm quilt rambling — back to the Steampunks!  Just wanted to check in — hoping everyone has a great weekend.  Especially if you're here in the US where it's a long one!
XOXO,
Anna