Hello Invisible Peeps!  Just popping in for a quick check-in.  It's been a busy, not-productive-crafty-wise week here.  I had a trip for work, earlier in the week.  I flew home from Washington/Reagan on Wednesday afternoon (you know, the day when the snowquester was supposed to hit).  Check out this picture of the airplane departure board that I posted on Instagram: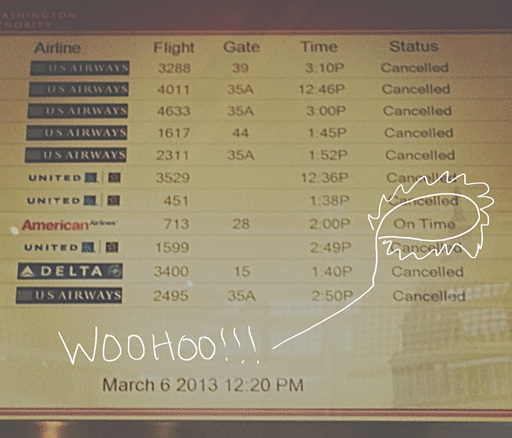 How lucky was that?  My flight was one of the very few in the whole airport that wasn't cancelled.  I felt like I should run out and buy a lottery ticket.  And to add to my luck, look what I found when I got home!  SNOW!!!!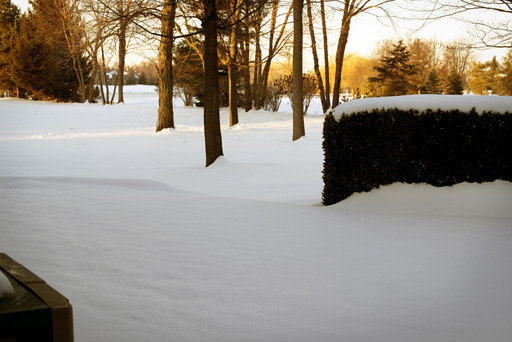 Finally!  We've had such a snow-worthless winter this year.  I guess it's better late than never.  I took this picture early this morning just as the sun was coming up.  It's my Friday off, but I ran into work for a 5:30 a.m. workout with this awesome trainer that we have in our teeny-tiny fitness center.  Only two of us showed up that early but it was SO worth not sleeping in.  Especially when you consider that I stopped at Starbucks on the way home and undid all the calories I burned.  YayMe!!!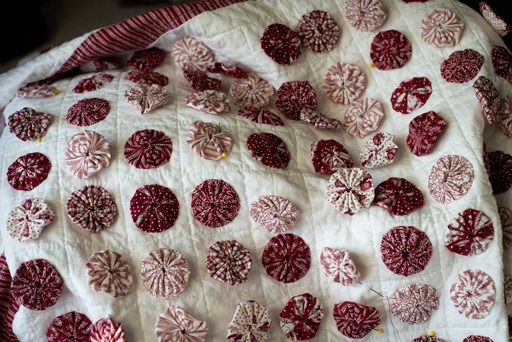 So, now, I'm going to work on the yoyos for a little while this morning and watch and old movie or two.  I've sewn a few yoyos down this week.  Yoyos: 824, Me: 44.  At this rate, I'll be done by 2019!  (Oh, and in the interest of full disclosure, you'll notice a few pins in there.  I'm thinking I might stop using the basting gun to hold the yoyos to the quilt — I'm worried that it's going to make holes in the quilt back.)
Have a great weekend!
XOXO,
Anna