Thanks  for all the Beehive Quilt love!   Gosh, I didn't mean to be gone for so long, but it was a busy weekend.  We had a girls getaway weekend in the family — MeMum, MyDadLovesMeBestSister, CuteNiece1, CuteNiece2, SweetiePie and I went to Nashville, Indiana.  The weather was perfect, the autumn colors were perfect and we had a wonderful time with lots of laughs.  Nashville has lots of cute shops, and more importantly a LOT of good food.  We found a candy store (or two) and had great fun with those old fashioned candy cigarettes.  Remember those?   And fabulous caramel apples — 'tis the season!
A few weeks ago Kim mentioned care packages on her blog and it reminded me that I'd been meaning to get one in the mail for CuteNiece1.  Somehow, I never managed to get my little package mailed, so I just took it to CuteNiece1 this weekend.
Pencils, chapsticks, granola bars, a first aid kit, caramel corn, socks, candy corn, orange mini-lights, glitter, a pez witch, a skeleton, and in that little space in the middle on the bottom, a Halloween mini-banner for CuteNiece1's dorm room.

I love making those little mini-banners — they're quick and fun.  This time I used fabric scraps and instead of gluing them, I used black thread and did a bit of stitching.  (If you want to see a SUPER cute banner, check out this adorable banner that Lisa made for her daughter Sarah — I LOVE it!)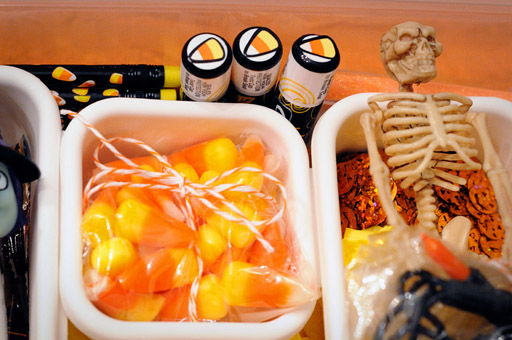 Every dorm room needs a mini-skeleton and candy corn, don't you think?  (Looks like he could have used some of that chapstick.)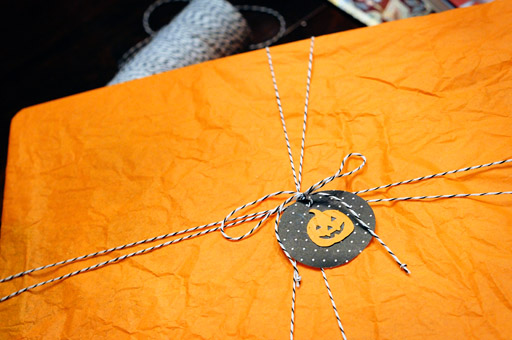 I wrapped the care package up with wrinkly orange tissue paper and a little pumpkin tag. And lots of opportunity to use some orange and black Divine Twine! (You knew I'd have to have a shameless plug, didn't you? Sorry, but it's still 20% off and it makes a fun Christmas surprise for your friends!)
Hope you're having a good week!
XOXO,
Anna