Yipee! The YoYo quilt is finally finished!
It was a bright sunny day when we took pictures of the quilt and sadly, bright sunny days don't always make for good picture taking. We hung the quilt on the outdoor quilt holder swingset at MeMum's and I waited almost two hours for the sun to go down past the roofline of the house. I finally had to give up, snap the picture and get home to make dinner for TheManoftheHouse. Sorry for the shadow — pretend it's not there.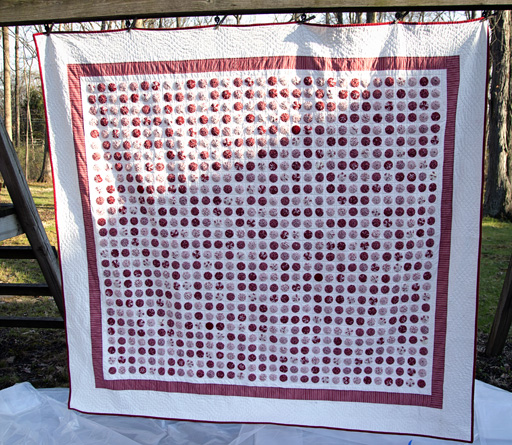 While we were waiting on the sun, MeMum and I had fun taking pictures in her guest room, on her beautiful antique bed. She wanted to put some of her dolls and teddies on the quilt, so we had fun playing around.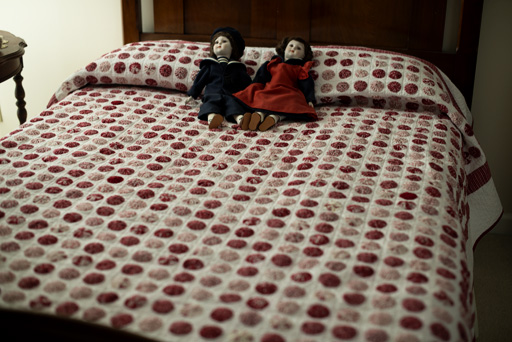 I've mentioned before that Ms. Barefoot Daydreams was my total inspiration for this quilt.  It's been almost 6 years since I saw her red yoyo quilt and then, a year later, she made her black yoyo quilt.   They're just gorgeous and I knew I wanted to make one.
These quilts are a lot of work and I'm amazed that Ms. Barefoot made more than one. I could see making another one — but it will be awhile LOL.  There are 868 yoyos in my version.  I figured I could make 12 – 15 yoyos in an hour, so that's about 60 hours making yoyos.  And then it took about an hour to sew down 10 yoyos, so that's about 86 hours to sew down yoyos.  Add to that the time it took to sew borders, draw the big yoyo grid, pin baste, machine quilt and then bind the foundation quilt.
It was fun work though.  I really enjoyed watching movies and doing all the handwork.  I'm feeling a little lost now without a handwork project, I need to plan something soon.  It took about seven weeks to sew all the yoyos to the quilt.  After all that time and apparent kitty naps when I wasn't home, the quilt required a bath.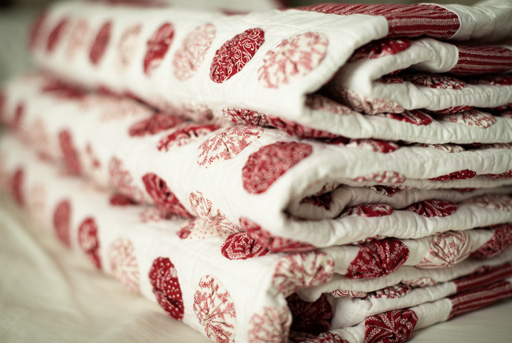 I held my breath when I put the quilt in the wash on gentle cycle.  I was afraid those yoyos would fall apart but, happily, there were no thread incidents.  Unfortunately though, there was a bit of color running (in spite of fabric pre-washing and two color catchers in the wash).  The color running is faint though, so it's nothing I can't live with.  The yoyo fabric on the left, in the picture below, was the culprit.  And the fabric on the right is my favorite fabric.  It's hard to tell all scrunched up in a yoyo, but it has pretty little calligraphic letters on it.
And just to prove that spring has finally arrived here, we took a picture of the quilt with MeMum's pretty daffodils. Luckily, spring has been late in arriving this year because now, there is a LOT of yardwork to be done.
So, I'm a happy camper — I finished the yoyos just in time.
Have a wonderful weekend!
XOXO,
Anna