That's the sound the last few weeks made as they flew by.  Holy Cow, it's been crazy here and I'm looking forward to Easter just to catch my breath!
Last weekend, we had a flyby driving trip to Dallas and then back a longer way through Oklahoma — I should maybe back up a little.  A few months ago, TheSecondChild moved back home while he looked for a new job.  That was around the time that MeMum had been sick with pneumonia, so when she got out of the hospital, we moved her in with us too.  We have plenty of room for both of them, but their "buddies" made it a little extra interesting.  MeMum brought her cat Sally (she's made appearances on the blog before) and TheSecondChild brought his two cats with him.  For those of you keeping count, that's five cats (and according to Anne five too many LOL).  That's too many cats to referee!
Fast forward a few months and a lot of poop-scooping, and TheSecondChild found a great job back in his favorite town of Dallas, so we packed him and his kitties up and took a roadtrip.  One 15-hour drive day, one unload the truck and drive to Oklahoma day, one quick visit with family and 5-hr drive with a fly-by to The Mercantile, and one 9-hr drive day back home.  Whew!  Before we left, we tried to get a Five Cat Family picture, but it was impossible.  We were throwing treats here and there to get them all in one shot, but it was a no-go.  Poor little Sally hates all the other cats, so she wouldn't play at all.  The other four aren't all that crazy about each other either, so they weren't exactly co-operating.
Here's a shot with Scruff and two black cats.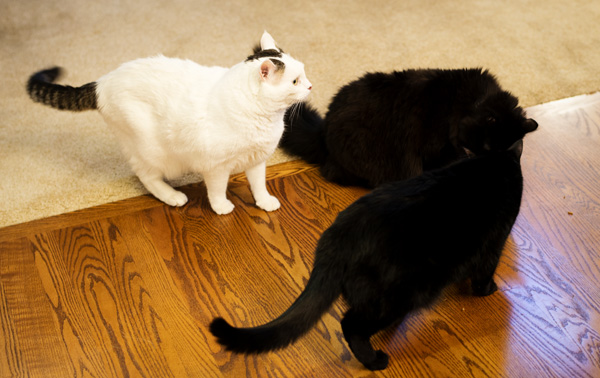 And here are three black cats.  They must have some rule that 4 cats couldn't all be in the same picture at once.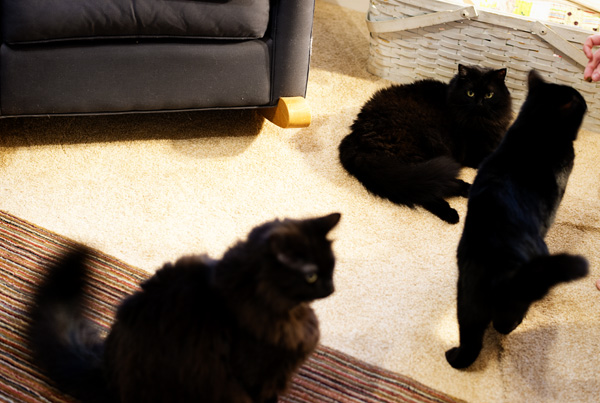 Scruff was feeling very outnumbered — four all black cats and his little ol' gray and white self LOL.  Anyway, the trip was quick but a success — TheSecondChild now has his first week at the new job under his belt and it looks like it will be a success.
THEN, three days after we got back, our little cherub FinallyAGirl brought her parents for a 4-day visit.  We had a great time — what a little doll!  She wore us out though — she doesn't sleep much and she goes a mile a minute.  We had several days of pretty weather and we took her for her first wagon ride (in her daddy's wagon ;-D) — she LOVED it!
I made her the little Pixie hat — the pattern is The Jovie Pixie Baby Bonnet.  I made the largest size (and sized up the crochet hook by 2 sizes) and I won't even tell you how many times it took me to get the right size — but it was lots of crocheting and ripping out and it may or may not have been more than three times!  ;-D
And finally, in the middle of it all, lots of new fabric arrived in my little etsy shop.  Lots of Atsuko Matsuyama prints from both Yuwa and Lecein …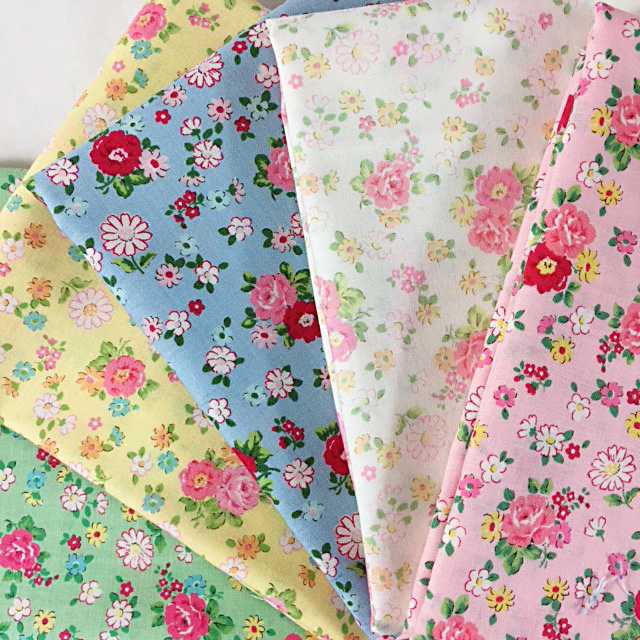 and this super cute little kitty and macaron print from the Yuwa Live Life collection.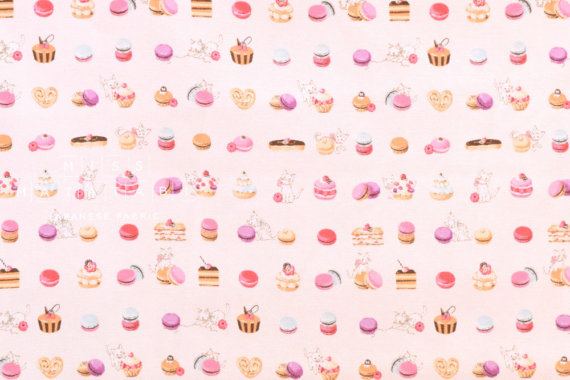 Ok, I'm tired and off to bed! I'm hoping to get caught up on blog reading this week — have a good one!
XOXO,
Anna