Poor, poor little blog.  I would say I can't believe it's been 2 1/2 weeks since I've posted, but I can believe it.  We've had another little event with BigDaddy and we've had lots of hospital time in the last few weeks.  This time hasn't been as dire as last time, but it's still been worrisome.  After 16 days in the ICU, BigDaddy was finally moved to a regular hospital room today and hopefully he'll be able to go to a rehab hospital sometime this week.  Just like last time, we've been lucky to have a visit from our Aunt Ann to help keep MeMum occupied.  Unfortunately, she'll be leaving tomorrow and we'll be on our own. We'll manage, just like we did last time, but it's a full time job for MyDadLovesMeBestSister and I, and it leaves little time for anything else.  We're thinking BigDaddy's recovery will be a little easier this time, so that's something to be grateful for!
In the meantime, just before this latest hospital marathon, the Wee Wander fabric line arrived here in ThimbleannaLand.  I LOVE this adorable fabric line.  Each night I came home from the hospital and had about an hour before bedtime, so I stitched a few blocks at the kitchen table.  Sewing is a great way to pass the time when you're worrying a LOT.  All those nights added up and before I knew it, I had a new little quilt top (it looks like it's crooked, but it's not — it's on a design wall that leans back, so the top is farther away from the camera):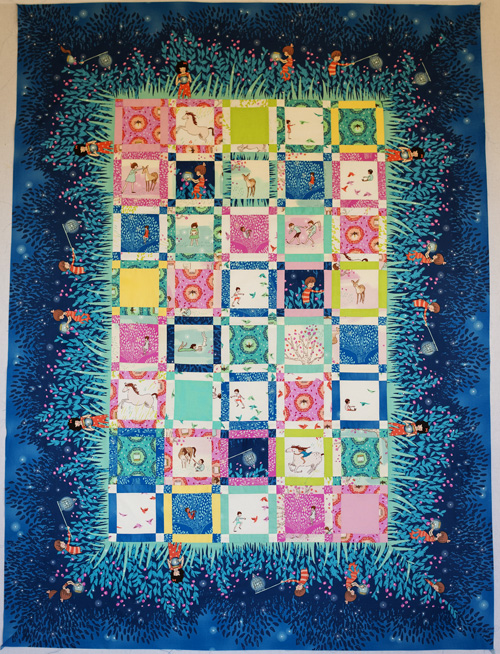 I LOVE this sweet fabric line.  Sarah Jane has once again captured some of the sweetest moments of childhood.  I love the horses and those super cute lightning bugs.  I have such fun memories of catching lightning bugs in glass jars when I was a little girl.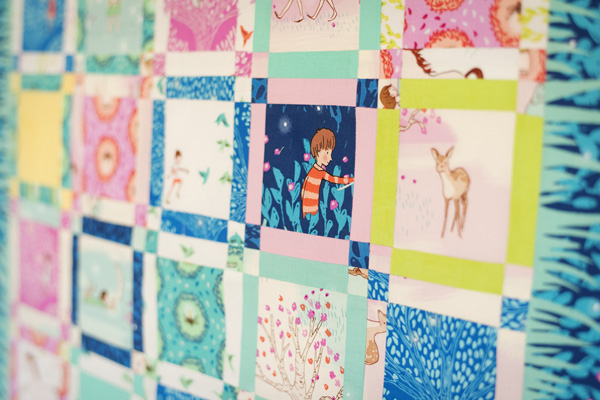 And the Deer!  The deer are what really sucked me in to this fabric line.  You know how people always ask if you remember where you were when President Kennedy was shot, or when the space shuttle blew up?  Well, do you remember where you were when Bambi's father told Bambi that a hunter had killed his mother???  DO you???  I remember sitting in a movie theater, looking up at that huge movie screen in the dark, with tears running down my face.  It was such a tramatic event in my over-protected childhood.
And then there was The Yearling.  I loooooved that book.  What a tear-jerker!!!  So, I love deer.  Here's my favorite block in my little quilt: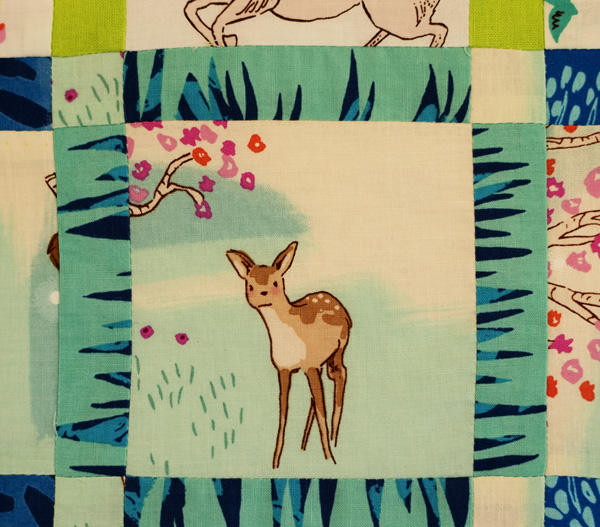 Yup, that's Bambi, right there!  Here's another favorite — look at that cute little girl!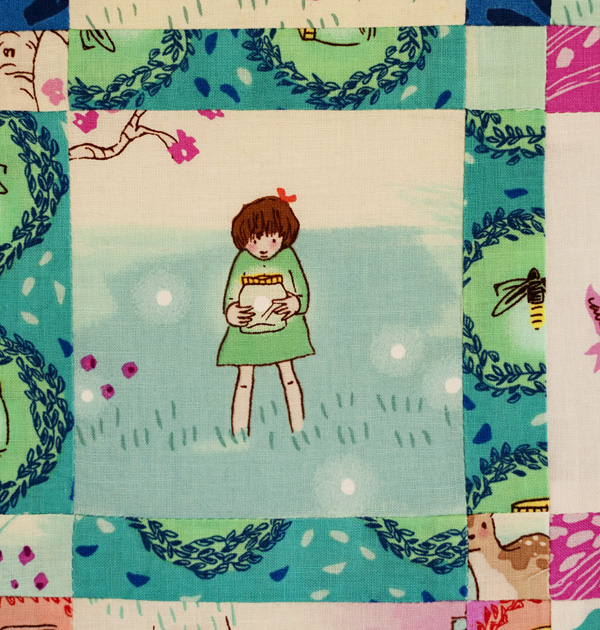 In case you feel the need for some Wee Wander fabric, I have some in my little Etsy shop.  Unfortunately, the cute blue border fabric is already sold out.
In addition to yardage, I have some half-yard bundles that also contain some coordinating Moda Bella solid fabrics.  I wanted to add some yellow for the lightning bug glow and some green to coordinate with the pretty green leaves on the horse print.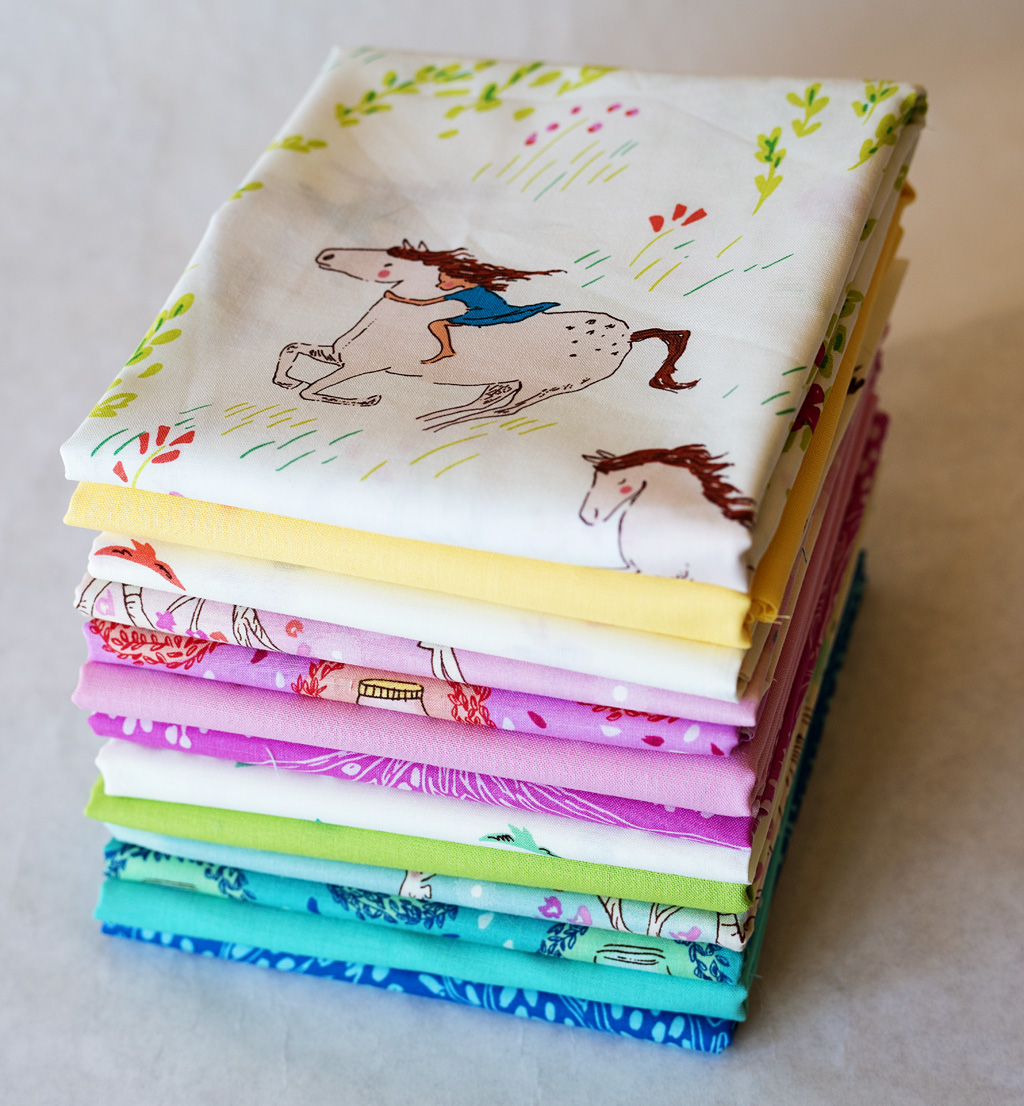 Posting will probably be a little sparse around here while we help BigDaddy get better. One good thing about all this hospital waiting is that it's good knitting time. I'm betting my next post will contain a finished knitting project.  ;-D
XOXO,
Anna