Wow.  Can you believe we're in the middle of September already?  My last few weeks have just disappeared — partly because we took a trip to see the kidlets in Utah.  We can't let FinallyAGirl go too many months without seeing her!  We had a great time — playing, eating and hiking.  I think I may have had a wee bit of altitude sickness on one of our hikes.  Or maybe just a bout of outofshapeness LOL.  Either way, I had to sit down for a minute and I had a raging headache that started about the time we reached the top of our mountain until we got back down.  Hiking is so fun in the mountains — the views are spectacular!
Anyway, back to the title of my post.  Waldorf.  Are you thinking Salad?  Astoria???  Or, if you're thinking dolls, you're on the right track.  I wanted to make FinallyAGirl a little Waldorf Doll and I decided to make a baby doll, since she's still so young.  It was my first Waldorf doll-making experience and it was lots of fun.  The web is full of great information!  I found this kit for a doll that I liked — Loetje by Bibidolls.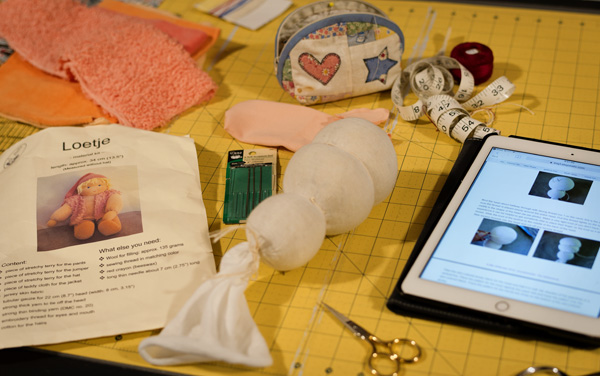 The pattern is a pdf and the instructions are great — very detailed and with great pictures.  I had a bit of trouble stuffing the doll with as much stuffing as was recommended (she tells you by weight how much each part needs) and I feel like my little doll ended up being fatter than the original LOL.  The head was particularly tricky — I had to have TheManoftheHouse help me tie off the pieces so that I could get them nice and tight.  She explains that the reason for stuffing so tightly is so that the little doll won't end up too flat as the stuffing compacts over time.
I had planned to get a picture of FinallyAGirl kissing her baby or dragging her around, but she didn't pay any attention to her.  She already has a favorite little baby doll.  I'm hoping she'll pay a little more attention to this little Waldorf baby when she gets a little older.  (Oh, and little Loetje doesn't have lipstick smeared all over her face — the pink around her lips is the reflection of the flower.  She has some red cheeks, but I took the pictures before I remembered to paint her cheeks on.  Ooops.)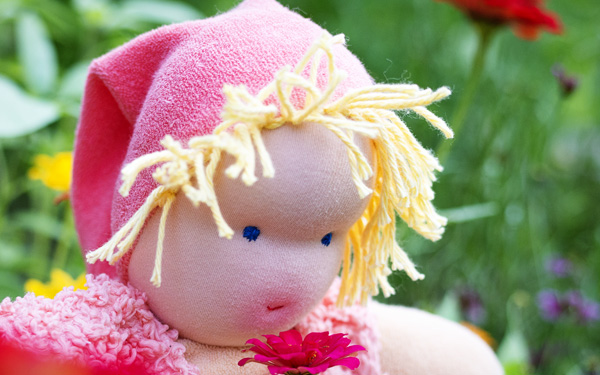 So, instead of a FinallyAGirl-Really-Loves-Her-New-Baby picture, how 'bout a shot of all the pretty fabric that arrived while we were gone?  Lots of pretty florals (I LOVE those Chelsea Market prints from Blend Fabrics) and some more Japanese prints.  And I couldn't resist that Sheepie (!) print when I saw it at quilt market.  They're all in my little Etsy shop in case you can't resist.
Now I'm off to watch a little tv with MeMum before bed.  The evenings slip by much too quickly!  Hope you're having a good week!
XOXO,
Anna