Wow!  Thanks for all your wonderful comments about my quilting weekend last week!  I didn't mean to be gone so long this week, but on Monday, TheManoftheHouse announced that we should go to see the kids "this weekend" so I had to bust my butt to get the binding on the quilt and get it all washed and ready for the trip.
I took it to a park to take some pictures (I didn't want to lay it around in our muddy yard!) and it was hard to get a full-on shot of the whole quilt, since I was alone.  So, I laid it out on some steps and held the camera as high as I could above my head.  ;-)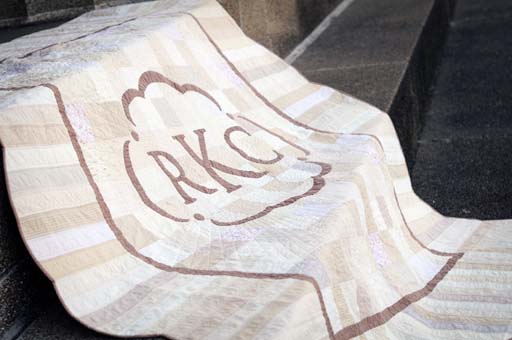 It was a beee-you-tiful day in the park — a wonderful hint of spring to come!  It's kind of hard to tell, but I scalloped the borders on the quilt — I thought it would be just right with the scallop around the kids' monogram.  The inner solid brown border hits the top of the bed (queen sized), just along the edges — I was very relieved when we put it on the bed and it was just right.
I love the after-washed crinkly goodness, but not sure I love it so much on the monogram. I wish I'd taken a picture of the before, when everything was all smooth and pretty.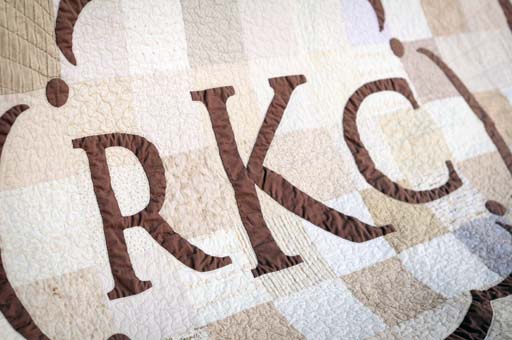 According to etiquette, this monogram is backwards — the bride's initial is supposed to be first, but SweetiePie and I didn't care — we both like it better this way.  And those big dots weren't in the original monogram, but SweetiePie and I love polkies, so I thought it would be fun to throw a few in there.
The backing is a 108″ wide paisley-type print that SweetiePie and I found a few years ago — it was love at first sight.  We originally bought 3 yards (that's 108″ x 108″) and it still wasn't big enough.  I compensated by adding two strips of patches across the back (no picture, doh!)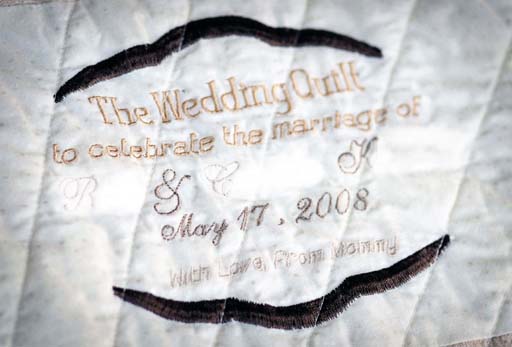 In those strips, I added two quilt tags.  One with the reason for the quilt and one little one with my name (I wanted just "Mommy" on the first tag, since that's what SweetiePie calls me) and the year the quilt was finished (2010) since it was different from the wedding year.
I really loved making this quilt and I was SO lucky that the quilting went smoothly.  I don't think I could have quilted a quilt this big on a domestic machine if it hadn't been for all the straight-line quilting.  I had fun taking pictures too — the park was pretty crowded, so I'm sure I was getting some funny looks, but I was in my own little world.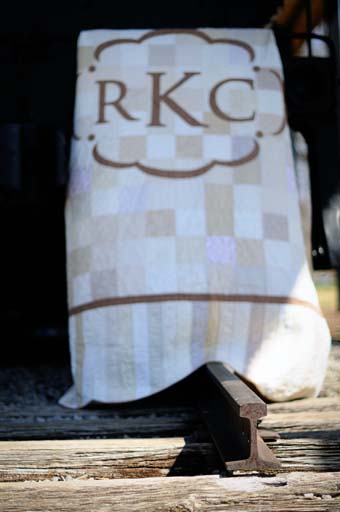 While I was wandering around the park, I found an old train.  There were signs everywhere that said "no climbing on the train", but nothing said "no quilts hanging from the train", so I went for it.
There were so many cool "train" details, that it was hard not to take a million pictures.  I love old trains — especially listening to that clickety-click sound they make when they're speeding along on the train tracks.  But that's a whole 'nother post.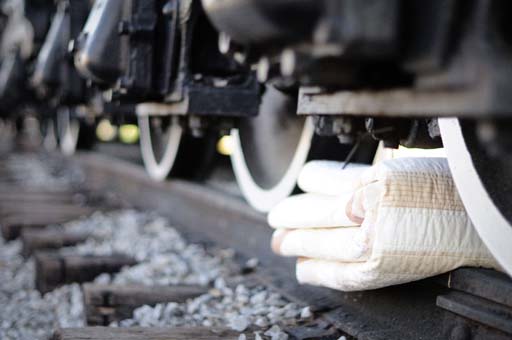 This one's too long already. But I couldn't resist one last picture — Dudley Do-Right style. Fortunately, this train wasn't moving!
So. {Brushing hands together.} One more UFO put to bed. Love that feeling!
XOXO,
Anna