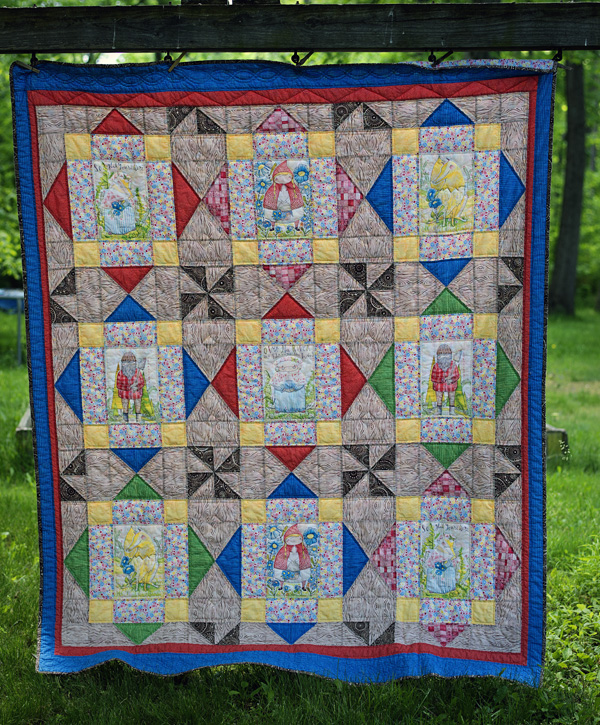 I finally finished my Little Red Riding Hood quilt and managed to get some pictures taken.  Did you notice in the post title that I don't call this The Little Red Riding Hood Quilt?  That's because this little quilt is for me.  The Grandma.  ;-D
When the grandchildren of BigDaddy and MeMum were little, MeMum had two bedrooms where the children could stay when we came to visit — a boys' room decorated for boys and a girls' room decorated for girls.  Now that I'm on the cusp of Grandmahood, I've been thinking about doing the same thing.  Only, I didn't want to give up two rooms — just one.  I've been wondering how to decorate for both the girls and the boys.  And then I saw her.  Grandma.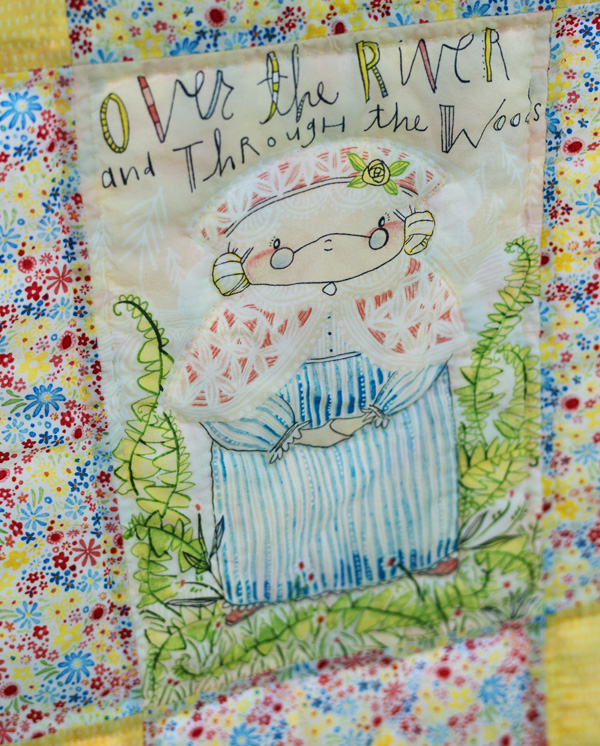 Isn't she just the cutest?  And she looks just like ME!!!  ;-D  She's part of the adorable Little Red Riding Hood fabric line created by Cori Dantini (long time readers know how much I LOVE Cori Dantini).  Grandma is just perfect, so, I've decided I won't have a boys room or a girls room.  I'll have a Grandma room!  It will have Little Red Riding Hood quilts on the beds and Little Red Riding Hood pictures on the walls.  I haven't started to do all the furniture moving and re-painting that will be required, but I have the first quilt done — and that's the most important part, right?
The other characters in the fabric are pretty cute too.  There's the woodcutter.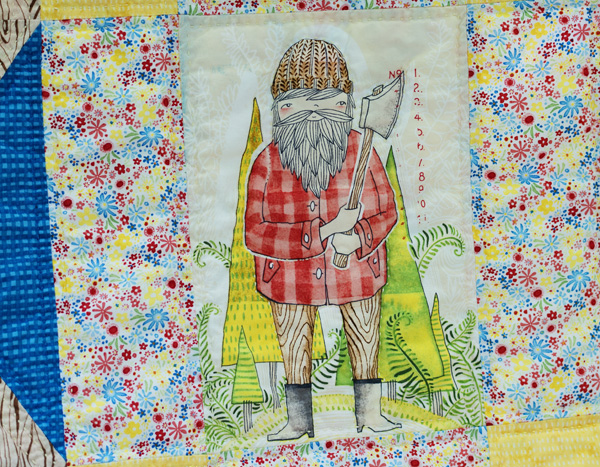 And the Wolf.  He certainly doesn't look like he'd eat a little girl.
Here he is dressed up like Grandma.  I used pearl cotton and big stitches for the quilting stitches.  I mostly did 1/4″ quilting around all the seams, except for those sweet little characters — I quilted around their shapes and through their middles.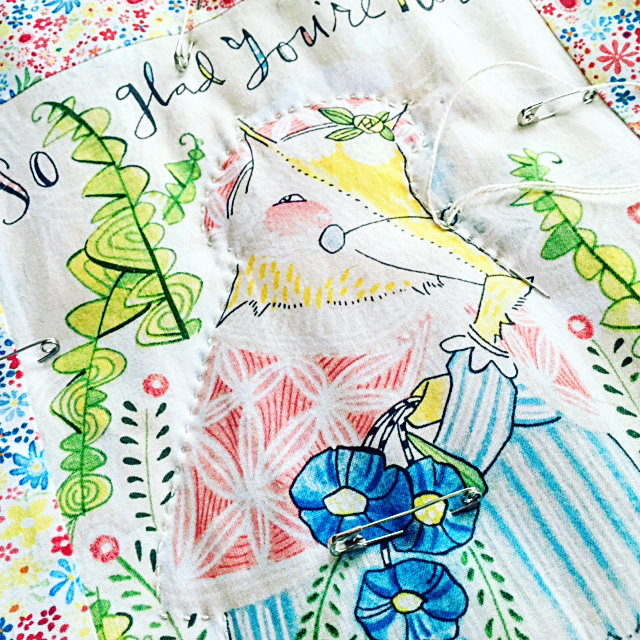 I used the woodgrain print for the background.  The other brown print looks like the rings of tree sections that have been cut and I chose pinwheels for the ax blades.  Fun prints to represent the woods that Grandma and Sweet Wolfie live in!  Oh, and there's Little Red peeking out of the bottom of this picture.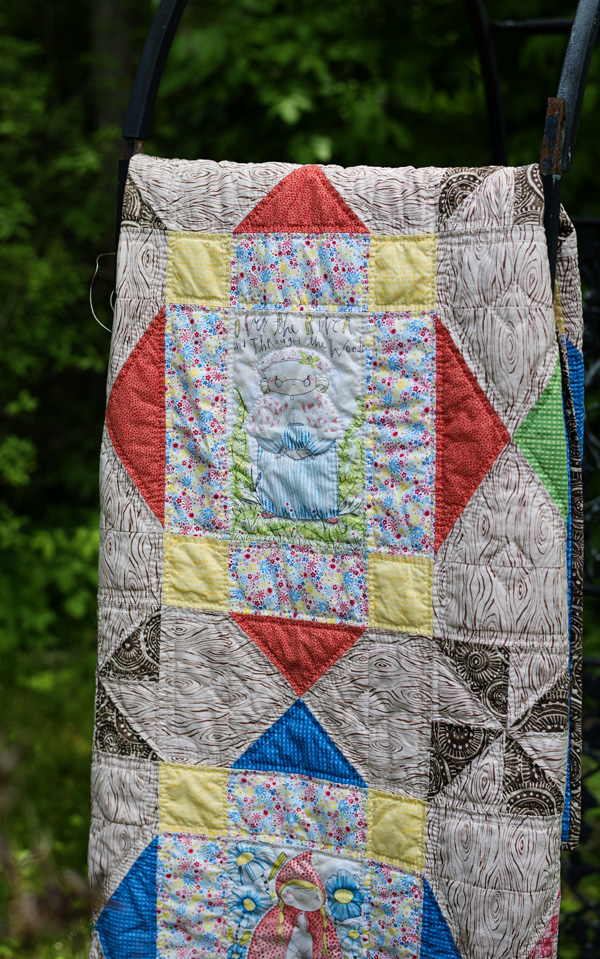 I love the way this quilt quilted and washed up.  So much krinkly goodness and she's all cozy — I wish you could feel her.  I'll be making another one for a second twin bed, but it will have a green border, instead of a blue border.  This was a super fun project and I can't wait to make some accessories for the new room.  I'm thinking there needs to be a little dress-up cape out of that red fabric!  Anyway, I have a little fabric left over and I put some quilt kits (with the pattern) in my little etsy shop in case anyone needs a Little Red/Grandma quilt for themselves.  ;-D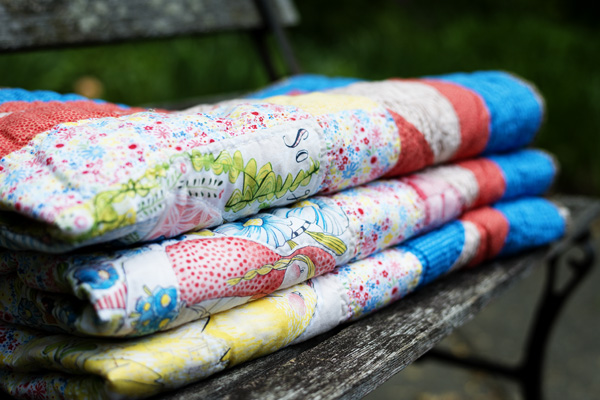 Hope you're having a wonderful weekend!
XOXO,
Anna
Oh! P.S. See my quilt holder there? It's at MeMum's house and TheManoftheHouse thinks it needs to be taken down since no one needs the swings anymore. Hello??? What would I do for a quilt holder??? Hmmmm??? M.E.N. Sheesh!