Well, I think I was on a little break again, only I didn't take a trip this time LOL.  I keep hoping something exciting will happen around here so that I'll have something to blog about.  But then I tell myself that these boring Dog Days are good.  Very Good.
After a really busy May and June, July has been slow and wonderful.  Our weather has been beautiful.  Stunning, actually.  The hot muggy summer days have been replaced by cool, perfect temps.  I'm missing most of it while I'm locked away at work during the day, but I'm sure enjoying it when I get home in the evenings.  We've had quite a bit of rain this summer and I think that's why my flowers are doing so well.  I've been slowly replacing a "vegetable" patch with a flower garden and it's finally starting to look fairly decent.  My favorite flowers are these pretty phlox.  I have my gardener extraordinaire friend Pam to thank for these lovelies — I'd never really paid any attention to this variety of phlox until I saw her beautiful phlox when SweetiePie and I visited with her a few years ago.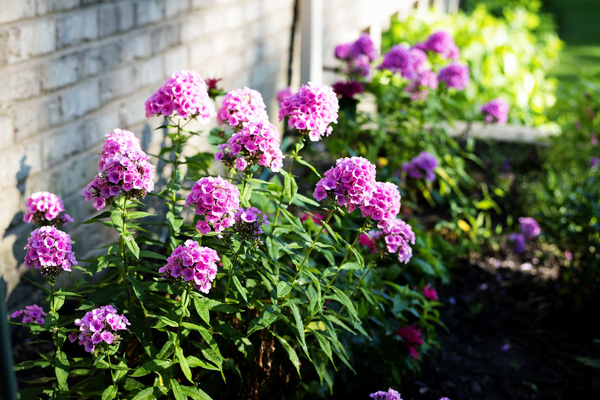 My garden will never be as beautiful as Pam's, but if these flowers look like this every year, I'll be a happy camper.  My little garden has taken a lot of experimentation — it's hard to figure out what the rabbits won't eat.  So far, so good on the phlox.  The asters and sweet william haven't fared so well though — they're mowed down regularly by the bunnies.  Nasty Wabbits.  These pretty little coreopsis are doing well too — I didn't think I'd like this flower because they're so little and wispy, but I love them!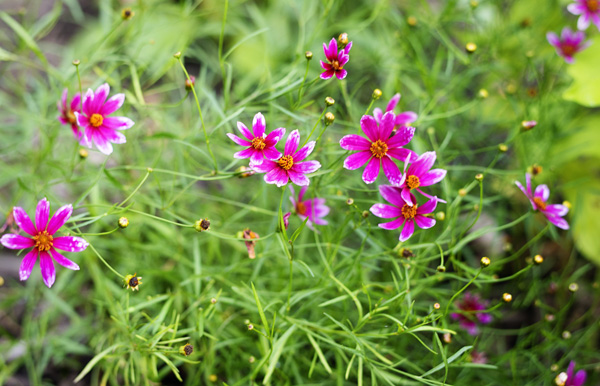 In addition to little bits of gardening and pulling weeds, there have been lots of routine boring jobs around the house.  We've cleaned a few closets and done some long overdue painting.  And I've managed to sneak in a little sewing.  I made myself a shirt from the Rifle Paper Co. fabric that I used to have in my little shop.  The pattern is Simplicity 1279 — I took my time, enjoyed the process and I'm really happy with the results — it fits just right.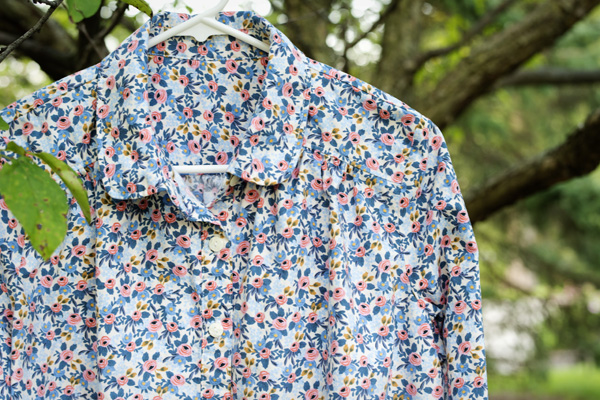 I also finished up a little throw quilt just for me and the tv.  A year or so ago, I saw this adorable deer fabric at Hawthorne Threads (I was going to link to the fabric but I don't see it listed anymore) and I HAD to have it.  I LOVE deer.  Among my best childhood memories are watching Bambi at the movie theater and sobbing while I read The Yearling, one of my very favorite books.  Now I have a little quilt and I can cuddle some deer!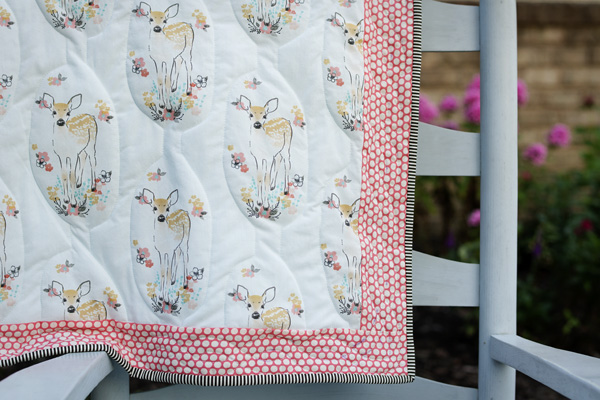 For the rest of the fabrics, I raided my little etsy shop and used the japanese dots for a border, some cuddle for the backing, and that fun japanese stripe for the binding.  I think that stripe is just perfect — it matches those cute little black deer noses.  The quilting is just some random machine quilting — easy peasy.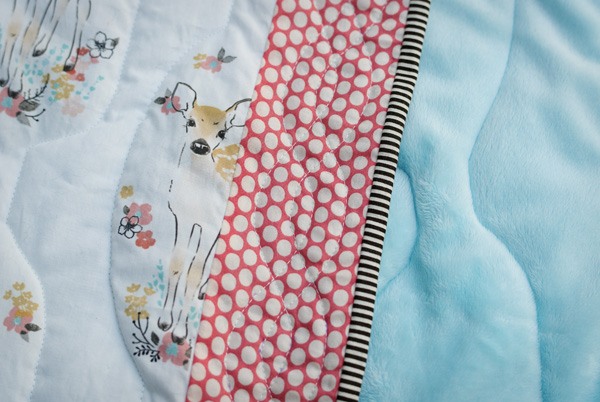 So, that's it for an update — just wanted to check in.  I hope you're having a great summer!
XOXO,
Anna