Well, Well. My little blog says it's been ten days since I've posted! That hardly seems possible, but I guess I've just been really busy. I've been finishing up a few things around here and the Steampunk Quilt is FINALLY finished. YAY!!!
It's been so hard to get decent pictures of this quilt. It was beautiful outside yesterday, but it was really windy and sunny. Bright sunlight and wind don't make for the best pictures. So, for a full-quilt shot, I resorted to taping the quilt to our bookcase (thus the shiny spots at the top of the quilt).  I cropped the quilt so that the bookcase wouldn't be distracting and the bits of binding peeking in make the quilt look crooked.  It's not though — it's beautifully square (70″ x 70″), but tape-hanging tends to distort things a bit.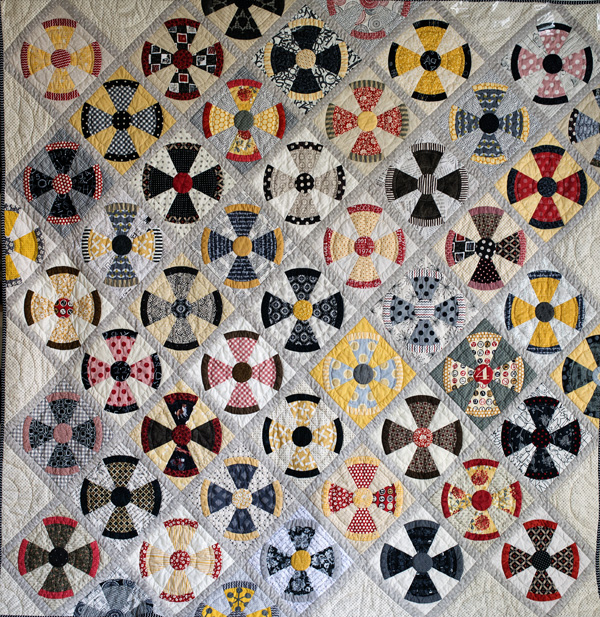 In case you've been living under a quilting rock (ha!), this quilt is from a pattern by the fabulous Jen Kingwell.  I machine quilted all the sashing strips in the ditch and then I big-stitch quilted circles in each block. I would have finished the quilting about two weeks ago, but about half-way through, I decided that each block needed more quilting, so I went back and quilted the outside edge of each "propeller" and then around the center circle of each block.  As luck would have it, I just happened to have the same color of Aurifil thread in two different weights in my stash.  I used color #2000 in 50 weight for the machine quilting and the same color in 12 weight for the hand quilting.  They both worked perfectly.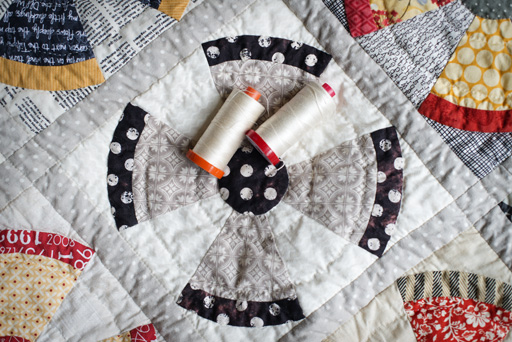 The quilt is backed with a fun big polka dot and the binding is a black and whited zigzag print.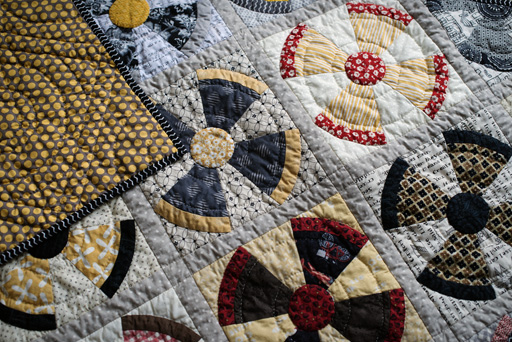 Here are a few of my favorite blocks. I think that little half-bee block is my very favorite. I love it combined with the yellow Sweetwater print of flowers that remind me of bee wings.  And, I might be a little partial to the block with the "A" in the middle.  (Looking at this picture, it appears that I'm also partial to those red polkadots LOL.)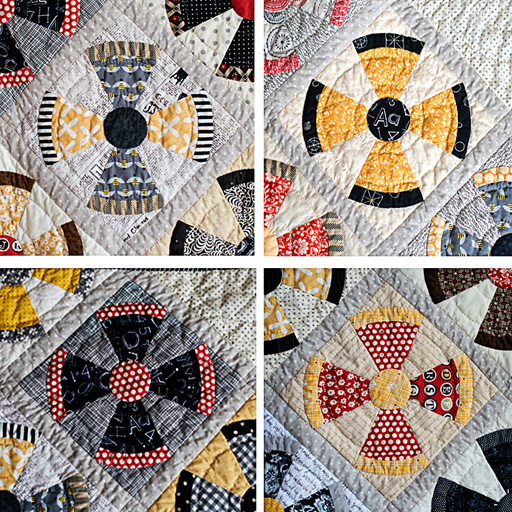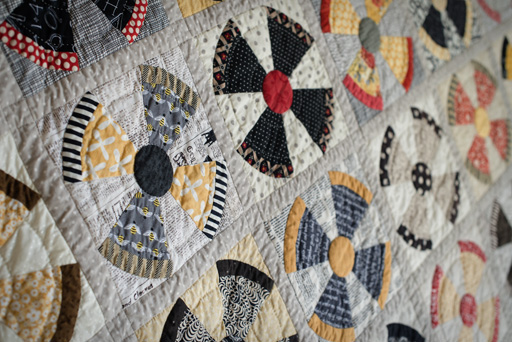 The fall colors have been so pretty this past week and I was disappointed that more of my outside pictures didn't turn out.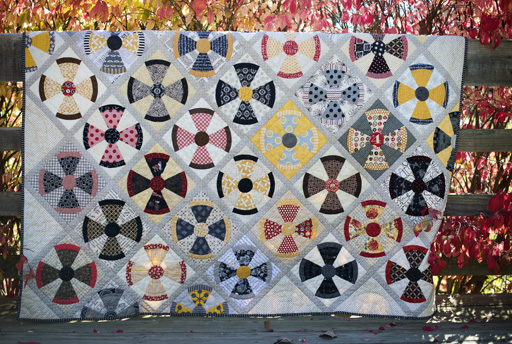 Besides, I had a little trouble with a lion in the park. He tried to eat the Steampunk, but then, just like Scruff when he eats a ribbon, he threw it back up.
As you can probably tell, Steampunk has been washed and he's all krinkly and cozy now. When Brigitte and I picked the colors for this quilt at spring quilt market, I didn't realize it, but the colors will go perfectly in our family room.
ou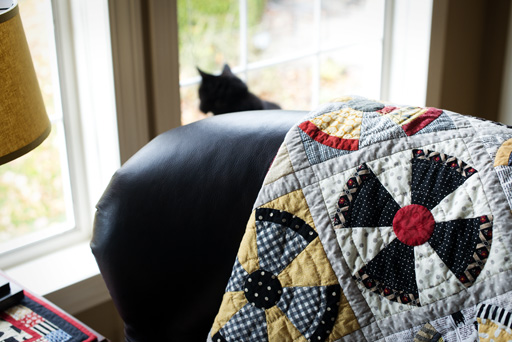 I love it when that happens!
I hope you're enjoying your weekend. I'm off to try and wrangle a few leaves. Leaf-raking is the job that won't die this year — some years they all come down together, but this year, they're dragging it out. I've contemplated ignoring them altogether in the hopes that the wind will blow them down the street, but that's probably not a good-neighbor idea. ;-D
XOXO,
Anna