Did ya miss me?  Haha.  This might possibly be the latest I've ever written about a spring market trip.  Quilt Market was followed by my cute nephew's college graduation, work, work, work, and then helping TheFirstChild and his little family with the first part of their move across the country this summer.  The second and final part will happen in a few weeks.  So, it's been too busy to stop and think about market.  Thank goodness for three-day weekends!
I was lucky enough to have my long-time blog friend, CrazyMom for a roommate this time around!  We had lots of fun and it was great getting to know her a little better.  She was at market promoting her beautiful new book, No Scrap Left Behind.  She brought many of the quilts from her book for her schoolhouse presentation, so, naturally, we had to sleep under a different quilt every night.  CrazyMom was so sweet and she let me sleep under my favorites.  It took BIG willpower not to put that red Irish Chain in my suitcase too!  (And how darling is that cute little nine-patch???)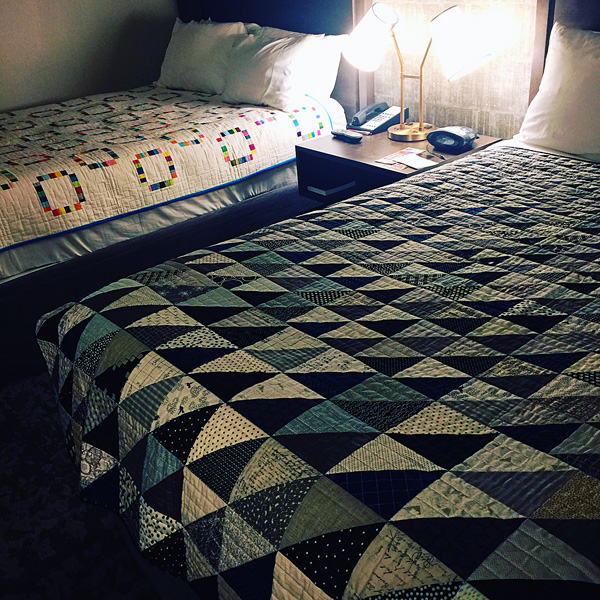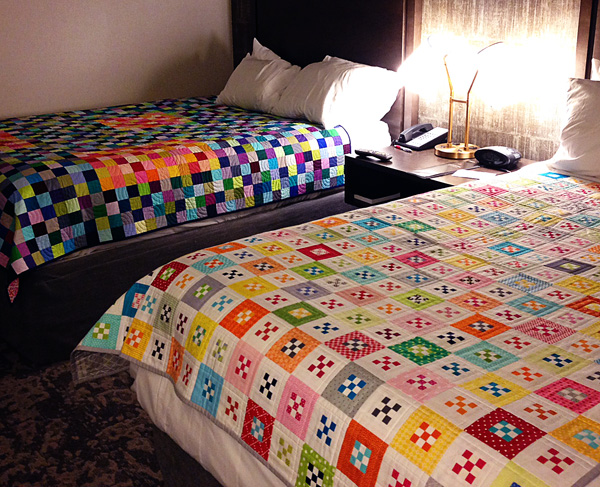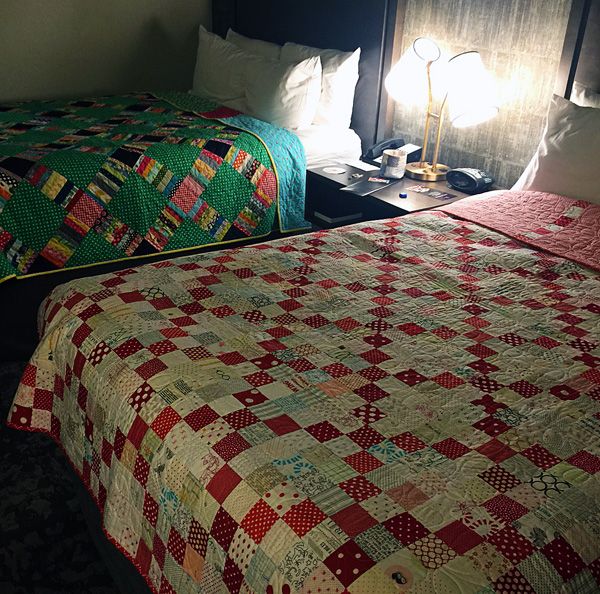 So that's it!  The highlight of market!  ;-D
Just Kidding.  We had lots of fun visiting all the booths and seeing all the new fabrics.  I didn't get a lot of pictures, but here are a few, in no particular order:
CrazyMom and I love this quilt on the left side of A Quilting Life's booth.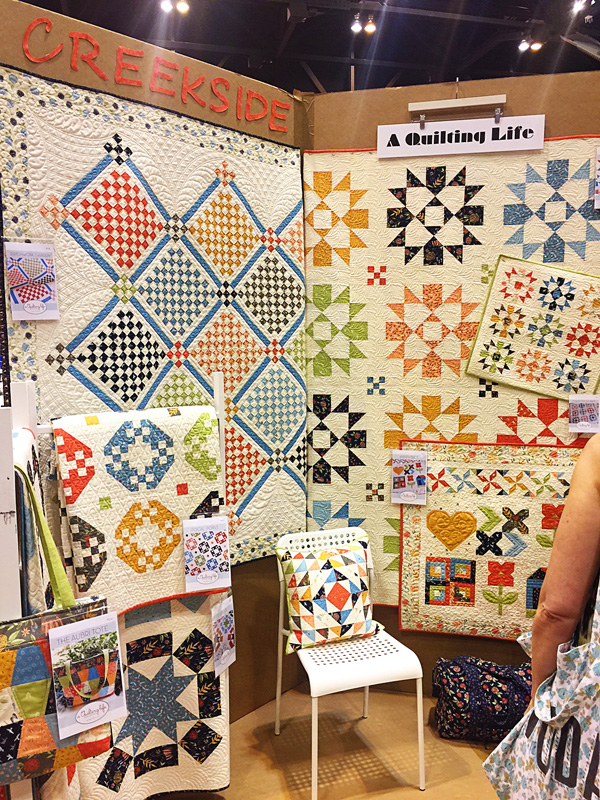 American Jane – again, the quilt on the left!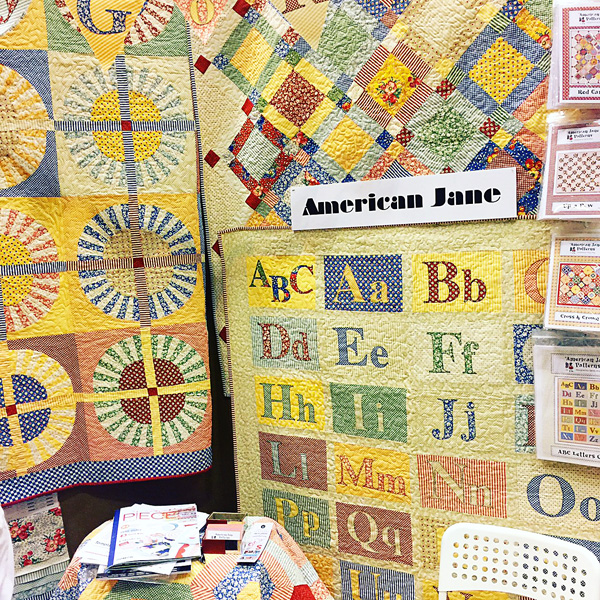 I always LOVE Brenda Riddle's sweet lines — beautiful colors, as always.
Annie Brady is a new designer and her Big Sky collection is really cute.  She has a print that has tree trunks (a similar print was popular a few years ago) and I'm looking forward to getting some for applique backgrounds.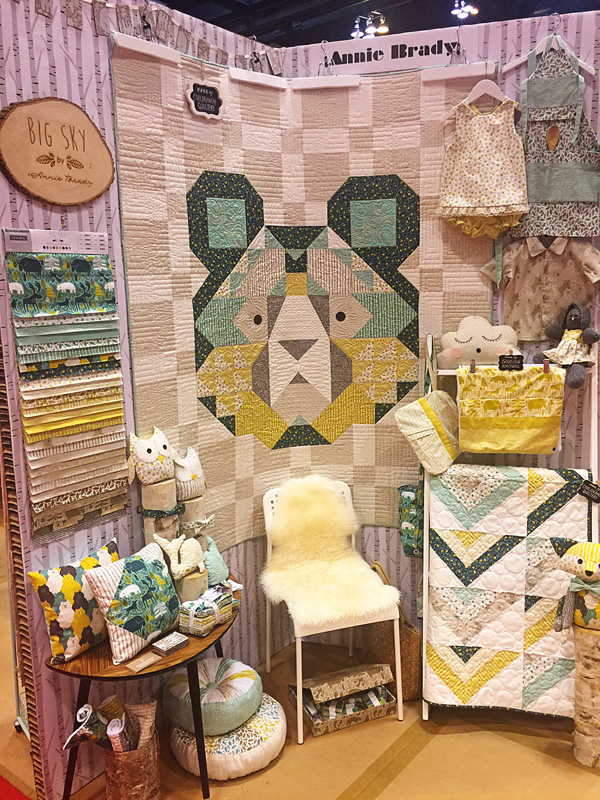 I was really looking forward to seeing Kristyne again — we met six years ago at spring quilt market.  Her new line is so sweet — and perfect for all of you Happy Quilt Along-ers!
Franny and Jane (love all the blue!)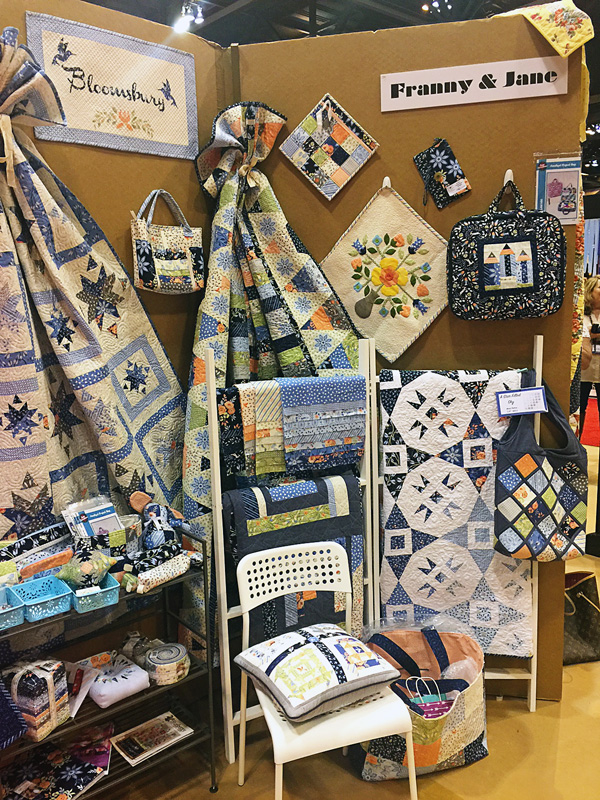 Jen Kingwell's booth is always so interesting.  We spent a lot of time looking at the blocks in all those quilts!
This is Sue Daley's booth in the Riley Blake area.  CrazyMom and I loved that little clamshell quilt hanging on the end of the booth.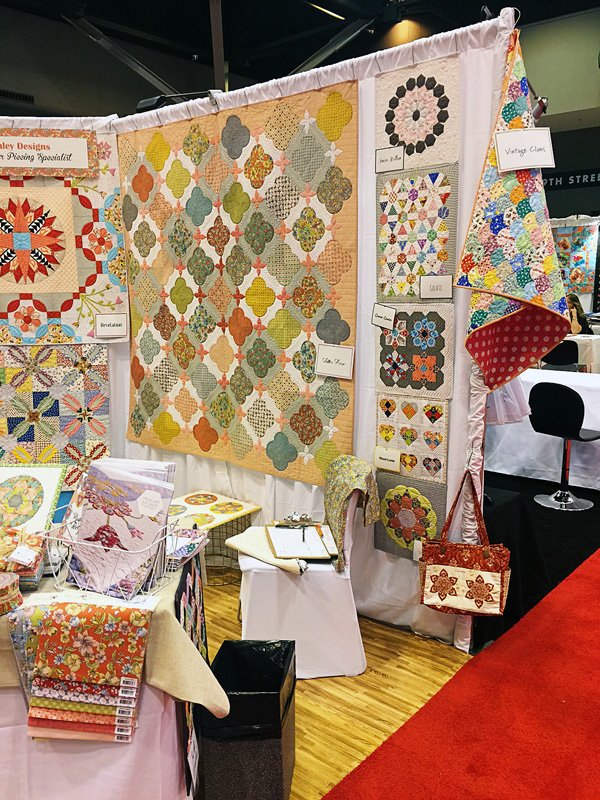 And I LOVE this adorable little mini Gelati quilt.  I'd love to have an entire quilt out of this pattern, but oh, what a TON of work!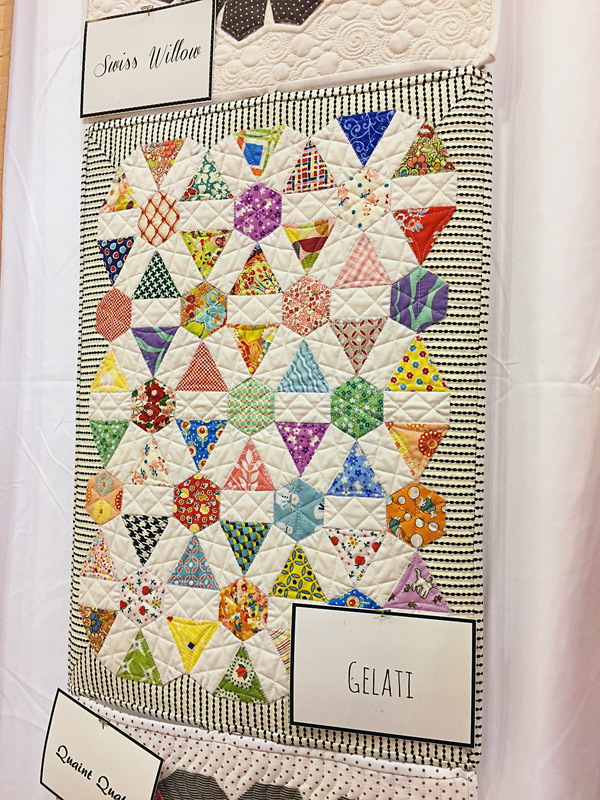 We had a laugh when we arrived at Amy Smart's fun booth.  There they were — CrazyMom and CrazyGingham both dressed in Gingham LOL!  Don't they look cute — and perfect with Amy's new line, Gingham Girls.
Shannon Fabrics had a ton of double gauze — along with their beautiful, squishy cuddle fabric.  I liked these displays of toddler clothes.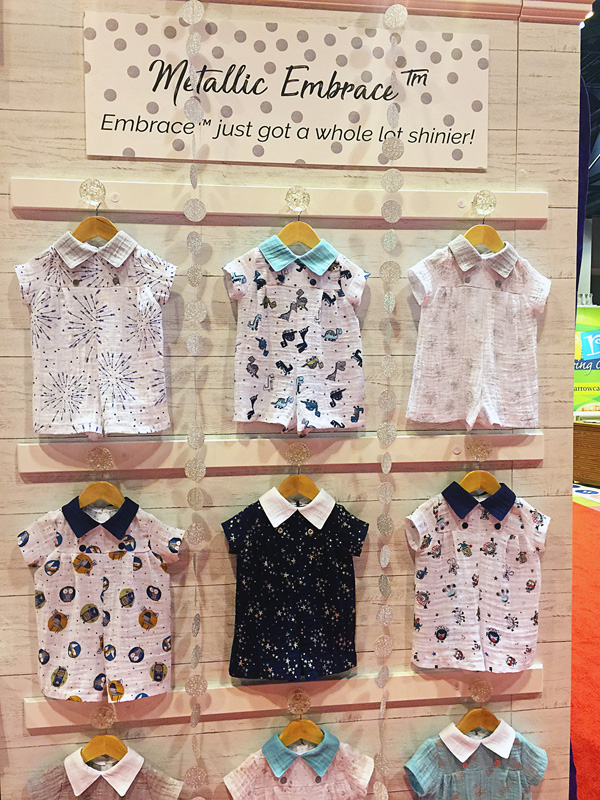 Need a new necklace?
Self-explanatory ;-).
I was really looking forward to seeing this adorable little bird fabric by Kari of New Leaf Stitches and it didn't disappoint.  I LOVE these cute birds and I MUST get some!
Here's another fabric that I loved — it's by the same person who illustrated the P.S. I Love You book.  Coming to an etsy shop near you soon LOL!
Cotton and Steel had these cute squirrels — I mentioned on Instagram that this fabric could justify every time you drop a current project and start a new one.  SQUIRRELLLLLLL!!!
CrazyMom and I spent quite a bit of time in the Ella Blue booth with those Crazy Aussies.  And let me tell you — that's a LOT of Crazy.  Jody is the Crazy RingLeader and she suggested that we pose for a picture so the shark could eat the other little sea animals.  Naturally, Jody was the shark!
And finally, just a picture of a cool quilt I noticed at market.  This little quilt was hanging in an antique booth and the owner said there are 9,216 colored squares — each measuring about 1/2″.  Add in the white squares and you have over 18,000 squares!  All hand pieced and beautiful.  I walked past the booth again, about 45 minutes after I talked to the owner the first time and the quilt was gone.  Unsurprisingly, it sold right away.
So, that's it for spring market from this year. It's always fun and I always come home with so many ideas. Hardly any of which I'll ever have time to execute LOL!
XOXO,
Anna
Save