Well Hello. Are you keeping good and busy? MyDadLovesMeBestSister and I have been so busy with hospital etc., that we've forgotten our names. It's ok though — we're here to remind each other. We seem to have a pretty good system of coordinating all the things that need to be done, but what, oh WHAT did we ever do without iphones?  I can't imagine our daily tasks without them.
Before the big heart event, I had started to hand piece a few stars. It's my first foray into hand piecing and I'm loving it.
The first star (the green one for inquiring minds) didn't work so well, but I soon figured out the technique that works best for me. And see that star in the bottom right corner? I was so careful to fussy cut the little blue and green flowers, but then I didn't space them every-other-one. Grrrr. So. Not. Unpicking. It!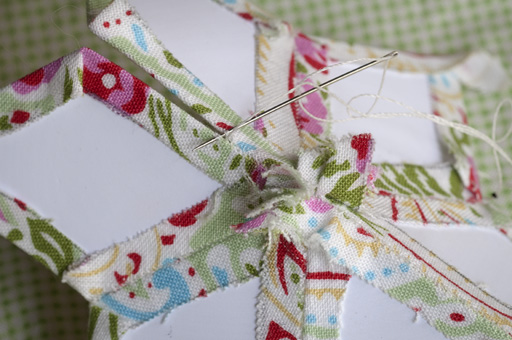 I haven't really been working on them in the hospital as the light levels there aren't always the best. I have been gift knitting there though, so you'll just have to take my word for it that there has been craftiness happening.
Hey — before I forget to tell you, Ali is starting a fun new game that you might want to play over at The Compound Word Project. It looks like lots of fun!
And, finally, I thought you might like to see how we bring a little cheer to a hospital room. My CrazyMomQuilt has been having a lot of fun keeping BigDaddy warm.  I've loved looking at all the fun fabrics in this quilt all over again.
Ok, must dash. It's my afternoon off — must get some errands done so that I can have a hot date with Daniel hubby tonight.
Have a great weekend!
XOXO,
Anna