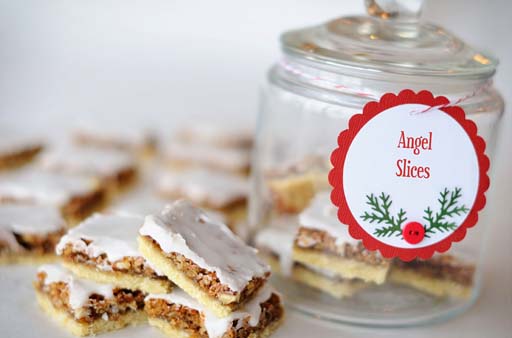 Angel Slices
Shortbread Crust:
1/2 cup butter
1/4 cup sugar
1 egg
1/2 teaspoon vanilla
1 1/4 cup sifted all-purpose flour
1/8 teaspoon salt

Angel Filling:
2 beaten eggs
1 1/2 cups brown sugar
1/2 cup flaked coconut
1 cup chopped pecans
2 tablespoons all-purpose flour
1/2 teaspoon baking powder
1/2 teaspoon salt
1 teaspoon vanilla

Lemon Glaze:
1 1/2 cups sifted confectioner's sugar
2 - 3 tablespoons lemon juice

Heat oven to 350 degrees.

Make shortbread crust: Cream butter and sugar until well blended. Add egg and vanilla. Combine flour and salt and gradually add to butter mixture. Use hands or knife to spread dough evenly into greased 9 x 13-inch pan. Bake about 15 minutes.

Make angel filling: Combine all ingredients in bowl and spread on shortbread crust. If preferred, omit the coconut and use 1 1/2 cups chopped pecans instead. Bake the cookies about 25 minutes.

When cool, ice with lemon glaze that has been mixed to a good spreading consistency. When glaze has set, cut into small rectangles.