I'm back from our whirlwind trip … I think. We drove straight through (a 25 hour drive one-way) to Utah, in both directions. We're all tired, but very refreshed. There's nothing like a visit to the mountains!
BigDaddy had a great time at the reunion. Here's a picture of the little cabin where his father grew up.
Grandpa (born in 1902) was the oldest of 10 children. When Grandpa was around 23 years old, his father died of pneumonia, leaving my Great-grandma to raise 8 children on her own. (Grandpa was on his own by then and the second child died when he was 2 years old.) My Great-Grandma was an amazing woman. The oldest 4 of the 8 children were girls and the youngest 4 were boys, the youngest being only 4 years old when his father died. For most of their childhood, this little cabin was only 2 rooms — a room for my grandparents and a room for all the kids. The door on the far left hand side is a door to the kitchen, but that wasn't added until the late 1930's — I can't imagine where Grandma must have cooked before then, as there's no fireplace in the main cabin.  Grandma had a hard life.  The older children quit school after the 8th grade to help support the family.  And just a few years after Grandpa died, her third daughter was killed in a sledding accident at age 18.  In spite of everything, she always had a smile on her face and a fresh, home-baked cookie for her great-grandchildren.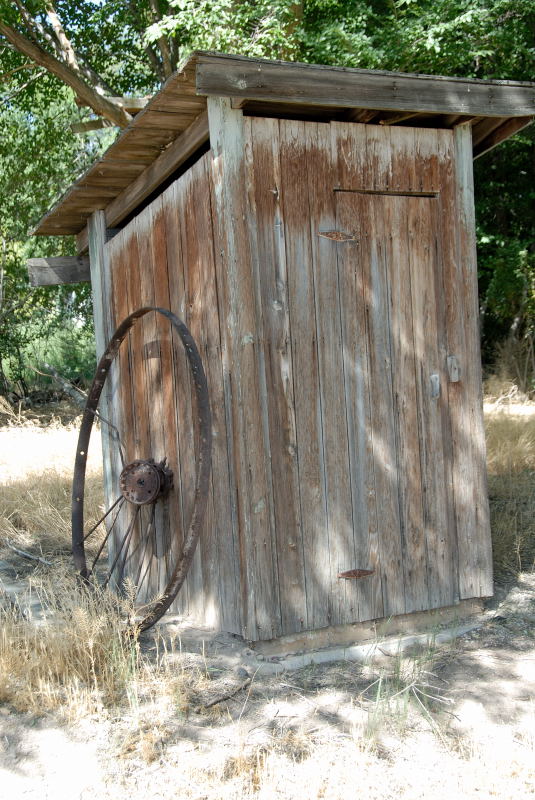 To the right is a picture of the outhouse. Indoor plumbing was added at the same time as the kitchen. And below is a picture of a hen house on the property. I took the picture and didn't even notice the tree growing out of the middle of it. One of BigDaddy's cousins mentioned that people stop to take pictures of "the shed with the tree growing out of it" all the time.
After the reunion, we spent several days just relaxing and enjoying our cousins on MeMum's side of the family. We stayed with my aunt, another fabulous woman who has raised 7 children and has 26 grandchildren. We cooked and ate and played games. My aunt makes THE BEST sweet rolls. I had to take a picture.
There were a ton of middle-school-age boys and they all had a great time playing a game called fugitive (a nighttime game where everyone tracks down the "fugitive") and sleeping under the stars. Oh those western skies — the stars at night are SO clear and beautiful. We also worked a little. We helped my uncle paint a fence one day.
I suppose it was a weak attempt to work off a few pounds gained from all the food they fed us. I don't think it worked though. Here's one more farm picture. The long building is my grandfather's turkey barn. It hasn't had turkeys in it for many, many years. The farm has been sold now and the new owners will take over in December, so this was my last visit. It's not the same now, as it was when I was little, so it wasn't too hard for me to say goodbye.
The last day, we went up to Salt Lake. The boys checked out some schools and my aunt and I did a little quilt shopping. We visited my ALL TIME favorite quilt shop, Whimsy Cottage (no website yet!) It doesn't look like much from the outside, but the inside is loaded with all sorts of Kaffe Fassett, Lakehouse Dry Goods, Anna Maria Horner, Batiks, etc., etc.
We also found a new little quilt shop, Elaine's Quilt Block. I hate to say it, but we almost didn't go to Elaine's — the name just sounds a little…um…un-exciting. But when we were at Whimsy, we told the clerks that we only had time for one more shop and we gave them three choices and said "Which shop would you go to?" They both immediately, and at the same time, said Elaine's. It's a great quilt shop. If you live in SLC, you're very lucky to have such great choices in quilt shops!
So, now, back to work and catching up on all your blogs. Only 1450 posts to read! I squinted in fear when I opened my bloglines. Maybe I'll be caught up in a few weeks. It won't be easy though — two family birthdays this week and a trip to New Jersey. It's a good thing that Labor Day weekend will be here soon to help me get caught up!
XOXO,
Anna