All good things come to an end, and now, it's back to work. Enjoyable time off is always too short and fleeting. I didn't get as much done this weekend as I would have liked, but I had some good family time, and that's what's most important.
Yesterday, we all met at BigDaddy's and split firewood so he'll be stocked for the winter. Goofy me, I didn't take my camera. I was very sorry about that as the picture of TheFirstChild and BigBurlyBIL both swinging axes at the same time would have been a good one. They worked up a soaking sweat chopping wood, while TheManoftheHouse, SweetiePie, and I picked up the pieces and stacked them. After all the work, we had a little cookout. MyDadLovesMeBestSister outdid herself by bringing four fabulous salads. Bratwurst, end-of-season corn on the cob and Cowboy Baked Beans rounded out the menu and filled us over the top.
I made Karen's S'more dessert. Being a S'more fanatic, when I saw Karen's recipe I knew I had to make it. It was a VERY BIG hit — even with TheManoftheHouse who doesn't usually like desserts. Karen jokes about all the Fudge sauce — holy cow it takes two bottles. I can't believe I'm saying this, but I think it was almost too sweet for me. I would have been happy with more ice cream and less fudge sauce. I was overruled though — everyone loved it just as it is!
I did manage to get a little bit of sewing in over the weekend. Back in May, I saw this cute celery crisper on Monica's blog. Now, MeMum makes The Best green salads on the planet. They're always crisp and delicious. She washes the lettuce, spins it, and then wraps it up in a flour sack towel and puts it in the fridge for 20 or 30 minutes before dinner. So, when I saw the celery crisper, I thought how fun it would be to make a lettuce crisper for her. I mentioned this idea to my quilty friend Junie a few months ago and she found a picture of a lettuce head similar to the one I put on this little bag. Thanks for your help Junie, MeMum thinks it's really cute!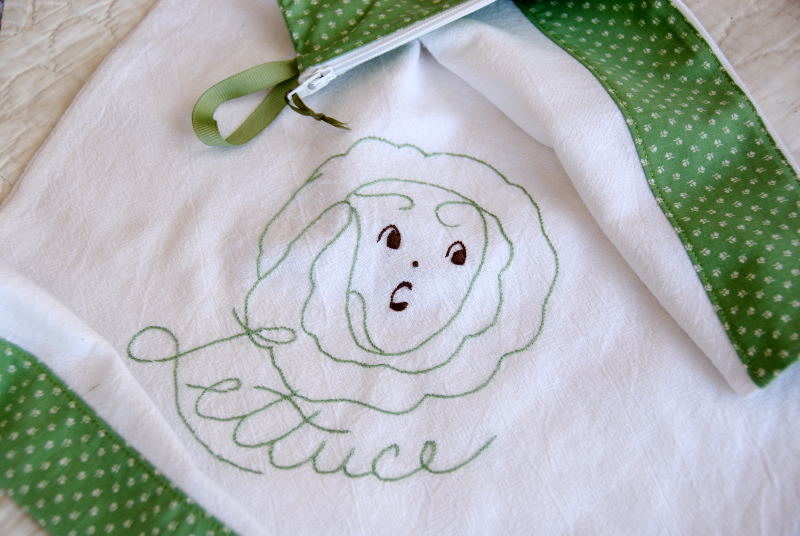 And one last thing, the lovely Holly has tagged me for the middle name game.  Ahem.  I don't have a middle name!  It's been a long-standing tradition in our family that the girls don't get middle names.  There have been a few dissenters though.  One of my cousins, feeling gypped, just made one up when we were little and it stuck.  And MyDadLovesMeBestSister gave one of her girls a middle name.  ???  The one without the middle name was feeling left out however, so she now has one too.  I'm afraid if I'd had girls, they would have been middle nameless.  Tradition, you know.  Oops, I digress, another tradition around here.
Anyway, I read somewhere that if you don't have a middle name you should just use one that you like.  I've always loved the name Tess (thank you Thomas Hardy), so I'll use that one.  Anna Tess sounds pretty stupid, but that's not the point now, is it?
T – Tired.  Had to go back to work today, that makes me tired.
E – Embroidery, of course.  I LOVE embroidery.
S – Sewing, I REALLY love sewing.  Anything.  All kinds.
S- Sorry.  I'm very sorry I don't have something really incredible to blog about today.  Like maybe I whipped out a beautiful quilt this weekend.  Nope.  But I sure thought a lot about it, does that count?
Now, I'm supposed to tag one person for each letter in the name.  Just so that those who are blog-less don't get left out, I'm tagging Judy (MSN Judy are you there?) and the three quilty peeps, Gurney, Junie, and Jewels who can play in my comments if they want.  Let's hear it for your middle names!
XOXO,
Anna