Sometime right before Thanksgiving, MyDadLovesMeBestSister and I were looking at a few things of BigDaddy's and we decided (maybe in a fit of madness?) that we should make quilts from his shirts for his 5 grandchildren.  We decided on a simple 4″ patch quilt pattern and spent a few weeks sorting and cutting.  We worked away at our little project and by Thanksgiving, we had the quilt fronts all pieced.  As the mother of 2/5ths of the grandchildren, I lucked out and only had to make 2 of the quilts.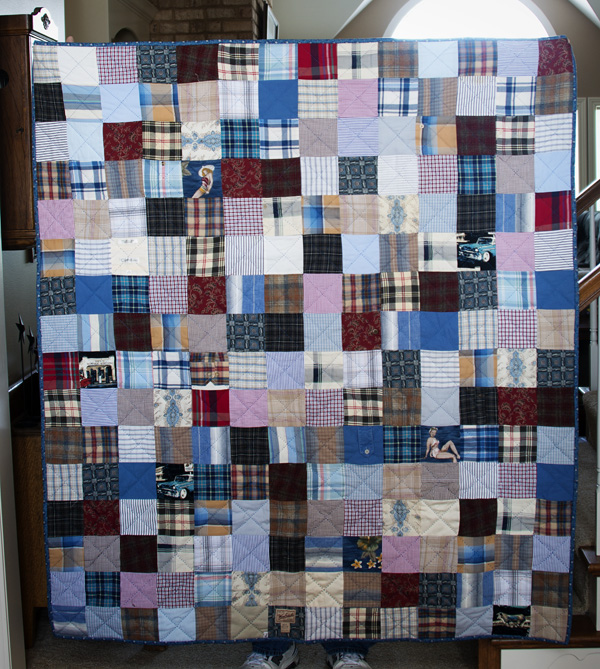 I tried to compensateMyDadLovesMeBestSister for her extra work by piecing all the backs.  BigDaddy was known for some of his funny sweatshirts, so we decided to include a few of each on the quilt backs.  (My favorite was a shirt with a dog skeleton that said "In Dog Years … I'm Dead."  Or, "If a man is talking in the forest, and there is no woman there to hear him, is he still wrong?"  Classic BigDaddy!)  We chose a blue flannel for the main part of the backs, and I used my embroidery machine software to digitize BigDaddy's signature with a message that he'd left on a card to one of the kids.  We also included a pocket on the back of each quilt, and into each pocket we tucked a few treasures for each child (now young adults) from their beloved Grandpa.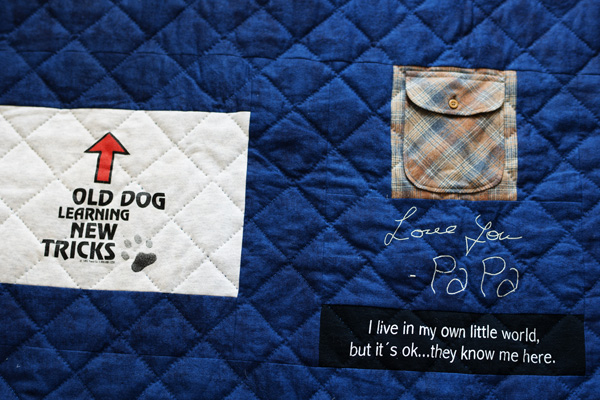 I chose to big-stitch the two quilts that I had to finish, but MyDadLovesMeBestSister knew that she'd never get three quilts hand quilted, so she decided to tie hers.  I love them both ways!  I also bound my two quilts with a print from MeMum's stash — to add a MeMum touch to the quilts, and I love how they turned out.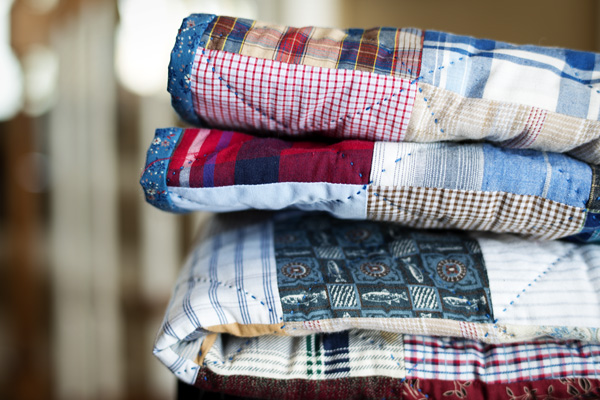 Quilts made out of shirts aren't that fun to make and they're certainly not at all pretty.  I mentioned these quilts to Jan shortly before Christmas and she compared this sort of quilting to sewing on buttons or hemming pants.  Indeed.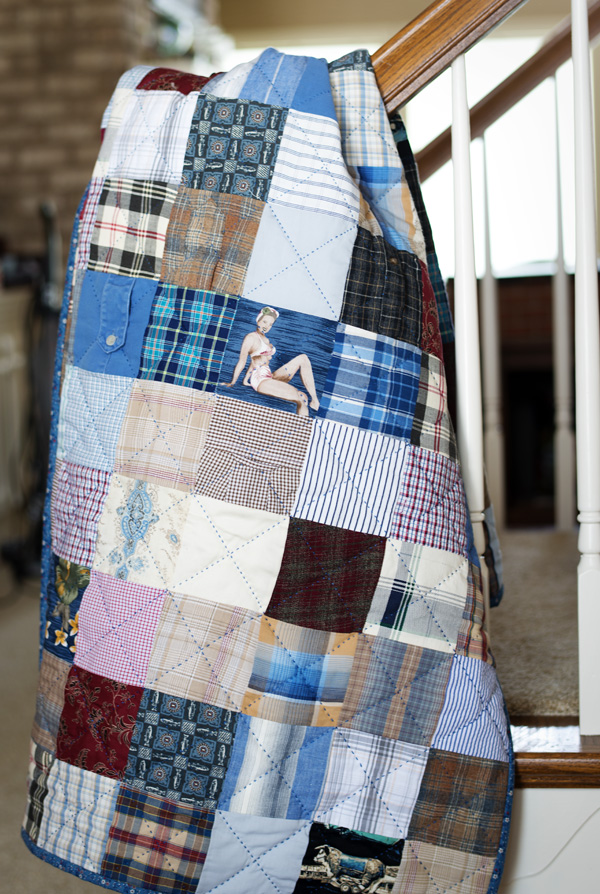 But.  Sometimes the payoff is really BIG.  MyDadLovesMeBestSister and I predicted that there might be some tears on Christmas morning and we nailed it. I had big plans to take lots of pictures of all the kids holding up their quilts, etc. but the flu wreaked havoc with the rest of the week.  It didn't matter though — I took a few photos when the quilts were opened.  The one below is my favorite — you can see at least two criers in this shot and there were more to follow LOL.  It was a really fun and special Christmas morning.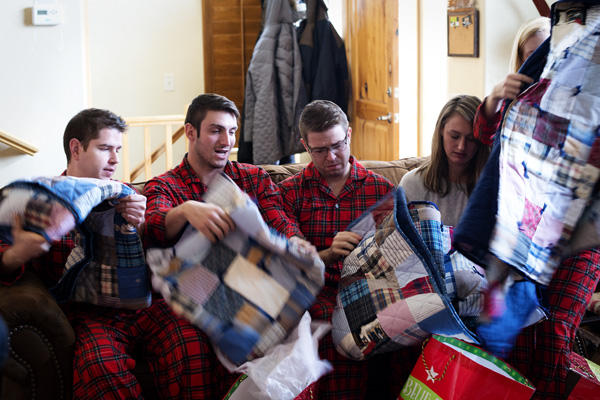 Now Christmas projects are all over and we're at a new year.  A clean slate.  Are we working on UFO's or new projects???  Decisions, Decisions!
XOXO,
Anna
P.S. The adorable Puppy Love fabric by Anita Jeram (the illustrator responsible for those darling little P.S. I Love You Rabbits!) has arrived in my etsy shop. It's accompanied by an adorable minky-style plush puppy spot fabric. Oh, the possibilities!!!