June Junie June.  Can you believe it's June already?  My spring has just disappeared in the mist and it feels like we just jumped from winter to summer.  It feels that way weather-wise too — it was cold for so long and now it's pretty darn warm.  We'll take it though, won't we?  It's been beautiful out there!
I had a busy weekend.  SweetiePie dropped in for a short visit.  We went shopping for CuteNiece1's upcoming birthday but I forgot to buy wrapping paper.  Pinterest to the rescue  !  I found a cute gift wrap that would use the little flower loom that I've saved since I was a little girl.
SweetiePie and I played with the loom and I was surprised that I remembered how to make these little flowers.  I used leftover yarn from this fun bag.  It pays to be a hoarder!
I also managed to do a teeny bit of applique this weekend.  I'm working on the center block from Phebe in the book Primarily Quilts by Di Ford.  I love using that green and white stripe for flower stems — but you already know that from my last post.  I had some of the green stripe from Bonnie and Camille's Scrumptious line in my stash and I figured I'd use that because the stripe that I ordered at market wasn't scheduled to be here until the end of summer.
But yesterday, the vendor called and said the stripe I ordered is no longer available.  I'm distraught!  I REALLY wanted that stripe to use on The Aunt's Quilt!!!  What are WE going to DO???
If it's any consolation (I don't think it is?) guess who's here????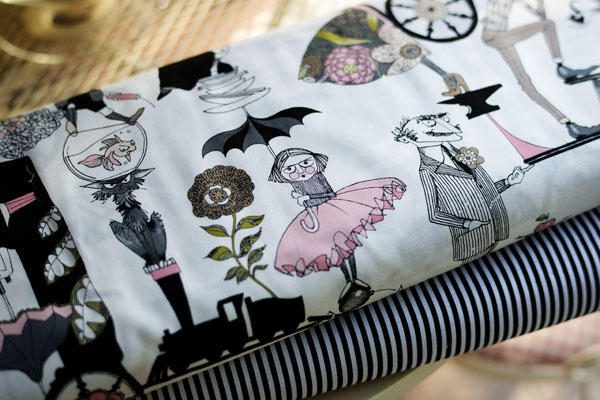 The Ghastlies* arrived on Friday and they've already found a friend among my fabric bolts. That's the 1/8″ black and white stripe from Timeless Treasures. If you're a fan of Red Pepper Quilts, you recognize this stripe as one of her favorites for quilt bindings. If you need some of either fabric, they're in my little shop. ;-D
Have a Good Week!
XOXO,
Anna
*As I mentioned when I returned from market, this is rumored to be the last of the Ghastlies line!