Thanks for all the Applecore quilt love! This is really a pretty easy quilt to put together, if you get the template right. The trick is to get the length of the convex curve to match the length of the concave curve.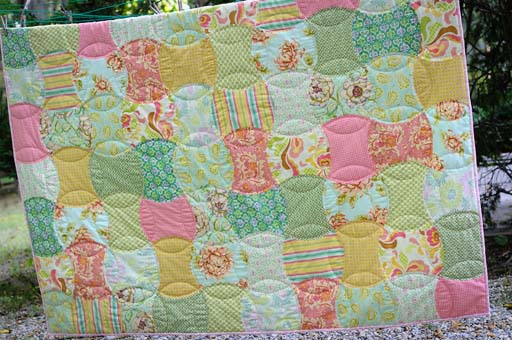 The very easiest way to make an applecore quilt is to buy your applecore pieces already cut out for you. But, that's not always practical — you might want to use your own scraps, or you might want to make an applecore quilt in a size that's not available in pre-cut pieces. The next easiest way is to buy a plastic template, but you still have the issue of templates probably not being available in all sizes. So, for my money, the best way is to make your own template. Some of you probably already know how to do this (Annalea spelled it all out just the way I do it, except for the last few steps, in the comments section of part 2!), but for those of you who don't know how, here are a few pictures to help you along.
First, you have to determine how long you want your applecore to be.  (My jumbo applecore was a little over 10″ long.)  Then find a circle that has a diameter equal to that length.  Look all around you for circles — cans, dinner plates … heck if you want a really jumbo applecore, run outside and trace the circumference of a car tire!  For our little sample, I'm using a canning jar.  (And please ignore my funny green cutting mat and try to remember that I sew in a dungeon — thus, no natural light!)
Trace around the jar and cut out your circle.  Then make another identical circle — I'm using a different color of paper to make it easier for you to see what we're doing.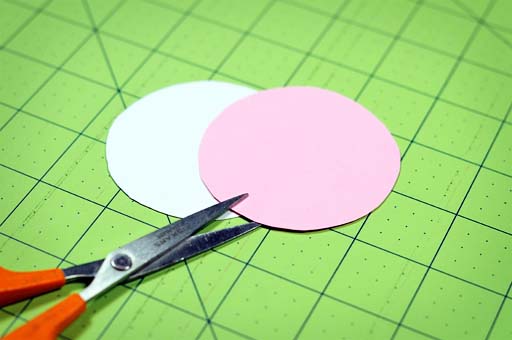 Fold both circles in half.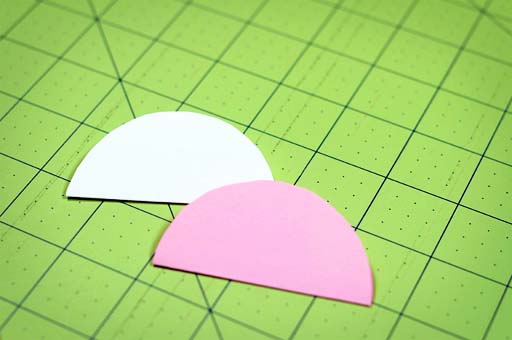 Unfold your circles and label the endpoints of each line.  This step isn't really necessary — again, I'm trying to make it a little easier to explain this process.
Fold the circles in half again, by bringing the A to touch the B, and mark the endpoints of the new lines.
Now, your circle is divided into 4 equal sections.  Place the pink circle on top of the white circle and match up the white A to the pink C and the white D to the pink B.  You can match up any group of points, as long as your circles look like the ones in this picture and your folded endpoints are touching.  Then trace the curve of pink C to pink B onto the white circle.
Cut the white circle on the traced arc.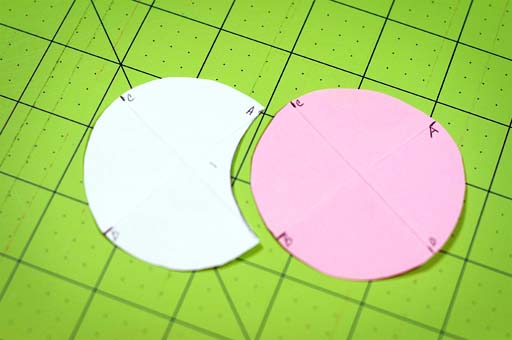 Repeat this process for the other side of the circle and voilà, an applecore!
Now, the most important part — you have to add your 1/4″ seam allowance.  Glue your template to another piece of paper and mark a 1/4″ seam allowance on all sides of the applecore.
Cut along this new line and and voilà again … a template!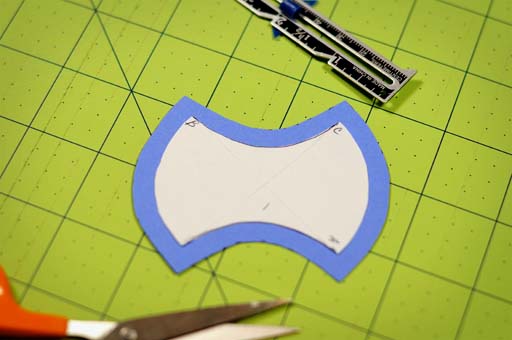 One more thing that I find very helpful is to mark the center points on each arc, so that you can match them up when sewing.  Fold your applecore in half lengthwise and clip a little v into the edge of the template on each end.
Repeat this process for the concave sides of the applecore.
Your template is ready to use!  Now, I know … those of you in the zoom, zoom age of rotary cutters aren't going to want to have to deal with this old fashioned template method.  "But, it takes too long" — I can hear you now.  Quit yer whinin'!  Expand your horizons!  This way really can be fun and even … dare I say it … relaxing.  Trace around your template, onto your fabric, being sure to mark those midpoints.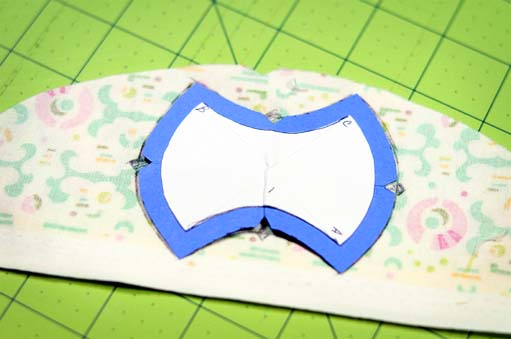 My jumbo applecore has 90 pieces in it — I traced and cut on 4 layers of fabric at a time and it only took me about 90 minutes to get them all cut out.  So, here are our little samples.
And here they are all sewn together.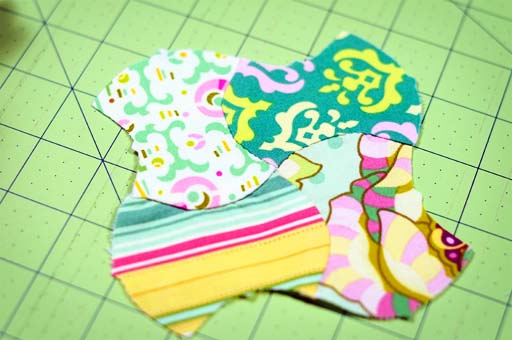 So, there you have it, in case you're interested in making an applecore quilt in any size.  And if you're really lucky, when you're all done, your quilt will be kitty cat approved!
XOXO,
Anna