Wow!  Thank you so much for all your lovely comments about The Wedding Quilt.  Several of you mentioned that I neglected to say whether the kids liked their quilt.  Yes — I think they did!  I received several wonderful text messages and a phone call from SweetiePie last week.  And we had a surprise visit from TheFirstChild on Monday and he said he loved it too.  Anyway, you've all been so sweet!  I'm thinking you deserve a little reward — look for a giveaway right around the corner. 
In the meantime, as part of my duties as a button-displaying member of Cassie's crochet-along, I've finished some pillowcases this week.  They're super fun to make and I love them!
Cassie did a fantastic job with her instructions.  They're clear and concise and her photos are perfect.  I do have just one little teeny, tiny complaint though.  Cassie, dearest…I think you severely underestimated the number of chocolates required for Step 3, A Firm Foundation.  Three???  Three measly chocolates for all that pain and suffering I had to endure while my yarn was all twisty and knotty???  The green crochet thread above wasn't tooooo bad, but the pink yarn below was a pain in the b.u.t.t.  Step 3 may or may not have caused more bad words to slip out than quilting the wedding quilt!  I'm thinking at least 20 chocolates.  Yes, that would definitely soothe the pain.
Shortly after I bought the pink flowers and green stripes, I found this little sheepy fabric.  I love sheepies and I thought it would be perfect for pillowcases.  I thought that pink yarn would be too heavy for this job, but it wasn't too bad.  If it just hadn't tangled so easily!  I really love the envelope style of the pillowcase — no more ugly pillows peeking out of pretty pillowcases.  I'll definitely be making more of these in the future.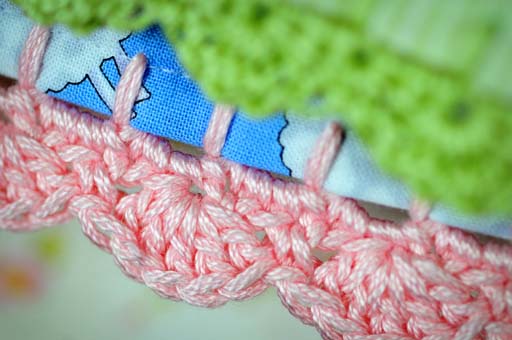 And one last thing, Knitter Sue and Yellow Beach Dog have very kindly given me Sunshine and Beautiful Blogger Awards.  Thank you so much ladies!  As they say in the UK, I'm rubbish at this sort of thing, so, I'll just pass these along to everyone who is reading!
Now, I'm off to prepare a little goodie for a giveaway.  Have a great weekend!
XOXO,
Anna