Holyyyy Cow!  How can it be that so much time has passed since my last post?  And that we're 1/4 of the way through this year already???
I hope you've all had a Very Happy Easter!  I had a hard time getting computer time this weekend to post — TheManoftheHouse hogged the computer ALL weekend for Work work.  And I was busy in the kitchen all day.  We had our usual Easter fare – Ham (I think the troops are all ready to revolt though — half of them don't really like ham and were voting to discontinue the tradition), Cheesy Potatoes, Carrots, Green Salad, Deviled Eggs and Dinner Rolls.  There would have been a beautiful Miette Lemon Debutante Cake too, but I had a MAJOR cake fail.  I had to make the cake twice and then, the icing failed too.  I've made these cakes several times before and never had trouble — I guess it just wasn't meant to be.  It made me sad though — I've been craving cake all night LOL!
It's been a busy six weeks here in ThimbleannaLand.  Work, work, and more work.  TheSecondChild has been back at home for several months and we just moved him to a new apartment and job in Indy — I'm so excited for him.  And us too — he's only 2 hours away, which is SO much better than 16 hours away.  I'm looking forward to seeing him a lot more often.
Then, in the middle of it all, we went to see TheFirstChild, SweetiePie, and our little cherub for a week.  We had a really relaxed week — I didn't even take my big camera!  Oh how fun it was to play with our little doll — she's 20 months old now and so much fun.  I made her a little dress before we left and I was so excited that it fit her just right.  Here are a few iphone pictures that I posted on Instagram.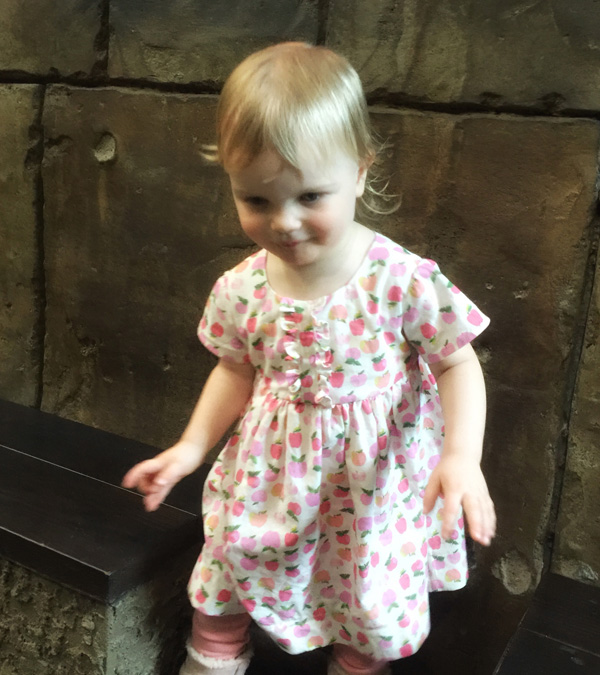 The dress is the Aliana dress from The Freckled Pear and the fabric is from the new Kinder line by Heather Ross. I had this cute little apple print in my etsy shop but it sold out right away, so I should have some more (plus the red apple print) arriving this week. (Btw, I have sooo many cute new fabrics that have arrived this spring — I need to find more time to sew!)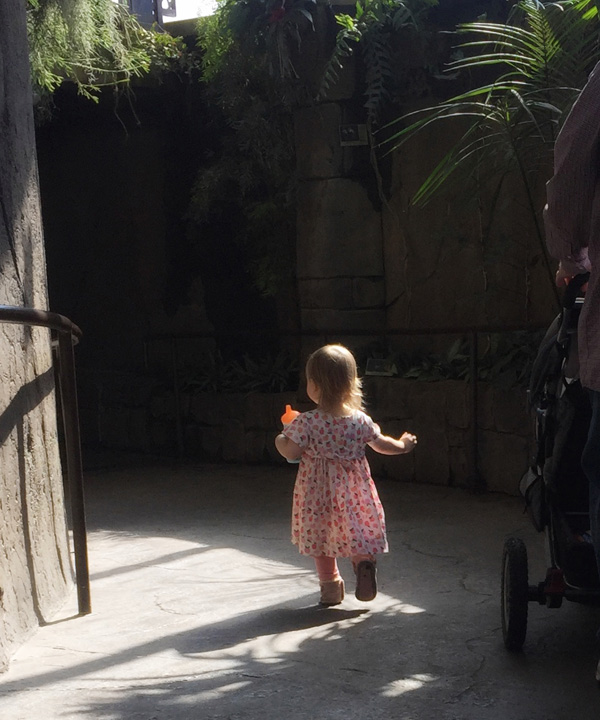 I've been working on other projects too, but no big finishes yet.  I'm doing a little test knitting for an instagram friend.  I'm hoping to finish up this cute little project in the next week or two.
And, after a too-long break, I've been working on the little quilt for FinallyAGirl again. I'm about 3/4ths of the way through. I'm such a slooooow hand-quilter. I need to get with the program though — FinallyAnotherGirl is due to arrive this September, so I'm going to need to start another quilt!  We're SO excited!!!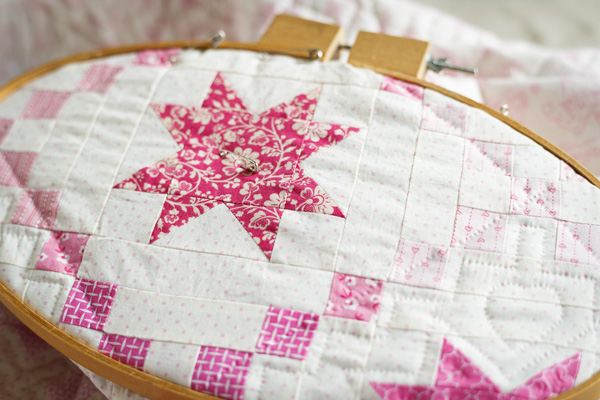 Hopefully it won't take me so long to get back here this next time. Maybe I should just post on holidays. Or chocolate holidays LOL.
Happy April!!!
XOXO,
Anna