How is your week going? Not even a teeny tiny bit of sewing going on around here — too many other things going on. Tonight, after work, I mowed the lawn for 2 hours, tidied up the house and loaded up the truck with a bunch of stuff for TheSecondChild. I'm headed to Nashville to see him in the morning. He'll be moving to a new apartment next week, so we'd planned for me to visit this weekend. He's managed to stay high and dry through all the flooding, so we're feeling very fortunate.
So, with nothing crafty going on, I'm going to add to my online recipe collection.  If you've been around here very long, you know that we love cookies. TheManoftheHouse has pretty boring tastes, and he likes his goodies plain. It's always a battle between us because I love lots of nuts or oatmeal or cranberries or most anything. Two cookies we can agree on are chocolate chip and snickerdoodles. So, over the weekend, I made him a big batch of snickerdoodles.
These are jumbo cookies and they're pretty darn good. I've tried snickerdoodles with all butter (not crispy enough) or all crisco*(not enough flavor), but I prefer a good mix of butter AND crisco. I can't remember how many cookies this recipe made, but it seems like it was around 40.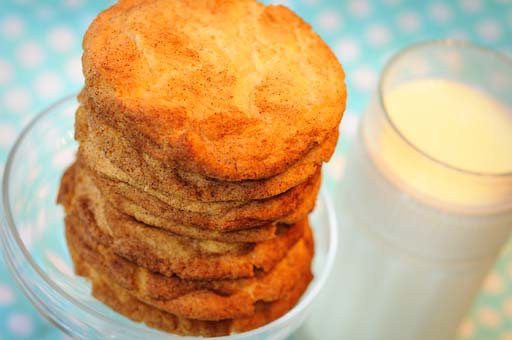 Giant Snickerdoodles
5 cups flour
4 teaspoons cream of tartar
2 teaspoons baking soda
1 teaspoon salt
1 cup unsalted butter
1 cup vegetable shortening
3 cups sugar
4 large eggs
1 1/2 teaspoons vanilla extract
Cinnamon Sugar (mix together in small bowl and set aside):
1/3 cup sugar
2 tablespoons sugar
Preheat oven to 375 degrees. In medium bowl, whisk together flour, cream of tartar, baking soda and salt and set aside.
With mixer, beat the butter, shortening and sugar at medium speed until light and creamy, 4 to 5 minutes. Beat in the eggs one at a time. Add vanilla.
With mixer on low, slowly add the flour mixture until combined.
With cookie scoop, scoop a ball of dough into hand.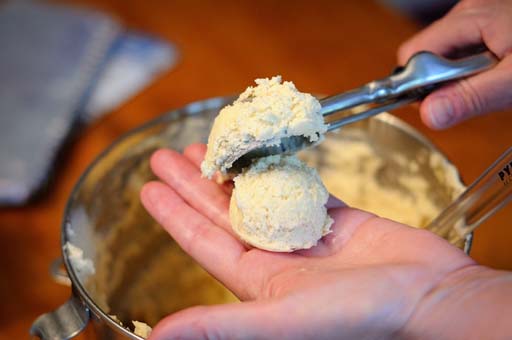 Roll dough into a smooth ball.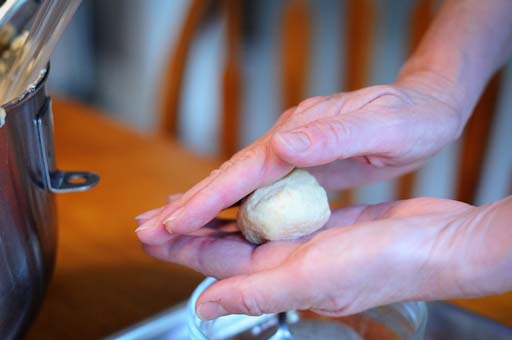 Roll dough ball in the cinnamon sugar mixture.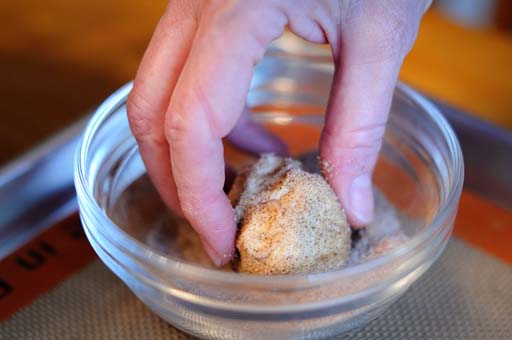 Place cookies on cookie sheet, leaving plenty of room for spreading.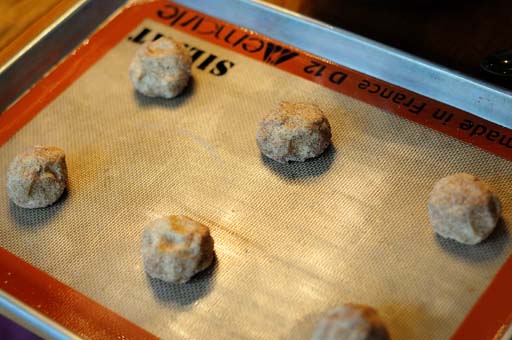 Bake until lightly browned and puffy, 10 – 12 minutes. Remove from oven when middle of cookie looks just slightly under-done. Let cookies cool on cookie sheet for 2 to 3 minutes and then cool on wire cookie rack.
Shortly before I got to the end of the batch of cookie dough, I decided to try to speed things up by putting the dough on parchment paper. (I just purchased a silpat mat for when I was trying the macarons, so I haven't tried it with any other cookies.)  Here is the difference between parchment paper and the silpat mat.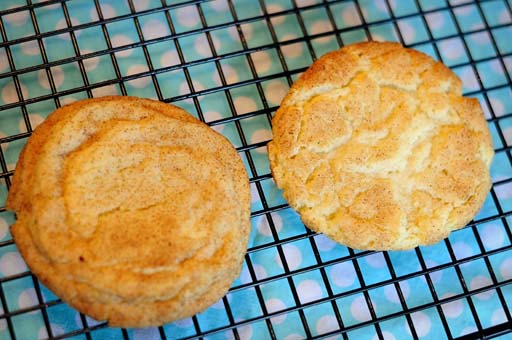 Can you tell which is which? The cookie on the right is traditionally what a Snickerdoodle should look like (although MeMum likes the cookie on the left better), and it was baked on the parchment paper! So much for silpat mat superiority!
Either way, they still taste good — Pour yourself a cold glass of milk, take Big Bites and Enjoy!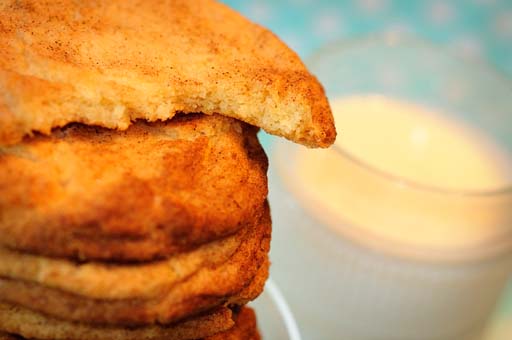 XOXO,
Anna
* – Crisco is vegetable shortening, for those of you not in the US.