Gosh, a whole week has whizzed by since my last post. I've been busy, but not with much to show for it. I had a little trip to see TheSecondChild over the weekend. We had a lot of fun visiting and stocking his pantry. You know, like mothers do.
When I got back home I had a fun fabric surprise from SweetiePie and TheFirstChild waiting for me.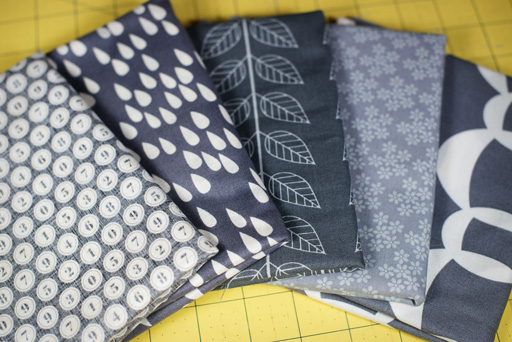 Look at those great gray prints! SweetiePie sure knows what I like! (L to R: Just Type by Patty Young (LOVE), Uno Style by Stof.dk, Simply Color by V and Co., Shades of Grey by Exclusively Quilters, and Pure Style by Stof.dk.)
I also won a giveaway from Sherri a few weeks ago. It was a gift certificate from Fashionable Fabrics and the fabrics arrived while I was gone. I thought the knitting sheepies might be fun to make a needle carrier or knitting bag or something. Hopefully I'll get around to it before too long — my needles are a mess!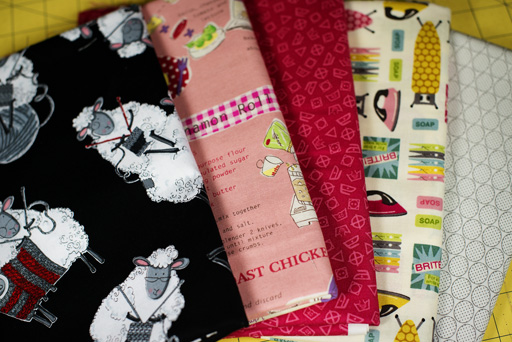 (L to R: Knitting Sheepies (I named them — they don't have a name) by Timeless Treasures, Illumination by Yuwa fabrics, Wash Symbols by Makower UK, Wash Day Utility Room by Makower UK, and Remember by Carina Gardner.)
Other than that, not much excitement around here. The Steampunk quilt is all basted and ready for me to begin quilting — I'm excited to get started. Oh, and when I was reading Jan's blog yesterday, she mentioned how much she loved her sewline pencil' and it reminded me that I forgot to tell you that I put some of the Sewline gift sets into my little shop. Just in case you want one for the big event coming up in a few months LOL.
I love, love, love those Sewline pencils — they made the Steampunk quilt so much easier to work on.
That's it! Have a good week!
XOXO,
Anna