Brace Yourselves Kids — I actually have a finish from my sewing room!  A month or two ago that cute little CrazyMom sent me some fat quarters from her new fabric line, Emma and Myrtle for Connecting Threads.  Soooo Sweet — and I LOVE the name!  I'd been wanting a little travel sewing kit for a long time, so I thought this would be the perfect opportunity to make one.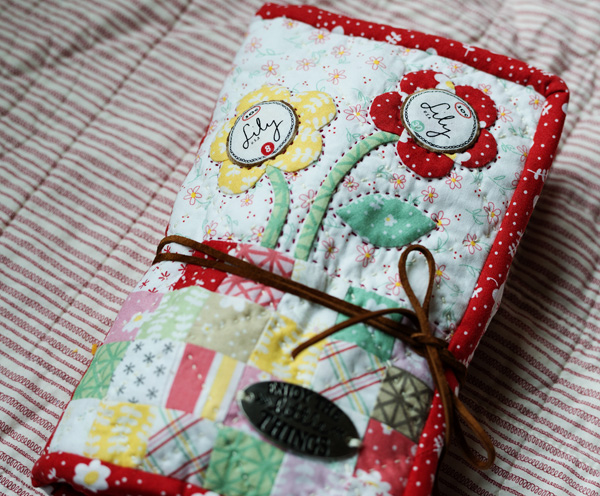 I looked at lots of different sewing kits on Pinterest and then I just made it up as I went along.  I decided on a tri-fold style (the size when it's closed up is about 6″ x 9″) and wanted to do a little applique on the front.  When I saw CrazyMom's cute spool print, I thought it would be cute to use for flower centers.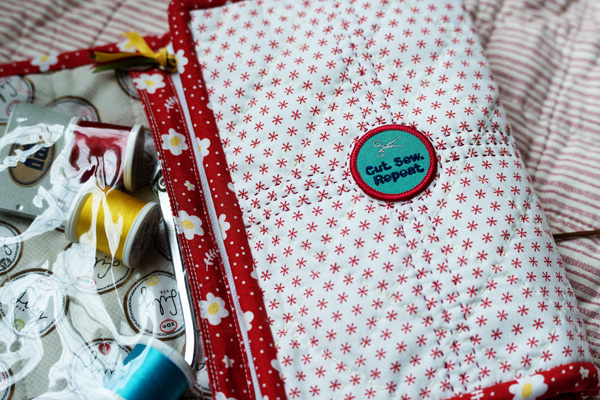 When the cover is opened, there was another surface to decorate — I took the lazy way out and added a little sewing badge, some hand stitching and called that surface done.  When opened fully, there were lots of choices to be made!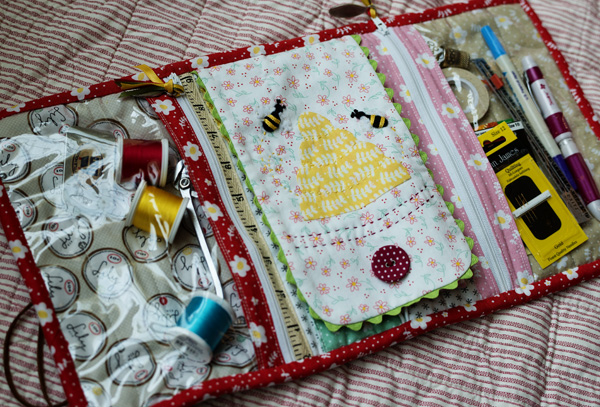 I knew I wanted one see-through pouch and I'd planned to put pockets for pencils and needles on the right-hand side, but then I started to think about things falling out of the pockets.  So, I opted for another see-through pouch for security.  Then, finally the middle.  I knew I needed a pin-cushion and a place to store scissors.  And something for needles.  I had this adorable beehive needle keep sent to me by a sweet friend, so I tucked it into a vinyl pocket and added a crochet edge.  And, just in case the scissors wanted to fall out of the pocket, I decided to make a flap to cover everything.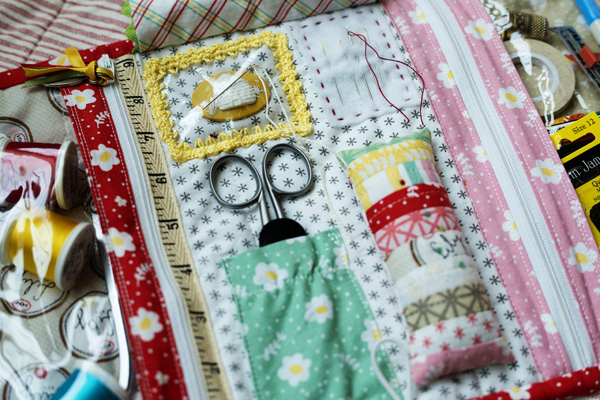 As a bonus, it provided a surface that could be appliqued ;-D.  I followed the needle-keep's lead and went with the beehive theme and added some bees.  They really do have little white felt wings, they're just hard to see.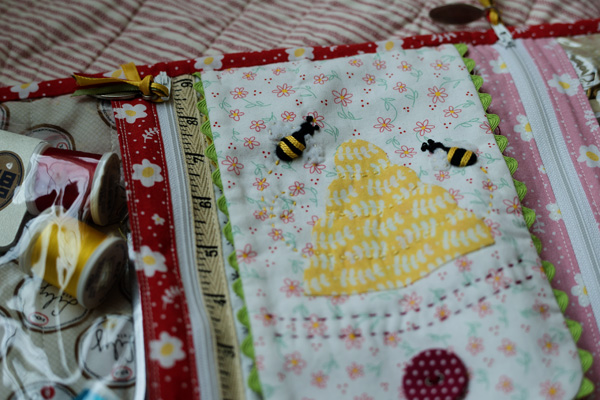 My sewing kit has already been pressed into service and I'm looking forward to many years of use. Unless I decide to make another one.  Haha.
XOXO,
Anna