Gosh, you guys are all so sweet and kind! Thanks for all the sympathy for my empty nest. I enjoyed reading all of your comments. Sweet Molly even left me a nice bit of prose from Erma Bombeck on her blog — if you haven't been there, run over and read it. Thanks Molly, I love it!
So, while I sat around wondering where the last 24 years went, I managed to log into Ravelry since so many of you are participating in the Ravelympics. I always forget to check in on Ravelry and I think it's partly because it just confuses me. There's SO much going on there — it's like it's own separate blogland. One click leads to the next and pretty soon you're lost. Today's very short session got me lost somewhere in a food thread and I found this recipe for a 5 minute chocolate cake. Sign me up! Anything for a beeline to chocolate!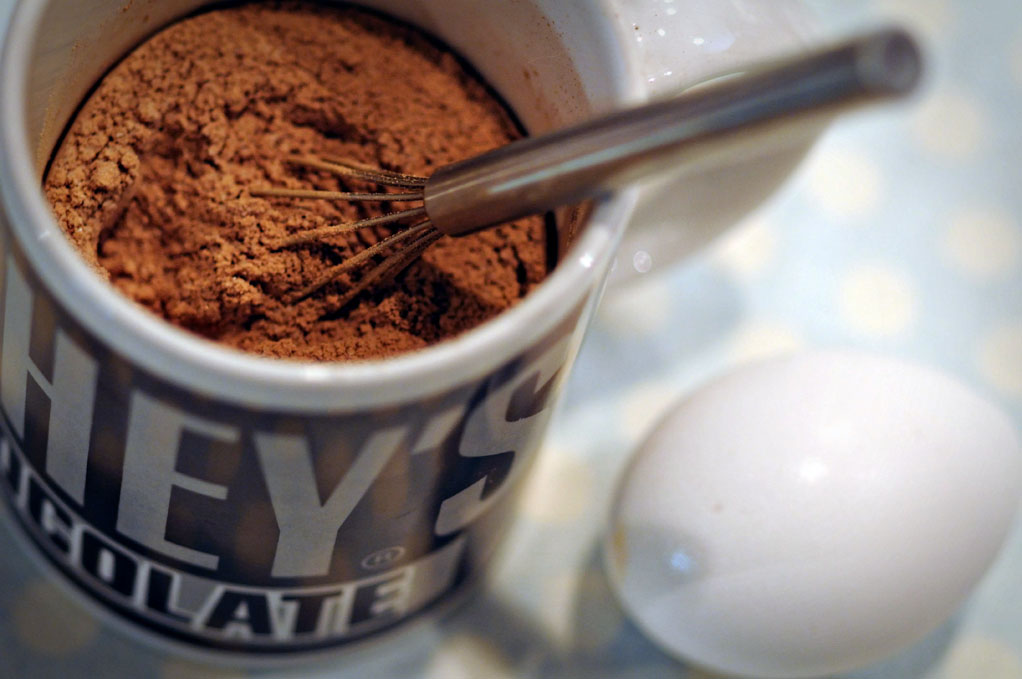 You make this cake in a coffee mug and the recipe goes something like this:
Stir 4 T cake flour (not self-rising), 4 T sugar, and 2 T baking cocoa into a mug and mix well. Add 1 egg and mix thoroughly. Pour in 3 T milk and 3T oil (several people commented that this seemed to be too much, so I only added 1 1/2 T oil) and mix well. Add 3 T choc. chips (optional — I opted not) and a splash of vanilla and mix again. Put the mug in the microwave and cook for 3 minutes at 1000 watts.
Here's how my cake looked through the microwave window at about the 2 minute mark. It grows way out of the mug, but the recipe said not to worry about that.
When you remove the mug from the microwave, it will shrink back into the mug. Allow it to cool, run a knife around the edge and tip it out onto a plate to serve.
There was a lot of discussion on Ravelry about all the possibilities for this little cake. Add ice cream, sauces…the sky's the limit. I decided to sprinkle mine with powdered sugar.
How'd it turn out? Well, I thought it was a little rubbery. Maybe my microwave runs hotter than 1000 watts? Maybe it needed a little less egg? Proportionally a whole egg is a lot — doesn't a whole cake usually only take 2 or 3 eggs? Maybe it really did need 3 T oil??? If you try this cake, I'd love to know what you think of it or if you found anything that made it be a little less tough. TheManoftheHouse ate it but I only had a bite. I guess I've just been spoiled by MeMum's awesome chocolate cakes that are moist and delicious and loaded with great frosting. I really missed the frosting option about this little mug cake.
And while we're talking Ravelry and knitting, here's the precious little knitting that's been happening around here. I was working on this dishrag a little bit at the rehab hospital when visiting BigDaddy, but then MeMum and I discovered that we can play Hand and Foot while we're sitting around, so that shot my productivity all to pieces! Anyway, this pattern is called Washcloth Sampler and the quilty peeps got it from The Idea Studio in Chicago when we went there for the April quilt show. It was a freebie and there isn't any kind of a copyright on the pattern so I posted it over in my projects section (here) for anyone who might be interested.
I sure hope you're out there getting more done than I am!
XOXO,
Anna