Look, Looky, LOOK! Sarah Jane's Children at Play have arrived in ThimbleannaLand and I Luuuuvvvvv them so! They're adorable and I even passed up a few hours of painting in the kitchen so I could play with them. (Ok, it wasn't a stretch to give up painting for quilting.) I started by piecing a courthouse steps block — keeping the pink and aqua in separate ladders.
Then I decided to play a little in photoshop and copy the blocks. The plan for a quilt like this would be to use different little motifs in the centers of each block.  (And happily, my piecing skills at the sewing machine are better than in photoshop, but you get the idea.)
I also decided to do a little copy/paste in photoshop and edit the aqua steps out. For a more aqua quilt, I could have edited the pink out. (Sheesh, I think I need EQ7!)
After the courthouse steps block, I decided to piece a few star blocks.  I love star blocks — they're so versatile and you can do so many things with their centers.
I could easily have spent a few hours playing with different layouts, but I ran out of time.  (That hopscotch print is killing me!  I spent many hours drawing chalk hopscotches on the driveway when I was a little girl — what fun memories.)
As I was putting my fabric away, I noticed that it matches some of my Divine Twine. How Fun!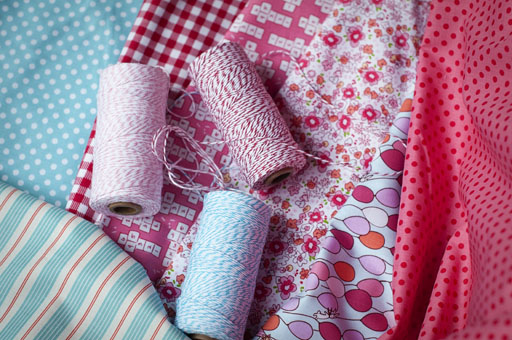 There's even twine to match the boy fabrics.  If only I could make those big toe grabber stitches with it.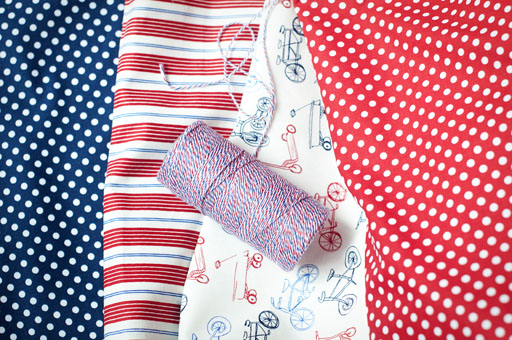 I can see a TON of possibilities for this fabric. It's my new Ghastlies and I might be a little obsessed. I couldn't help it, so I put some of my favorite prints in the Thimbleanna.com shop. I hope you'll love them as much as I do.
And Wait! There's More! If you spend more than $50 in the Thimbleanna.com store, I'll send you a free pair of ginsu knives these cute little polkadot scissors — another of my favorite little finds. (If you have a color preference, make a comment on your order form and I'll do my best to honor it.)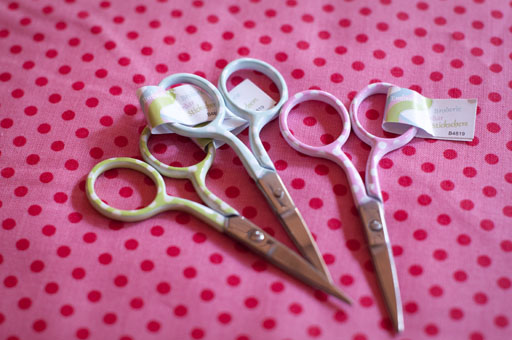 And while we're giving away ginsu knives, let's have a little giveaway. Leave a comment by Monday, August 22 (Happy Birthday to my bigboy FirstChild) to win a quarter yard pack of my favorite boy prints.  In your comment, would you mind telling me which version of the courthouse steps layout you like best?  Aqua or white?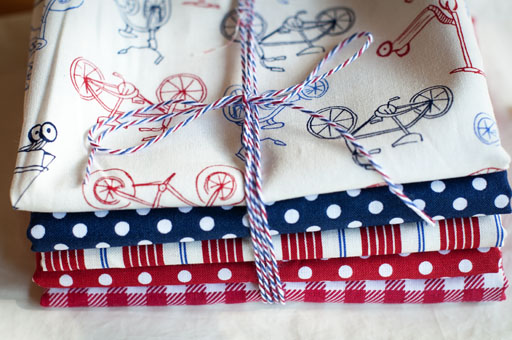 Good Luck!
XOXO,
Anna