Well Hello!  Did all you kids in the US have a nice long weekend?  We had a wonderful time with TheSecondChild and his very sweet friend.  We had friends and family over for a cookout and had lots of fun.  And there was some oohing and aahing over his new little kitty too.  Meet Mufasa.  Moofie for short.
Moofie is 4 months old and cute as can be.  A little ferocious too — he gave Scruff and Paul a run for their money.  Needless to say, there was a lot of hissing.
Other than that, there's not much new to report.  I made a quick birthday banner for a co-worker's computer.  I tested it out on our computer tonight.  Would it cheer you up to see that little banner on your computer at work?  I made it from fabric scraps, diluted glue and some divine twine.  Speaking of which, I've added black and orange to my little store — just in time for Halloween (a-a-and it's still on sale).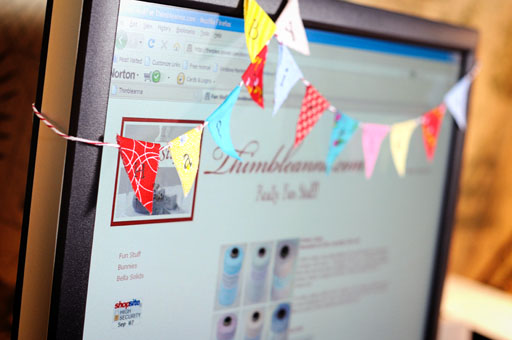 Did you see the cool new google page today? Those dancing balls were fun to play with. There was lots of speculation about what they meant — I read somewhere this morning that google said it was not to celebrate their birthday. I also read that some people think they'll have a big announcement at some convention tomorrow. I love google!

Ok — must run and watch the end of Neal Caffrey Eye Candy White Collar.  Have a good week!
XOXO,
Anna