Well, hello there — I hope you're having a nice weekend! I've had a great one so far — I spent the day with my VBFF's, the Quilty Peeps. Gurney hadn't been to the Sock Yarn Store yet, so she jetted in to town to check it out. Then we went to a few other yarn shops and one quilt shop. Throw in a fab lunch and it was a perfect day. I do love my peeps — Thanks ladies for a fun time!
I managed a leeeetle bit of sewing this week. As you can see, my little coin purse was getting pretty ragged. I use it all the time and I was afraid it might fray all the way through if I used it much longer.
So, I made a new one (instructions here). This time I used a black and white fabric, to match my backpack (sitting there in the background). You can't really tell, but I decided to try a scrap of black vinyl in place of that part that was fraying out. We'll see if it lasts any better this time.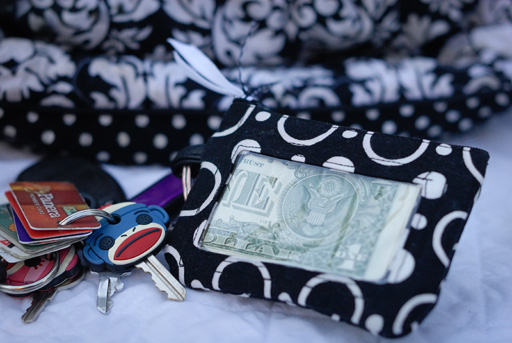 Hey — did you notice my sock monkey keys? I had two keys that I constantly mixed up, so when I saw these key covers, I thought I'd try them out. I think they're really cute!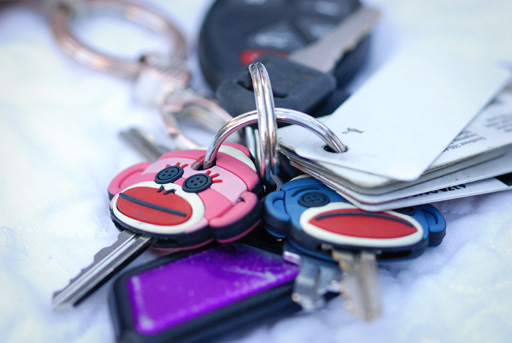 And finally, it was a good mail week here in ThimbleannaLand. The Ruby Charm Packs that I ordered forever-ago finally arrived. (Which meant I could finally ship off the prizes from the guess-the-stove-knob-color contest – Yay!) The official Moda story is that Ruby won't show up in your local quilt shop until October 11th, but we saw some in our local quilt shop today. And, if you'd like a charm pack or two, I've put some of these in my little shop.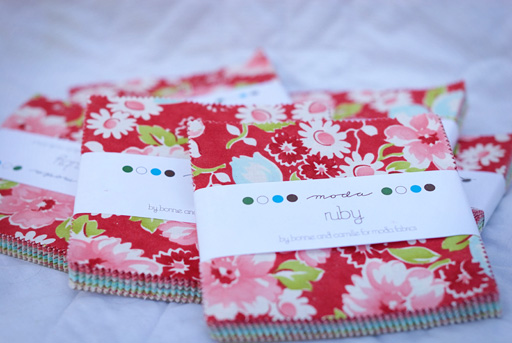 If you buy two or more charm packs, I'll throw in a pair of those cute polka dotted scissors that I've been hoarding. (If you haven't seen them, they're pictured on the Ruby order page.)
Now I'm off to curl up with the latest Martha Stewart magazine that arrived earlier this week and was put aside until quiet time. I hope you get some quiet time too!
XOXO,
Anna