Did you have a good weekend? Mine was short and sweet. Mostly cleaning and doing odd jobs around the house, but I did squeak in a little time for sewing. And if a girl's going to clean and sew, she needs some sustenance! I was cleaning out the pictures on my iPad and ran across a picture of the recipe for some iced oatmeal cookies and they hit the sewing spot!
Usually, when I try a new recipe and like it, I tell myself it's a keeper and I'll make it again soon.  The problem is, when "soon" comes around, I can't remember where I found that really good recipe.  So, I'm trying a new trick.  I'll file it here on my blog … and hope I can remember that that's where I put it when the time comes. (Unfortunately, I have no idea where I first saw this recipe, so, if it's yours — Thanks LOL!  No, really, tell me in the comments and I'll give you credit!)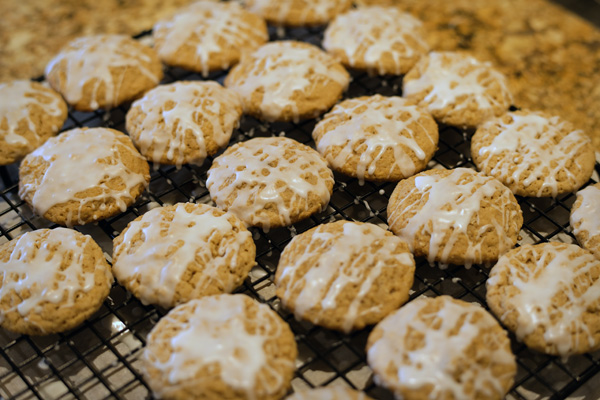 Iced Oatmeal Cookies
1 1/2 cups quick cooking oats
2 c. unbleached, all-purpose flour
2 tsp. baking powder
1/2 tsp. baking soda
1/2 tsp. salt
1 1/2 tsp. ground cinnamon
1/2 tsp. fresh ground nutmeg
1 cup butter, softened
3/4 cup granulated sugar
3/4 cup light-brown sugar, packed
2 large eggs
2 tsp. vanilla
Preheat oven to 350 degrees. In a large mixer with paddle attachment, cream butter and sugars until soft and fluffy, about 3-4 minutes. Add eggs, mixing until combined. Stir in vanilla. With mixer on low speed, slowly add dry ingredients, scrape the bowl as you go, and mix until just combined. Let the dough rest for about 10 minutes.
Using a standard, medium-sized cookie scoop (about 2 Tbsp.) drop cookies onto a baking sheet, leaving plenty of space in between for spreading.  Bake for 10 – 11 minutes or until edges start to turn a light golden brown color. If you like a crispier cookie, leave them in a minute or so longer. Allow cookies to cool on the pan for a few minutes before transferring them to a wire rack to cool completely.
When cookies are completely cooled, drizzle with the icing. Store in an airtight container.
Icing:
2 cups powdered sugar
3 Tbsp. milk
Whish together until combined completely.
And, next to having a cookie (or three) while you're sewing, there's nothin' better than cookies in the cookie jar!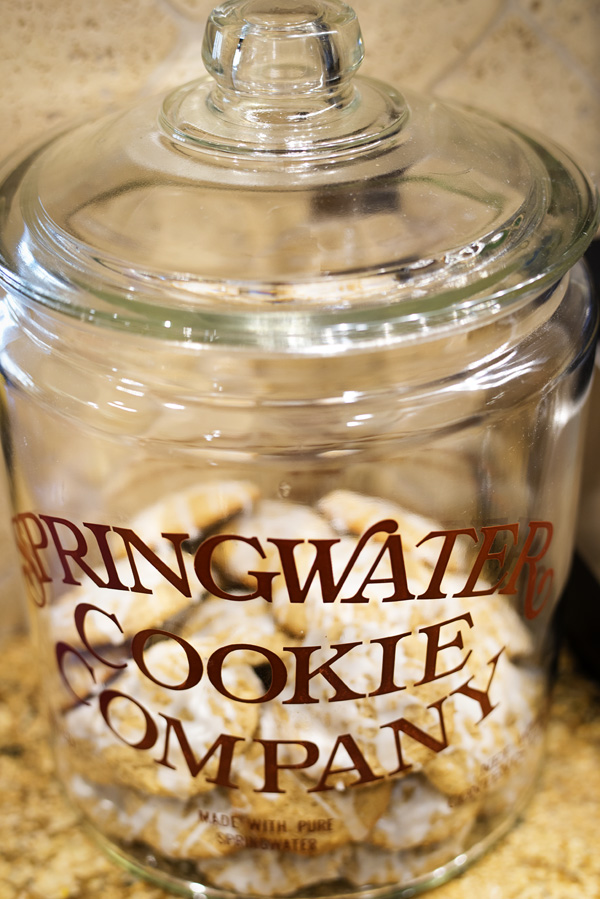 XOXO,
Anna
Save
Save
Save