Welcome to Blog-able Feast Friday! A moment of applause, please, for Hollycakes — hasn't she done a fabulous job of organizing a baker's dozen of bloggers and keeping us all on task? I'm honored and thrilled that today is my day to participate. I join Morgan in the group of non-designers — well, unless you count software design, which pales by comparison to fabric design. Oh, to be able to fondle fabric (instead of a keyboard) professionally! And Morgan thinks she's intimidated? Gosh, I have to follow that gorgeous carrot cake! Oops…where was I? Oh yes, you're here for the dessert!
Today's feature is a Raspberry Lemon Pie. Nice and easy for when you're having friends over to sew or discuss a good read.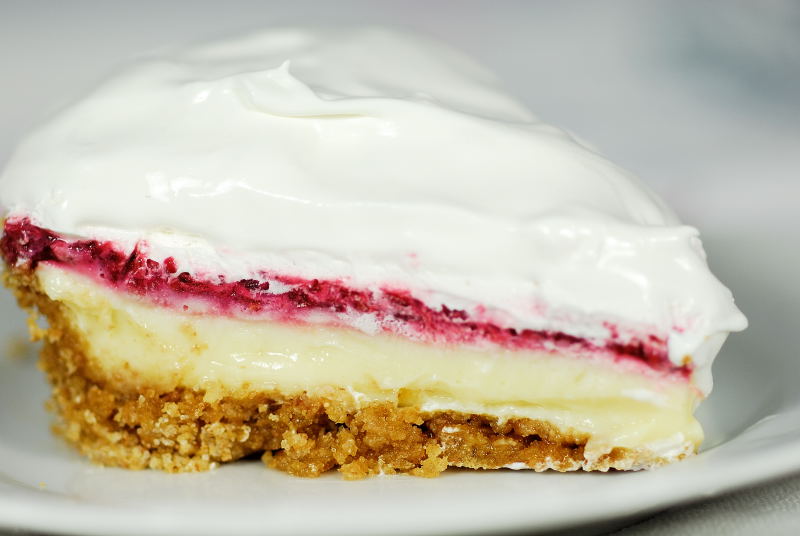 Raspberry Lemon Pie
1 (10-oz.) package frozen red raspberries in syrup, thawed
1 T. cornstarch
3 egg yolks
1 (14-oz.) can sweetened condensed milk
1/2 cup ReaLemon lemon juice from concentrate (This could be a marketing ploy – I don't know why real lemon juice wouldn't work.)
1 (6-oz.) packaged graham cracker crumb pie crust
(I prefer to make my own graham cracker crust – it's not as pretty, but I think it has more flavor. Recipe follows.)
Whipped Topping
Preheat oven to 350 degrees. In small saucepan, combine raspberries and cornstarch; cook and stir until thickened and clear. In medium bowl, beat egg yolks; stir in sweetened condensed milk and lemon juice. Pour into crust; bake 8 minutes. Spoon raspberry mixture evenly over top. Chill 4 hours or until set. Spread with whipped topping and serve.
Graham Cracker Crust
Combine 1 cup crushed graham cracker crumbs, 1/3 c. sugar and 1/3 c. melted butter. Press into the bottom of a pie pan. Bake for 10 minutes at 350 degrees.
Now for a project I'm currently working on. I've started a wedding quilt for TheFirstChild and SweetiePie. SweetiePie and I sat down and drew up a plan: she loves a) neutrals, b) mocha, and c) monograms. So, we decided on a simple patchwork background of neutrals with mocha highlights for the inner border, binding, and their new married monogram.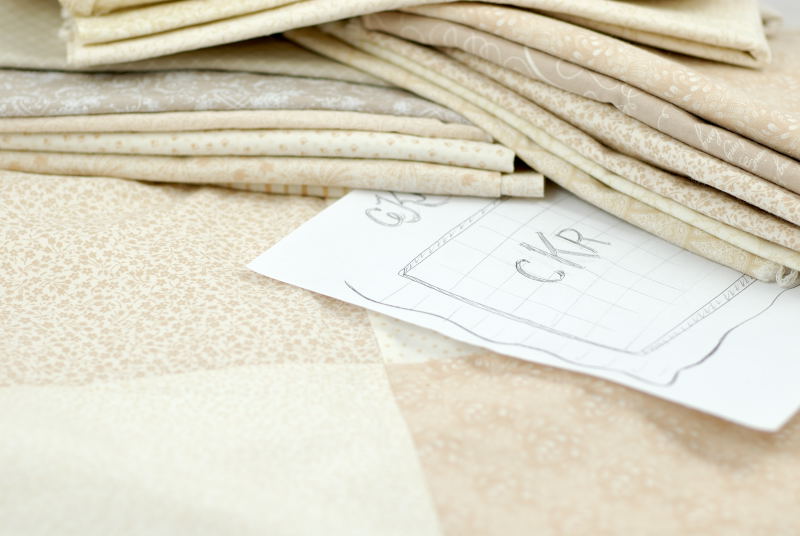 I'm currently piecing the top, but in light of Pam's post yesterday (Big Congratulations Pam!), I might have to check out Alex Anderson's new quilting book on neutrals. That will provide a good diversion while I wait on my Lakehouse fabric order – I've ordered some of the much-loved champagne dots that I'm hoping will work for the outside quilt border.
So, Hollycakes! Thanks so much for inviting me to participate in the blogable feast. It's been great fun to "meet" the bloggers and collect some fabulous recipes that will be perfect for when my quilting friends get together!
XOXO,
Anna