Welcome to The Letter I (well, the first letter I)  in the Aurifil Blog Hop!  I is one of my favorite words – thank you for giving me I, Pat!
Pat asked us to choose a word for our letter, so I choose I!
Ok, not really — that might be just a teeny bit self centered, don't you think?  Instead, I've chosen the word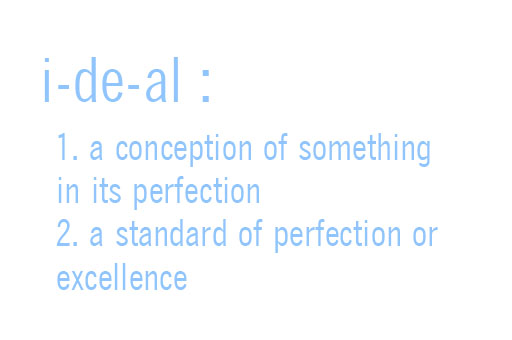 Ideal describes Aurifil to a T I, and it's therefore the Ideal word to describe Aurifil thread! (You're probably not allowed to construct a sentence like that in the English language, but you guys are all Invisible, so it's ok.) Like Kathy, I have to confess that I've never really paid much attention to the thread that I use for quilting.  But, I've heard a lot of buzz lately about Aurifil, so when Pat asked me to participate in the Aurifil blog hop, I jumped at the chance to try this new-to-me thread.  And boy, oh boy, am I glad I did!
Inquisitive, I decided to go to the Aurifil web site and read what I could about the different thread weights.  There's lots of info on the site, and you can even watch some videos of Pat discussing the threads.
Immediately after I read about the threads, I pieced my Aurifil Spring block.  Heaven!  That thread is Amazing Incredible!  No wait — it's IDEAL!   I used the 50 weight and it's so nice and thin and smoooooth — pressing block seams is so easy.  And the best thing is that the thread isn't splitty or linty like some other threads that we all know and love … or not.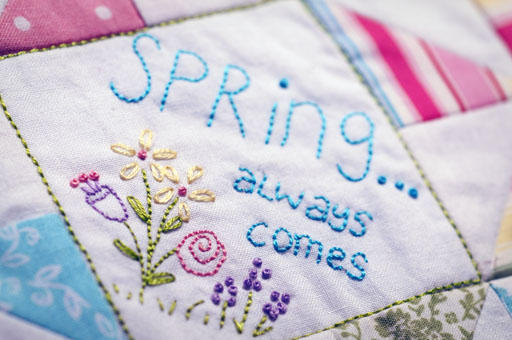 Ok, so, as a little reward for participating in this blog hop, at each website in the hop (locations below), you can pick up a quilt block pattern. Since winter is hanging on with a vengeance in our neck of the woods, I decided to create little block to give us some hope for warmer weather. I wish I could tell you that I stuck a few strands of Aurifil thread together for the embroidery, but I didn't — I used DMC embroidery floss. You can pick up a copy of the pattern here.
But Wait! There's More!!!
Leave a comment and I'll choose 2 winners to receive a sample pack of Aurifil thread (with a few little goodies thrown in from me.) PLUS, at the end of the week, Pat will draw a grand prize winner who will win a Pat Sloan Kit Art 50wt Amazing IDEAL Aurifil Thread Set. (Do you think it would look rigged if I won???) Look at all the pretty colors!
And, last but not least, be sure to visit the other blogs in the blog hop for your quilt block patterns and even more chances to win Aurifil thread. (Not to mention the fabulous posts — Pink Chalk Studio and Lizzie B Girls started things off with a BIG Bang!)
Monday Feb 21st
Pat Sloan Starter Block
Tuesday Feb 22
Pink Chalk Studio (Letter A)
Lizzie B Girls (Letter U)
Wednesday Feb 23
Erin Russek (Letter R)
Thimbleanna (Letter I) — That's Me I!
Thursday Feb 24
Stitchin' Heaven (Letter F)
Quilting Gallery (Letter I)
Friday Feb 25
Sew Cal Gal – (Letter L)
I Have a Notion (Letter T for Thread!)
Pat Sloan Final Quilt Layout
XOXO and Good Luck,
Anna
And btw, if I missed any I's please don't tell me I!!!