When my aunt was here (haha, not funny anymore?  Ok, I'll try for this to be the last time!) all the girls in the family wanted her to show us how she makes her fabulous sweet rolls.  She makes the best sweet rolls on this side of the Mississippi.  No wait….she doesn't live on this side of the Mississippi.  Well, they're just darn good (really, they're way better than darn good, but we're trying to be humble on Auntie's behalf) and worth every bit of the work involved in making them.
So, here's how you make them (with a few pictures thrown in for good measure):
Put 3 pkgs of rapid rise yeast into 1 cup of lukewarm water and let the yeast rise a bit — for about 5 minutes.
Meanwhile, melt 1/2 c. shortening and let it cool a bit.
Mix 2 cups very warm water, 2 tsp. salt, 1/2 c. sugar, 4 eggs and 3 1/2 cups of sifted flour in a mixing bowl with a dough hook.  (If you don't have a mixer with a dough hook, you can mix and knead the ingredients by hand.)
Mix in the melted shortening and 1 cup of sifted flour, scrape sides and continue to mix.
Add yeast/water mixture and mix for a few minutes more.
Add 1 cup of sifted flour, mix; add another 1 cup of sifted flour and continue to mix and scrape sides of bowl.  (For those of you keeping count, we're now up to 6 1/2 cups of sifted flour.)  Total mixing/kneading time should be 10 to 15 minutes.
The dough will be REALLY sticky so you might want to add another cup of flour (maybe even two if needed, but I think we only added one.)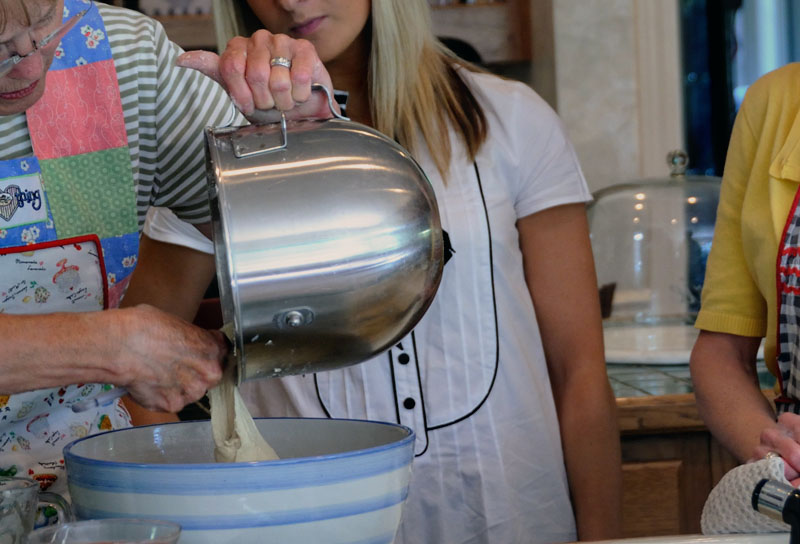 Put (or pour LOL) the dough into a large greased bowl and cover with a piece of saran wrap sprayed with a cooking spray.  Put in a relatively warm place and allow the dough to rise until it's at least double.  (We let ours rise a bit too long — I should have taken a picture — it was oozing out over the edges of the bowl.)
Divide the dough in half and roll the first half out until it's about 1/2″ thick.  Spread some melted butter all over the top, almost up to the edges of the dough.  Then sprinkle a mixture of cinnamon and sugar (try 2 tsp. cinnamon + 1/2 c. sugar to start — you can make it as cinnamon-y as you like) on the melted butter.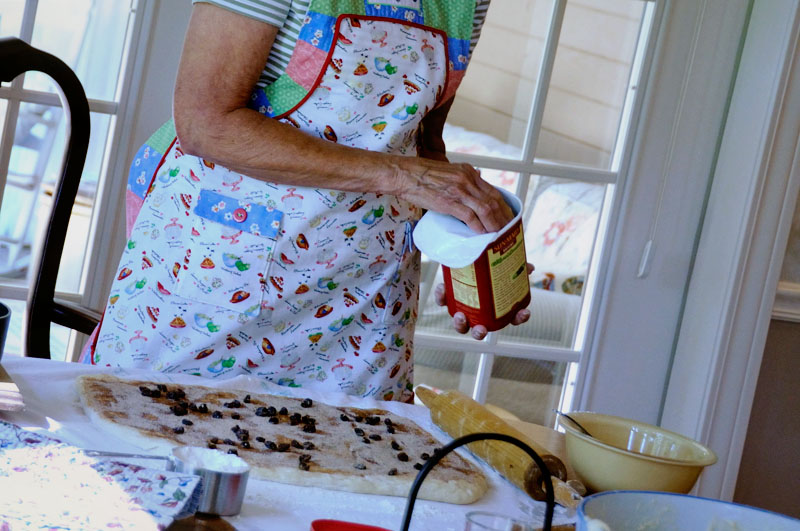 Now sprinkle raisins on the cinnamon sugar mixture.  We have several non-raisin lovers, so we left the raisins out of the other half of the dough.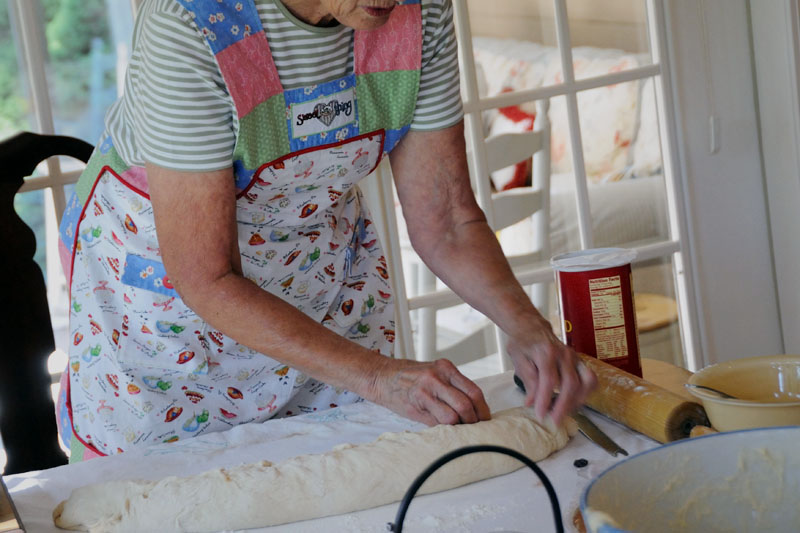 Starting on the long edge, roll the dough up and pinch the edges together to seal.
Slice the cinnamon roll into fairly thick slices using either a very sharp knife or a string (in this case we used dental floss, just to insure that there will be no cavities resulting from these rolls LOL.)  Repeat all the rolling steps for the second half of the dough.
Place the sweet rolls on cookie sheets and let them rise in a warm place until they're all squished together — 30 minutes to an hour.  And see that parchment paper on those cookie sheets?  Don't do that.  We tried it, but it made the roll bottoms just a tad bit soggy and there's nothing worse than having a soggy bottom, if you know what I mean.  Just grease your cookie sheet instead.
Bake the sweet rolls at 375 degrees for approximately 12 minutes.
While they're baking, make some frosting.  None of us goofballs wrote down the frosting recipe!  I'd try 1/2 cup soft butter, 2 cups powdered sugar,1 tsp vanilla and a bit of milk until you get it to a little runnier than spreading consistency.  (Aunt Annie didn't make that much frosting but she goes light on the frosting — I go heavy — the more the better!)  And throw in 1/2 to 3/4 cup walnuts if you have nut lovers in your family.  (When we were growing up, Aunt Annie always rolled the nuts up in the dough with the raisins, but we all like them better in the frosting now.)
After you remove the rolls from the oven, you can let them cool for just a minute or two, but frost them while they're still warm.  (There are missing rolls in the picture above because they were grabbed as fast as she was frosting them!)
If everyone didn't scarf them up immediately, place the extras in a cake plate where they'll look pretty!
Usually, homemade sweet rolls aren't that great after the day they're made — they're at they're very best fresh out of the oven.  If you must eat them after the first day (or, rather, if there are any left) they're best heated in the microwave.  Two days after my aunt made these rolls, I had this conversation with a good friend of my sons':
McDonald's Boy:  Mrs. Thimbleanna, is your aunt still here?
Me:  Yes, why do you ask?
McDonald's Boy:  Well, this morning I came over and I couldn't get TheSecondChild to wake up so I turned the hose on his window…
At which point my ears started ringing….
Me:  You WHAT???  I just cleaned those windows!!!!
McDonald's Boy:  Oops.
Pregnant Pause.
Anyway…
McDonald's Boy:  After he let me in, I ate that last half of a sweet roll that was in your cake plate and really, they're the best sweet rolls I've EVER had!!!  I was wondering if she could make any more?
Which goes to show that a) he's had a deprived childhood if a two day old sweet roll is the best one he's ever had, and b) these are really great sweet rolls!!!  I'd love to know if you try these.  They do take a bit of time, but after you get the hang of it, you can just whip them out while you're doing other things LOL!
Have a great weekend!
XOXO,
Anna