Well, sadly, if you're following the links to Amy's quilt show, it means you're one of us deprived kidlets who isn't at quilt market this week.  Leave it up to creative bloggers to keep us all entertained as we wait for reports from those who were able to attend (Thanks Amy!)
We've had two or three days of gloom and rain here in the heartland, and when you combine that with the fact that I don't get home until after 6:00 p.m., most evenings, you have a recipe for poor lighting.  Please excuse the sad, gray quality of my quilt pictures!  My entry in the quilt show is my favorite quilt that MeMum has made for me.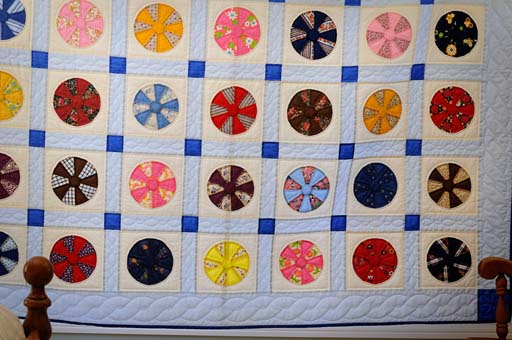 It's a Dresden Plate and each "plate" has been made from fabric scraps from clothing that either MeMum or I made for MyDadLovesMeBestSister and me.  So, as you can guess, it's very sentimental.  MeMum made this quilt in the late 70's/early 80's when there were hardly any quilt shops around and it's all beautifully hand quilted.  She's always hated the sashing on this quilt because it's not 100% cotton — it's a blend.  I love it though — it's a reminder of how hard it was to find good quilting fabrics 30 years ago.
Probably more than you care to know about a few of the plates: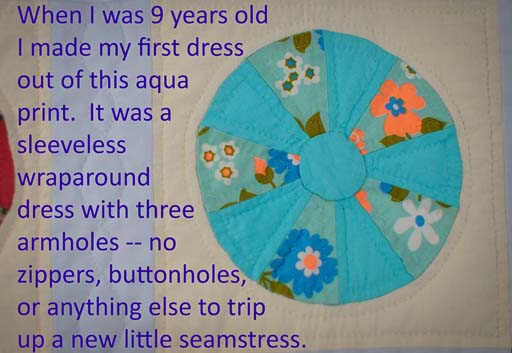 And, once again, a kitty approved quilt.  I laid this quilt out on the bed just to take one simple picture and before I could even get it straightened out, TheEmptyNestChild was up there in a flash.  Bad Kitty!  We don't allow our kitties on the hand quilted quilts in this house!!!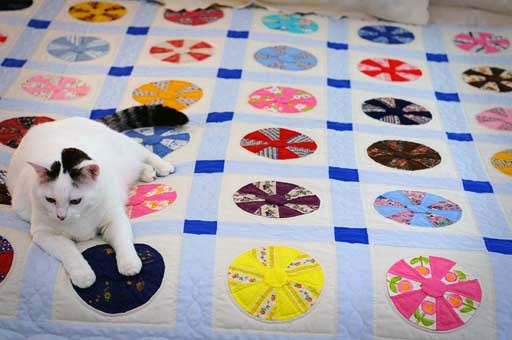 If you click on the quilt show button at the beginning of this post, it will take you to Amy's blog where you'll find a huge list of quilters participating in the quilt show. Thanks again for hosting Amy!
Happy Quilt Surfing!
XOXO,
Anna