How do you like that post title?  Are you thinking travel?  Or Quilt?  While I'd love to be on a real trip around the world, this trip is quilt related only.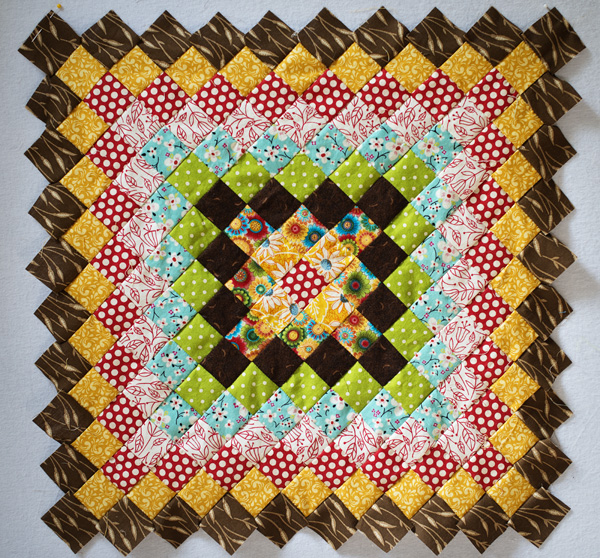 I've been a huge fan of Jan at Be*mused for many years.  She was one of the first blogs I ever read and she has a quiet sophistication that I love.  Years ago, I was pinning so many of her projects on my pinterest boards, I even joked that I should have a board dedicated to all things Be*mused!  So, when she posted about an online Trip Around the World Challenge a few weeks ago, the pictures of her beautiful start made me sit up and take notice.
After reading about this challenge, there were several red flags for me.  First of all, I really didn't need another start.  I just started Phebe and I'm going to start the Aunt's Quilt in the fall.  I don't usually join challenges for fear of not being able to keep up (still a very real danger, but, oh well.)  I've never really liked mystery type challenges either — I like to be a little more in control of my project.  And the biggest red flag — this quilt is all hand-pieced.  I've never really understood the point of hand-piecing in this sewing machine world — except, maybe for intricate or curved little pieces.  Why on earth would you ever hand piece a quilt that would be so easy to machine piece???  You'd be crazy to do something like that, right?
But.  If Jan was doing it, maybe there's something to it?  So, I timidly requested to join the group, and after a bit of wavering, I jumped in.  And, oh.my.gosh, I've been having so much fun!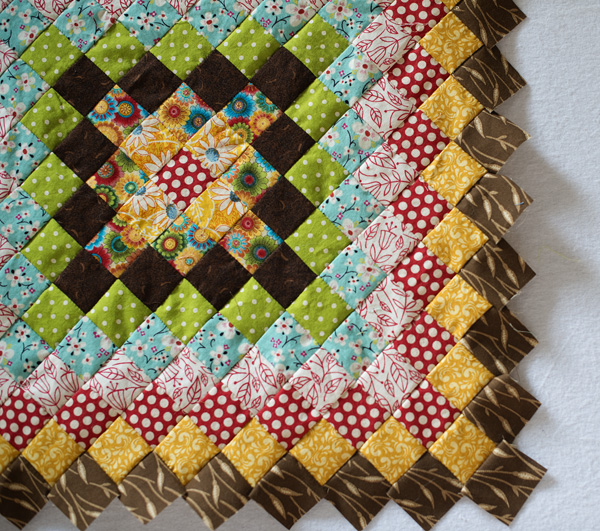 The hardest part has been choosing the fabrics.  I love most all fabric and color combinations, and I really have no idea how these fell out of the mix.  I'm really trying to get more of a blue/green vibe going on, but, as Jan pointed out in her post, this quilt sort of has a mind of it's own.  I'm sure I'll try to work harder on the blue/green — I hope I don't ruin it by fighting with the quilt.
There are guidelines for this quilt, and it's interesting to me how they can be interpreted differently.  I've read and re-read several parts, wondering how to proceed.  And in reading over Jan's post again this morning, I've realized that she and I interpreted the instruction to "eyeball the seamline" differently.  For, some reason, that didn't jump out at me as a "rule" but rather a suggestion.  Jan had mentioned to me that if you cut your fabrics on the grainline, you can follow a thread as you stitch.  I painstakingly cut out my first six rounds on the grain — by pulling a thread through the fat quarter (how time-consuming!), but when it came time to stitch and have my eyes follow the thread — not happening!  My eyesight just isn't that good.  So, I've been drawing 1/4″ seams on every other round.  Ooops!  What should I do now?  Try and eyeball?  Might not be pretty!  It's funny that I didn't connect the dots between the instructions and Jan's comment about following the grain (even having read Jan's post) before now.
And there was mention of not pressing the seams as you go.  That's driving me crazy!  Is that a "rule"?  I need to read over the guidelines LOL.  I've been finger pressing like crazy, just to get my big square to behave.  Like Jan pointed out, I love how you can pinwheel the seams — revealing a little 4-patch of sorts at each intersection.
For the next month, we'll be working on rounds 10 through 18.  The rounds are really starting to take some time now, so I'm a little worried that I might not make the deadline.  I'll try my best though, and enjoy every minute of the stitching.  It helps that I've found a fun little sewing buddy.  Do you like my new little Better Buddy sewing case?  I've been wanting one of these for a long time and I finally got one.  It's perfect for this little project.  I throw the quilt and my better buddy in my bag and it's a great take-along project!  (The sides are magnetized, so they hold pins and needles — even that whole box of pins.  I love that I can just toss my needle in there and not worry about finding it the next time.)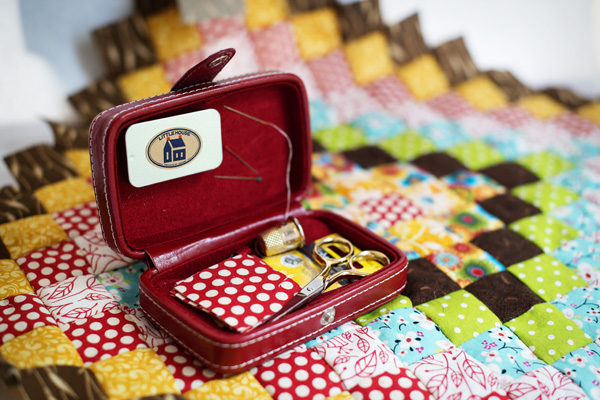 Ok. Back to stitching. There's a new round to be discovered!
XOXO,
Anna