Happy Sunday!  Now that it's over haha.  And, it's even Monday for some of you.  I'm late as usual  ;-D.
Oh well, I hope you had a wonderful weekend.  Mine was great, even though it's hot outside.  Not much happening here — it was nice and quiet, so I escaped summer's heat and spent a lot of time sewing in the dungeon.  I finally finished piecing the second Little Red Riding Hood quilt top for my Grandma room.  The pieces have been on my little portable design wall for several months, and every time I'd walk by, half of them would fall on the floor.  I'm so excited to have that project finished!  I'll hand quilt this second quilt just like the last one, but I'm in no hurry — maybe I'll put it on the frame sometime this winter.
After finishing the quilt top, I started playing with a new little quilt for FinallyAGirl.  Pink!, of course.  When I told TheManoftheHouse what I was working on, he said "Doesn't she have enough quilts already?"  Silly Man.  Probably, but that's not the point.  Each one of MY babies will have a little hand-quilted baby quilt from their Grandma — you know, one that's more traditional, and maybe a little keepsake.  I made a few blocks to test out the pattern and then proceeded to cut lots of little pieces.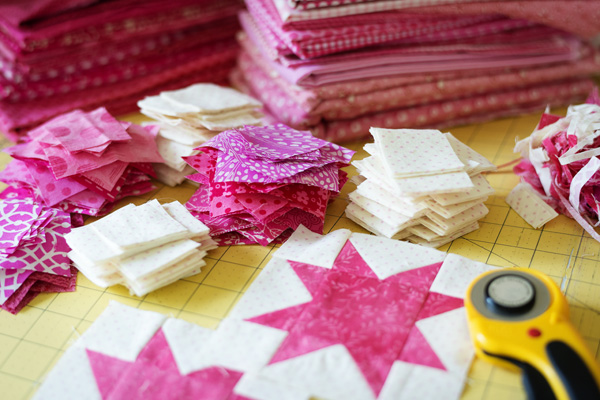 I'm really excited about it — it should be a fun little project.  I'm going to take my time and enjoy the process.  Here's the scrap-pile of yumminess so far.  ;-D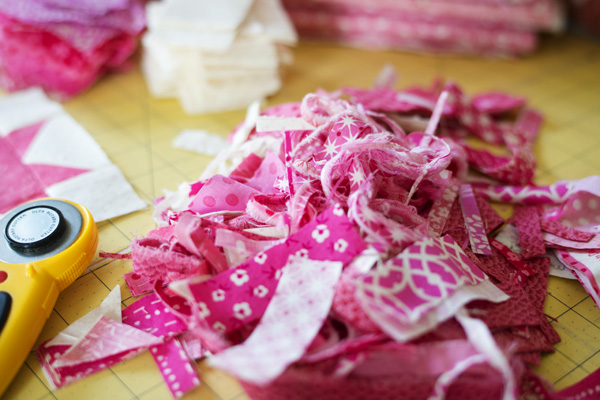 I also finished some of my little vinyl project bags.  Some of the fun prints from the Tim Holtz Eclectic Elements collection have arrived and I couldn't help myself.  You might remember how much I love a good map fabric, and I thought these fabrics would be perfect for project bags.  I cut these a little bigger than the ones in my instructions too — 11 x 14 instead of 10 x 12.  It's fun to have different sizes.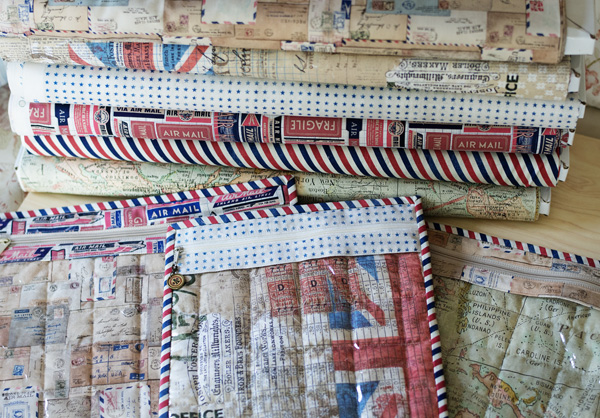 I LOVE them.  I even used recycled vinyl because I couldn't find my vinyl stash (er, one piece LOL).  Of course, I found it after I had these little bags sewn together.  For  probably more years than some of you have been alive (!), I've been saving those fancy vinyl zippered bags that new mattress pads and comforters come in — do you know the kind I mean?  I was thrilled to be able to cut one up and recycle it!  Two of my bags have already claimed projects — a new start on some socks and a little something for a certain little baby girl which is almost done and ready to be blocked.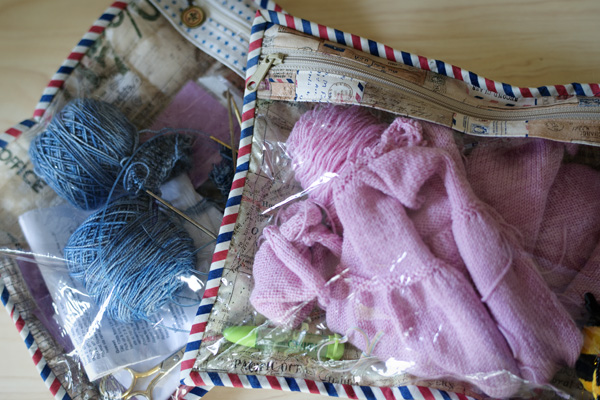 So, that was the weekend here. Pretty boring for most, but exciting for a quilter! Off to bed now — have a wonderful week!
XOXO,
Anna