Well Hello There!   How was your week?  Ours has been kind of slow.  And very sad when you watch the news.  Devastation like we see in Haiti makes all of our little chit-chat seem a little silly, doesn't it?  I never know what to say when there are disasters.  I really can't say what I feel any better than so many other bloggers, so, I'll just point you in the direction of one of many ways to help.
In an attempt to lighten your day a bit, I'll show you the cute little mouse house at MyDadLovesMeBestSister's house.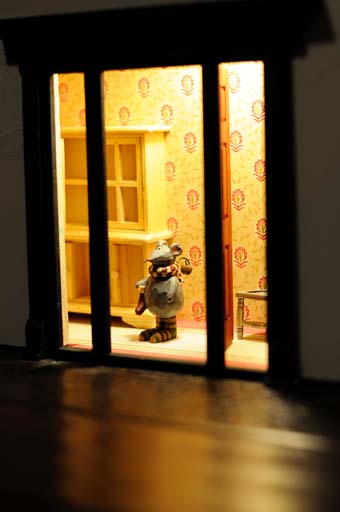 As you may recall, they've just added an addition onto their house.  In what used to be the old kitchen, MyDadLovesMeBestSister decided to put in a little mouse house in the wall near the floor.  It's like a fairy door, but doesn't just open to the wall.  There's a mouse in there — with his pretty wall paper and fine furnishings.
My CrazyBIL put the light switch on the inside of the laundry chute above the mouse house.  Pretty clever, huh?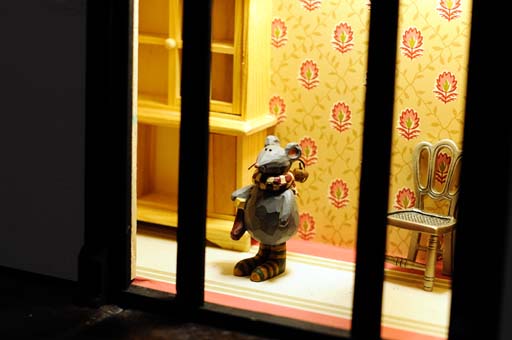 There is still a little decorating to be done, but I think it's adorable.  And it makes a neat nightlight for when the lights are all out.  I'd love to have something like this in our house – although, mine would have to be a fairy house.  (Just for you Miss Dotty!)
Also, I was talking to TheSecondChild today — he's moved back to Nashville (that's Tennesee, not Indiana) where he's frantically still looking for a job.  We were joking about all the things he should be doing and he said "Maybe you should blog it."  So, there it is.  I'm blogging it.  Anyone know anyone who needs a Vanderbilt graduate who majored in Chemistry/Finance (he's brilliant of course, 'cause I'm his mother) in Nashville TN?  ('Cause he's just a wee bit stubborn and insists on staying there.)
Hey!  Maybe I should have a blog contest!  That's it — the first one to find my kid a job will win…um…well, lots of crafty stuff, naturally — you know, fabric, books, a bunny pincushion — what else do you want???  Maybe it should be a Make Your Own Blog Contest to Find My Kid a Job!!!
Oh, and Good Luck — I hope you all win LOL!
XOXO,
Anna