Did you all have a nice weekend? It was dreary here, but still beautiful. Our trees are turning early this fall — makes me worry a bit about what winter might have in store for us. The view from my kitchen window was so pretty today. I'm really happy that I snapped this picture today as we're expecting a freeze tonight and the zinnias probably won't be so vibrant tomorrow.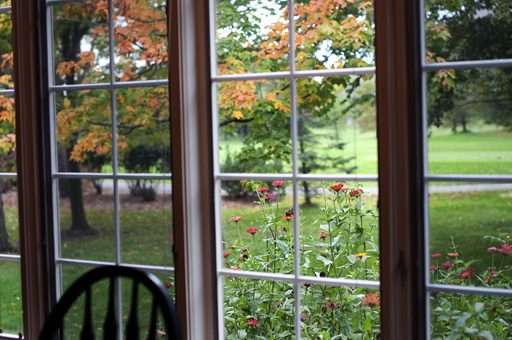 Someone had a really nice post not too long ago about moments that take your breath away. (Aha!  It was Jody!!! ) She said that sometimes you see something so beautiful, it just grabs at your heart and you feel like it might burst. I felt that way today while I was out mowing the lawn. Even though the sun wasn't shining, the trees and all the fall color were just so gorgeous. At one point, I mowed up to an area with a little thimble forest. If your blog is called Thimbleanna, you can't pass up a thimble forest, so I ran inside and grabbed the camera. Thus, the new blog header.
It wasn't all teary-eyed appreciation of Mother Nature around here this weekend. I did pick up a needle and thread. I sewed buttons to the new bulletin board that I made for my kitchen desk area.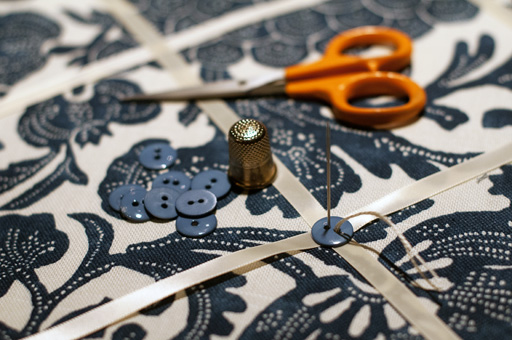 These are so easy to make. Wrap foam core with batting and fabric and sprinkle a little hot glue here and there to hold it all down. Oops — I laid my hot glue gun down in the batting. I hate it when that happens.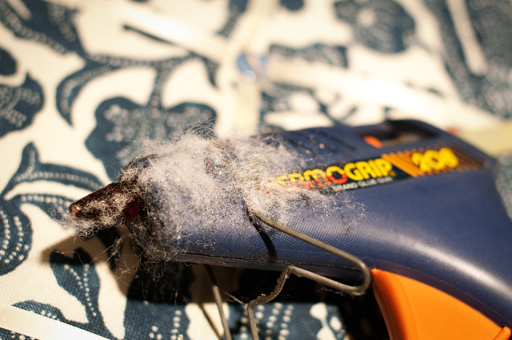 I use a long doll-making needle and some pearl cotton and just stitch right through the foam core and fabric. Here's the new board pressed into the desk area.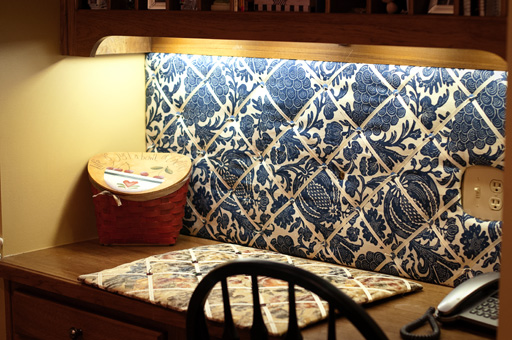 You can see the old board lying on the desk. It was from our previous house and it never really fit that wall very well, so I'm glad to have it replaced.
More stitching coming soon…. Have a great week!
XOXO,
Anna
P.S. The new Auriful block of the month is up and it's adorable! It's by Amanda Woodward-Jennings. Run over to the Aurifil blog to get this cute pattern and read Amanda's interview. And don't forget to load pictures of your finished blocks into the Flickr group for a chance to win some Aurifil thread!