Thanks for all the great comments on my cookie bake-off post.  I had a great time reading them all and I even got a few new sugar cookie recipes to try – you guys are fabulous.  And apparently even Martha read my post, 'cause not twelve hours after I posted, she sent me her sugar cookie recipe LOL.  (You can subscribe to get Martha's cookie of the day e-mail here.)
Anyway, speaking of Martha, did you notice that her December issue had a main cover and two alternates?  One of the alternate covers (for me at least, it might have been the main cover in your area) showed two glittered bells, hanging with some greenery.
I looooove Christmas bells, so when I saw them, I knew I'd like to make them.  Lucky me, out of all my Christmas decorations, I've never had a wreath for my front door, so I killed two birds with one stone.  Mine are a little different than Martha's, but I still think they turned out super cute.  You can find all the instructions for making these bells Here.
This was my first glitter experience and I'm hoping for lots more.  I love Martha's glitter — not even close to the type of glitter we used when we were children.  And look at Martha's glitter: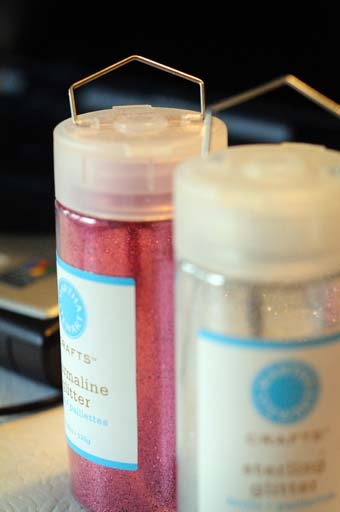 Inquiring minds want to know the purpose of those little metal handles on the glitter container lids.  Any ideas?  I'm thinking Martha planned ahead — if you decide you don't like glittering the bells (it's so fun, I'm not sure how that would happen) you can always hang the glitter on your front door.  No???
Before I go, I found two other fun things this week.  I got an e-mail with lots of really good cookie links from Woman's Day recipes.  How cute are these peace shortbread medallions?  You should snoop around among their cookies — there were some pretty good looking ones!  And I thought this fun little gift bag might come in handy during the Christmas season too — you'll think you have the wrong video, but stick with it.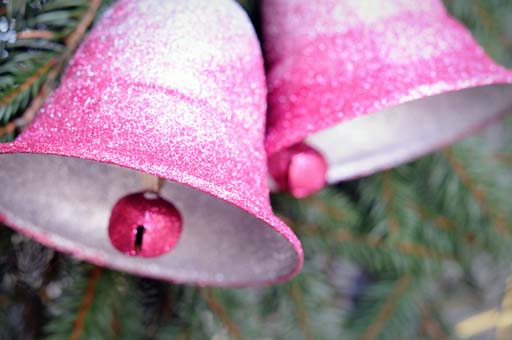 I hope your Christmas preparations are going well. I've done almost no decorations, no shopping and no cards. WooHoo! It will hit me soon and then I'll be in a panic. Have a good week!
XOXO,
Anna