Ah. So soon, another weekend has whizzed by. Why can't weekends last 5 days and the weeks just 2 days?
It's been a nice quiet weekend here in ThimbleannaLand. I've been holed up playing house — baking and sewing.  I made some bread. Yum!
And, I finally had a little time this weekend to work on the table topper for our coffee table. My original thought was to do an orange peel type of pattern. I made some samples, but decided it was too busy.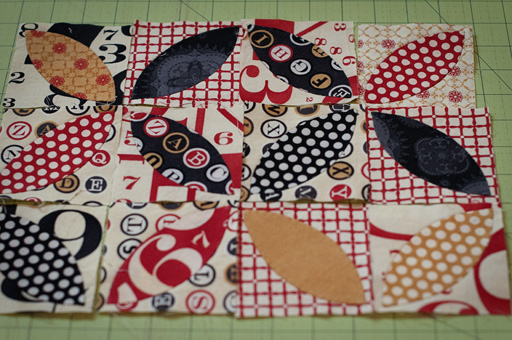 So, I chose a new path. I'm not sure it's any less busy, but I'm going with it. I was going to show you the progress, but PaulKitty plopped down right on top of it and said "No. Uh-Uh. Meow. I'm not moving."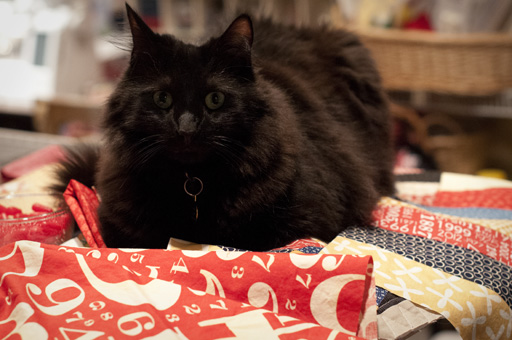 So, instead I'll show you the mess I've been making. Cut a strip, throw the fabric onto the pile. I LOVE making a big mess with fabric!
I'm SO sad Season 2 of Downton Abbey is ending tonight. I'm going to have to find a new diversion. Suggestions Welcome!
Oh, and for those of you with blogspot blogs who are thinking of ditching that AWFUL new word verification, here's a tip someone gave me about controlling spam. A lot of spam is targeted to older posts, so if you just shut off comments on posts that are older than two weeks, it helps control the amount of spam that you get. I had to do this a few months ago 'cause my spam plugin was causing problems with my comments. I still get some spam, but I just delete it when I get time. I figure it's much easier for me to delete the occasional spam than for you to have to decipher some scratchy word.
Ok. Off to watch the Christmas Special! Have a good week!
XOXO,
Anna